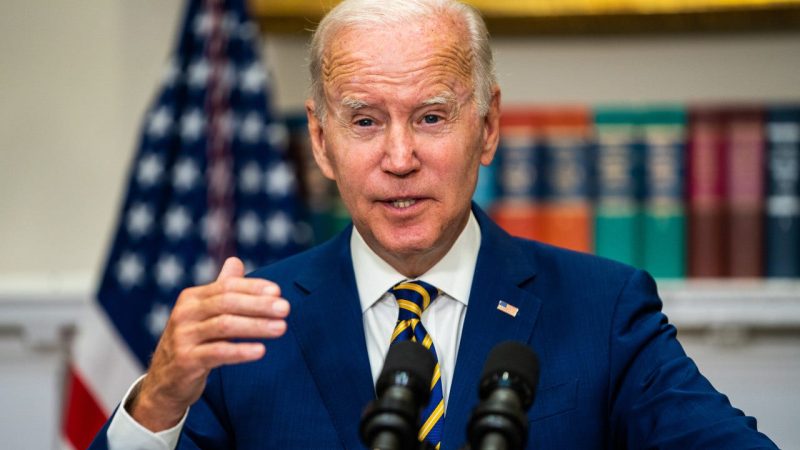 Biden moves forward with 'student loan safety net' as debt cancelation plan awaits fate before Supreme Court
President Biden is progressing with a plan to decrease student loan burdens with what education officials are calling a 'student loan safety net,' as his administration waits for the Supreme Court to act on a separate program to wipe away tens of thousands of dollars of debt for millions of people.
The new plan, which was first announced over the summer but officially proposed in the Federal Register on Tuesday, lowers monthly payment requirements and creates an easier path to loan forgiveness.
'Student debt has become a dream killer,' Education Secretary Miguel Cardona said in a statement. 'This is a promise to the American people that, at long last, we will fix a broken system and make student loans affordable.'
The proposal focuses on income-driven payment plans. Currently, borrowers' monthly payments are capped at 10% of their discretionary income. The new plan would set this mark at 5% of borrowers' pay. Additionally, the income level under which people would not be required to make payments would be raised from $20,400 per year to $30,000.
The plan also makes it easier for people to get their debt erased. Under current rules, people who make payments for 20 or 25 years can have their debts canceled. The new plan erases remaining debt after just 10 years of payment for those who borrowed $12,000 or less. Anyone who took out more would have another year for every additional $1,000.
The plan also says that unpaid interest will not be charged if people make regular payments.
The Biden administration claims that the plan would cost almost $138 billion over ten years and would save college graduates roughly $2,000 per year over the current system. The administration also projects that as much as 85% of community college loan recipients will no longer have student loan debt after ten years.
Critics of the plan believe the administration is underestimating the plan's cost, projecting it to be in the area of $200 billion. Opponents also believe it is too generous and will result in tuition increases as more students take out loans under extremely favorable terms.
Meanwhile, Biden is hoping that his earlier student loan handout plan which would erase $10,000 to $20,000 in debt for millions of people will survive ongoing legal challenges. The Supreme Court is scheduled to hear oral arguments over the program on February 28.
The Associated Press contributed to this report.
This post appeared first on FOX NEWS