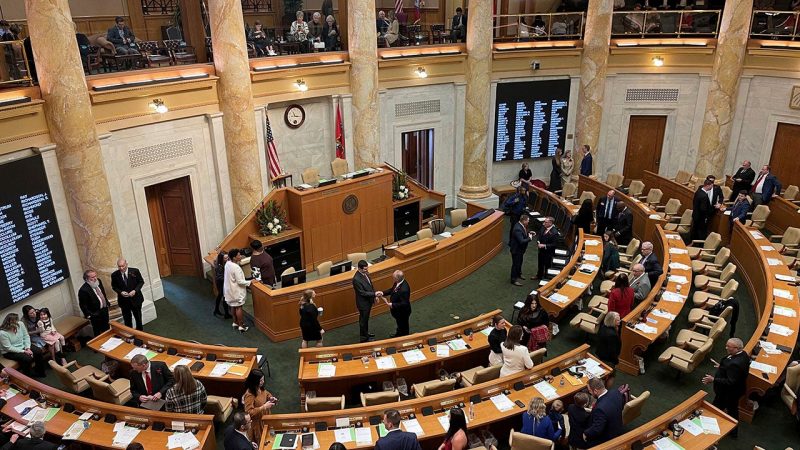 Arkansas introduces new bill defining drags shows as an 'adult-orientated business' under legal code
Arkansas lawmakers introduced a new bill Monday that classifies drag shows as an 'adult oriented business' under the state legal code, amending rules meant to keep minors away from such places. 
State Senate Bill 43 — introduced by Republicans state Sen. Gary Stubblefield and state Rep. Mary Bentley — aims 'to classify a drag performance as an adult-oriented business; and to add additional location restrictions to an adult-oriented business,' according to the legislation's proposed language. 
The bill seeks to amend the state legal code for an 'adult-oriented business' to add a 'drag performance' to the list already including 'an adult arcade, an adult bookstore or video store, an adult cabaret, an adult live entertainment establishment, an adult motion picture theater, an adult theater, a massage establishment that offers adult services, an escort agency, or a nude model studio.' 
According to the proposed legislation, a drag performance 'exhibits a gender identity that is different from the performer's gender assigned at birth using clothing, makeup, or other accessories that are traditionally worn by members of and are meant to exaggerate the gender identity of the performer's opposite sex; and sings, lip-synchs, dances, or otherwise performs before an audience of at least two persons for entertainment, whether performed for payment or not; and that is intended to appeal to the prurient interest.' 
The bill would amend state code to say an adult-oriented business cannot be located on public property or 'where a minor can view what the adult-oriented business is otherwise offering to the public that qualifies it as an adult-oriented business.' 
Both chambers of the Arkansas state legislature have a strong Republican majority. 
In 2021, Arkansas made headlines for passing the first-ever kind of legislation in the nation banning drug or surgical intervention on minor patients who identify as transgender. The Save Adolescents From Experimentation Act, or SAFE Act, passed despite Republican Gov. Asa Hutchinson's veto. Hutchison said he opposed the bill, describing it as a 'vast government overreach.' 
KARK reported Tuesday that a lawsuit filed in opposition to the law banning so-called 'gender-affirming care' is currently on trial before a judge. Regarding the bill on drag shows, Megan Tullock, a director at Northwest Arkansas Equality, a gay and lesbian organization in Fayetteville, questioned whether the proposed legislation 'is just about keeping anybody with any kind of queerness away from kids.' 
Tullock argued to KHBS that the bill's language could unconstitutionally limit free speech and impact outdoor LGBTQ events, including theater productions and pride parades. 
By contrast, New York City's budget allocates funding for Drag Queen Story Hour, which organizes programs in public elementary, middle and high schools. Parents have criticized the program for allowing underage children to participate in the programs during the school day often without parental consent. The New York Post reported in June that records show more than $270,000 in taxpayer funding was spent since 2018 on the program that's also expanded to public libraries.  
While some events include drag performers reading books to children, the appropriateness of the content, which sometimes introduces transgenderism to underage kids, has been a topic of debate. Videos of other drag performances billed as 'family-friendly' have shown performers dancing provocatively and making sexual innuendos while children were in the audience.
This post appeared first on FOX NEWS