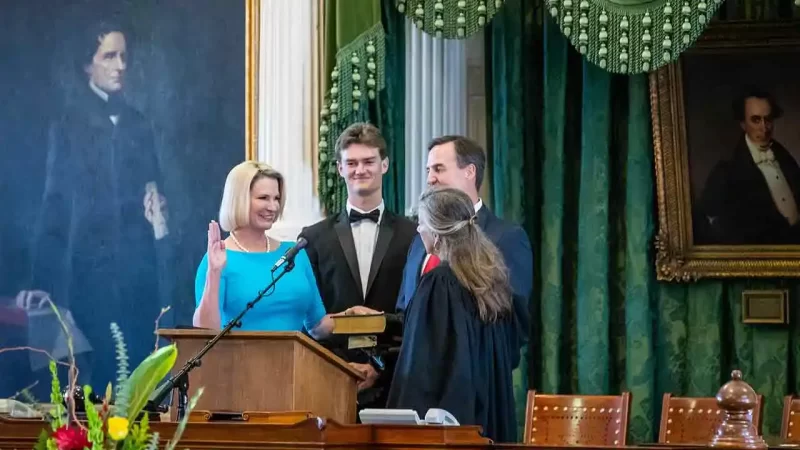 Texas Land Commissioner Dawn Buckingham makes history as first woman in role managing Alamo, veterans programs
Former state Sen. Dawn Buckingham was sworn in as Texas' next Land Commissioner on Monday, making history as the first woman in the role and promising to 'serve Texans and serve them well.' 
'This office is really the tip of the spear of what matters most to conservative Texans.' Buckingham told Fox News Digital. 'We are here to defend oil and gas. We are where the majority the border was being built. We are going to stand strong and defend our history.'
The Texas Land Commissioner is in charge of the Texas General Land Office, the state's oldest public agency. Buckingham is tasked with managing public land, including the enforcement of leases for mineral rights and selling land to raise funds for the Texas Permanent School Fund, the country's largest statewide public education endowment. 
In her new role as land commissioner, Buckingham is responsible for distributing natural disaster relief funds, like the funds Texas received in the wake of Hurricane Harvey as well as being in charge of the Alamo, including plans for its renovations and upkeep. The Texas Land Commissioner also chairs the Veterans Land Board, which manages nine group homes and four cemeteries for Texas veterans.
Following Buckingham's swearing in ceremony on Monday, the Commissioner shared that her team is ready to get to work, sharing their plans to visit the majority of the Lone Star State.
'We're getting to know our employees. We're prioritizing what needs to be right sighted and moving ahead.' Buckingham shared with Fox News Digital. 
The Texas Permanent School Fund is a top priority for Buckingham, with the new Texas Land Commissioner sharing that her role is 'maximizing the profits from the state lands to send dollars to education.'
'I think educating our children is the most important thing we do.' Buckingham said. 'And I think we should do everything we can to get our kids into an educational system that works for them, whatever their goals are, whether it's to go straight into the workforce or to college.'
The new Texas Land Commissioner also shared how she plans to defend the oil and gas industry in Texas despite the Biden administration's actions against the industry.
'The Environmental Protection Agency (EPA) is trying to shut down oil and gas and not even just oil and gas, but they consider cows walking across someone's pasture to be polluting. And so we're here to stand and fight for our agriculture and the oil and gas industries.' Buckingham stated.
The Texas Land Commissioner is also charged with the renovations and upkeep of the Alamo, a monument revered in Texas history as the site of a pivotal battle in its war of independence. Buckingham's predecessor, George P. Bush, faced considerable backlash over some of the more controversial issues surrounding the Alamo restoration process. 
The over $400 million plan to renovate and preserve the landmark has been shrouded in controversy stemming on how to remember the Alamo and whether to focus on the 1836 battle or present a 'fuller view' that discusses the role of slavery in the Texas Revolution.
'I pretty much put my stake in the ground. There's not going to be any reimagining of our Texas history at the Alamo. We're going to stand proud and defend our history.' Buckingham shared with Fox News Digital. 'That being said, we have a lot of stories to tell. We want to tell all of those stories. But we'll be watching very closely to be sure that we're not redefining our history.'
Buckingham will replace Republican incumbent George P. Bush, who unsuccessfully sought the Republican nomination for attorney general instead of seeking reelection. Bush first became Land Commissioner in 2015; he succeeded fellow Republicans Jerry Patterson, who had been in the role since 2003, and David Dewhurst, who filled the role for four years before Patterson.
Despite being the fourth Republican in a row to serve as the Texas Land Commissioner, Buckingham shared with Fox News Digital how her administration will make its individual mark. 
'I'm fiercely independent, and we're building our own team. We're really looking forward to igniting this agency and leading them into action and really just taking bold steps on behalf of Texans who need our help.'
Before serving the public as a Texas state Senator, Buckingham was as a volunteer firefighter and earned her medical degree as an eye surgeon specializing in oculoplastics.
'We don't play identity politics too much, but I am somebody who has been breaking glass ceilings my whole life.' Buckingham shared. 'I grew up a tomboy and loved to hunt and fish. As a volunteer firefighter, I broke the glass ceiling and I went into not only the male-dominated field of medicine, but also into the Senate and then into this role. I believe in standing up and doing my best and I really appreciate the opportunity to serve Texas in this capacity.' 
This post appeared first on FOX NEWS