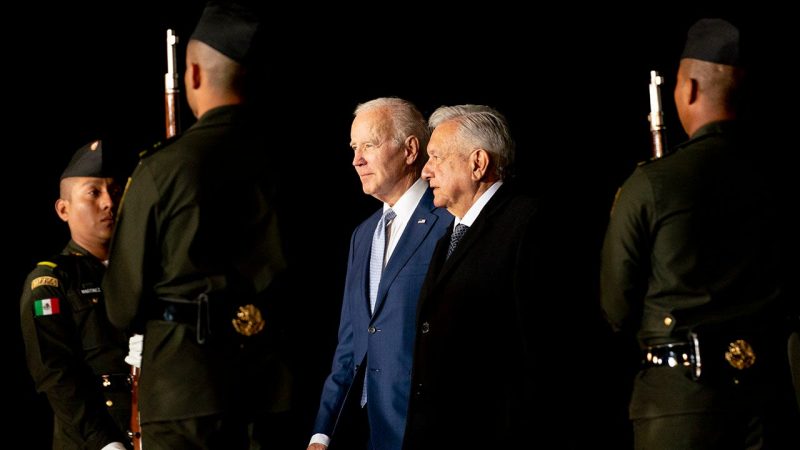 Biden has summit with Mexican President López Obrador days after 'El Chapo' son's fentanyl trafficking arrest
President Biden is set to discuss migration among other topics with Mexican President Andrés Manuel López Obrador at Monday's summit held just days after the son of 'El Chapo' was arrested in a bloody operation that reportedly sparked protests across the Sinaloa state. 
The timing of the raid on Ovidio Guzman, wanted by U.S. authorities for years for allegedly contributing the surge of fentanyl flowing across the U.S.-Mexico border, was viewed by some former and current American counternarcotics officers as coinciding with Biden's planned trip to Mexico City. 
Mexican officials denied the operation's intent was political in nature to present the country as a more collaborative partner working with the United States and Canada toward North American global clout. Biden flew to Mexico after a short trip to El Paso, Texas, Sunday — his first southern border visit as president despite the number of illegal migrant crossings surging dramatically in the last two years. 
'It certainly seems like politics. There's a lot of speculation now that it's all about the timing,' former Drug Enforcement Administration official Derek Maltz told USA TODAY of Guzaman's arrest. 'Biden announces he's going down to Mexico, so now they're gonna go out and grab Ovidio.' 
The fentanyl crisis killed an estimated 70,000 Americans last year alone. 
Guzman has been facing U.S. criminal drug trafficking charges since his 2018 when he was federally indicted in New York. 
In what has been viewed as an important diplomate move, Biden arrived in Mexico City on Sunday via Mexico's newest hub, the Felipe Angeles International Airport, a prized project by López Obrador. The hub was christened last year with much fanfare, though it is more than an hour's drive north of the city center, has few flights and until recently lacked consistent drinking water.
Biden and López Obrador, whose relationship is transactional at best and absent the warmth and camaraderie Biden has with other world leaders, shook hands and walked together down a long red carpet on the tarmac, flanked by soldiers. The two then took the long drive into the city center together.
Along with Canadian Prime Minister Justin Trudeau, who arrives on Monday, the trio will spend the next two days discussing migration, climate change, manufacturing, trade, the economy and the potential global clout of a more collaborative North America.
Before the summit, Biden announced a major U.S.-Mexico border policy shift, with Mexico's blessing. The U.S. will send 30,000 migrants per month from four other countries back across the border — from among those who entered the U.S. illegally. For those who entered legally, the U.S. will accept 30,000 people per month from those four countries — Cuba, Nicaragua, Haiti and Venezuela — for two years and offer the ability to work legally.
On Sunday, Biden spent four hours in El Paso, Texas, his first trip to the border as president and the longest he has spent along the U.S-Mexico line. 
The day was highly controlled and seemed designed to showcase a smooth operation to process migrants entering legally, weed out smuggled contraband and humanely treat those who have entered illegally, creating a counter-narrative to Republicans' claims of a crisis situation equivalent to an open border. However, it was likely done little to quell critics from both sides, including immigrant advocates who accuse the Democratic president of establishing cruel policies not unlike those of his hard-line predecessor, former President Trump, a Republican.
Meanwhile, Mexican Defense Minister Luis Cresencio Sandoval said Friday that 19 suspected gang members and 10 military personnel were killed in violence stemming from 32-year-old cartel boss Guzman's arrest, Reuters reported. 
Guzman was captured during a bloody raid Thursday, extracted by helicopter from a house and flown via military plane to Mexico City, where he was taken to a maximum-security federal prison. In response to his arrest, the Sinaloa Cartel sought retribution, setting vehicles on fire, blocking roads, and fighting security forces in and around Culiacan, the capital of Sinaloa. 
Video showed passengers on an Aeromexico flight at Culiacan airport ducked for cover as gunfire erupted around the runway. 
No immediate plans have been announced to extradite Guzman to the United States. 
In what was viewed as an embarrassment for López Obrador's government at the time, Guzman was briefly detained in 2019 by Mexican security forces but was subsequently released by authorities looking to quell the violence unleashed on the region by the cartel leader's loyalists. 
The Associated Press contributed to this report. 
This post appeared first on FOX NEWS