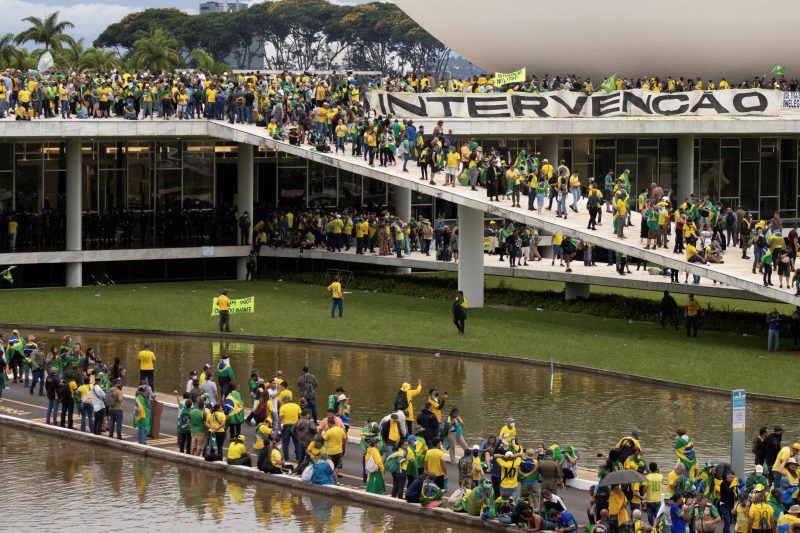 Biden condemns 'assault on democracy' in Brazil as Democrats compare riots to January 6
President Biden condemned the pro-Bolsonaro attack on Brazil's Capitol and presidential palace Monday, with many Democrats comparing the incident to the pro-Trump storming of the U.S. Capitol in January 2021.
Supporters of former Brazilian President Jair Bolsonaro attacked the country's Congress, Presidential Palace and Supreme Court on Sunday. Bolsonaro, who is hidden away in Florida, denied involvement in the violence. Brazilian authorities were able to retake control of the government buildings by Sunday evening.
'I condemn the assault on democracy and on the peaceful transfer of power in Brazil,' Biden wrote in a statement. 'Brazil's democratic institutions have our full support and the will of the Brazilian people must not be undermined. I look forward to continuing to work with President Lula.'
Brazilian media reports that as many as 1,200 pro-Bolsonaro protesters have been arrested and detained at the Brazilian Army headquarters near the capital.
The rioters, dressed widely in green and yellow, ransacked the insides of the three government buildings, breaking windows and overturning the massive table where the country's Supreme Court convenes.
Images from Sunday's attack show throngs of people storming into the buildings and milling about on the grass outside.
Many Democrats in the U.S. compared the incident to the reaction of thousands of supporters of Former President Donald Trump after he lost the 2020 election to Biden. Several have also called for the U.S. to extradite Bolsonaro out of Florida, where he is currently residing.
The former president denies any involvement in the attacks.
'Two years ago out Capitol was attacked by fanatics, now we are watching it happen in Brazil,' wrote Rep. Ilhan Omar, D-Minn. 'Solidarity with [President] Lula and the Brazilian people. Democracies around the world must stand united to condemn this attack on democracy.'
'Bolsonaro should not be given refuge in Florida,' she added.
Many Democrats followed suit in calling for Bolsonaro to be booted from Florida, including House minority leader Hakeem Jeffries, D-NY.
Reuters and the Associated Press contributed to this report.
This post appeared first on FOX NEWS