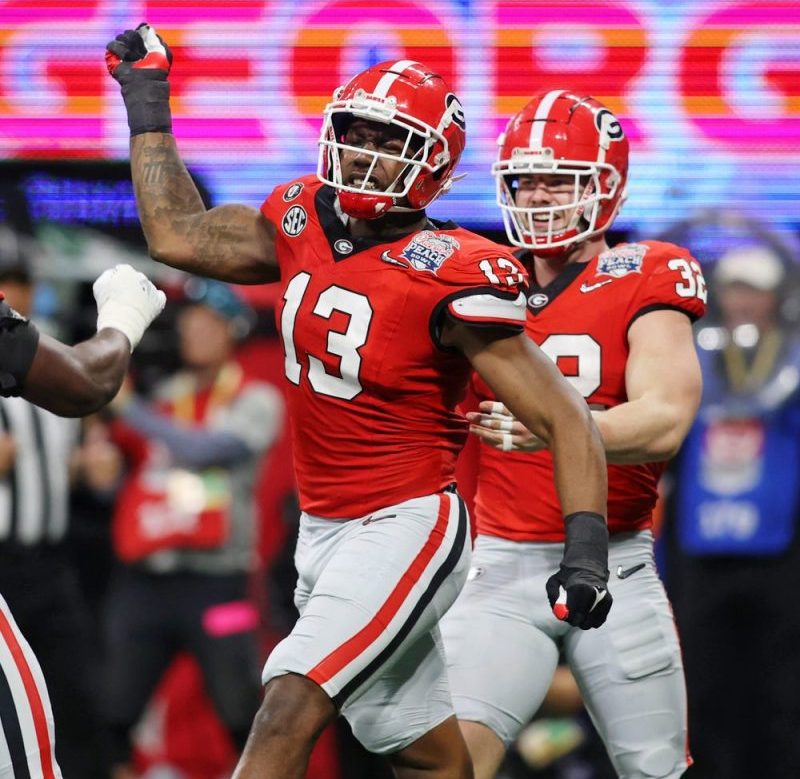 Keys to victory when Georgia, TCU clash in national title game
The way TCU played against Michigan should answer almost any questions about the Horned Frogs and their ability to dial up the physicality along the line of scrimmage.  
TCU outgained Michigan on the ground, racking up 263 yards on the Big Ten champions, and held the Wolverines to just 3.2 yards per carry following running back Donovan Edwards' 54-yard scamper on the Fiesta Bowl's opening play.
The perception heading into the College Football Playoff semifinal was clear: The Big 12 is more of a finesse league than the Big Ten, so TCU would be the less physical team. The fallout from that misguided assessment has impacted the mood around Monday's national championship game.
Georgia will step onto the field as almost two-touchdown favorites after getting past Ohio State in the Peach Bowl. But the Horned Frogs were able to win up front against Michigan — could they do the same against the defending champions?
No factor will do more to determine the result Monday night in Inglewood, California, than what unfolds on the offensive and defensive lines. But that's not the only key to deciding whether this Cinderella story ends against perhaps the nation's most dominant program or if TCU pulls off perhaps the most unexpected title in Football Bowl Subdivision history.
Follow every game: Latest NCAA College Football Scores and Schedules
Can TCU make Georgia look like Michigan?
Winning the physical battle against the Wolverines suggests TCU will be able to achieve a degree of success on the ground against Georgia.
The Horned Frogs have averaged 213.8 rushing yards in four games against ranked opponents and have topped the 200-yard mark in six games against Power Five competition. This is also one of the nation's most explosive ground games: TCU ranks second in the Bowl Subdivision in gains of 30 or more yards (18), tied for fourth in gains of 40 or more yards (11) and tied for second in gains of 50 or more yards (seven).
There is no doubt TCU will approach Georgia with a similar offensive blueprint. But the Bulldogs' run defense will be up to the challenge.
Georgia gave up 140 rushing yards to Oregon in the season opener and 119 yards to Ohio State in the Peach Bowl; in between, only two teams — Missouri on Oct. 1 and Florida on Oct. 29 — eclipsed the 100-yard mark. Five percent of the 1,119 yards this defense has given up on the ground all season came on one 63-yard gain by Missouri.
Overall, Georgia is second in the FBS in allowing just 80.0 rushing yards per game and has been extremely effective in limiting long plays. The Bulldogs have given up only five gains of 20 or more yards and just two carries of 30 or more yards. This track record implies that TCU will need to churn out extended drives.
The Max Duggan-Stetson Bennett quarterback battle
The two Heisman Trophy finalists struggled finding an early rhythm through the air in the semifinals. But Georgia's Bennett flipped a switch in the second half against the Buckeyes, completing 11 of his final 13 throws to lift the Bulldogs out of a 14-point hole entering the fourth quarter. TCU senior Duggan finished with 14 completions in 29 attempts for 225 yards with two touchdowns and two interceptions.
Again and again, Bennett has defied expectations to earn a place in the program's pantheon of great quarterbacks. He'll be tested by the TCU pass defense, however, which has stood up to a heavy volume of attempts by creating tight windows and with an opportunistic mindset.
This was on display against Michigan. While J.J. McCarthy threw for 343 yards, including several long gains downfield, the Frogs flipped the script and keyed the upset with a pair of touchdown returns off interceptions. With underappreciated team speed and unique blitz packages, the 3-3-5 scheme used by defensive coordinator Joe Gillespie could catch Bennett and Georgia off guard and set an early tone.
Meanwhile, Duggan and the TCU passing game could find creases against a secondary that has struggled in recent games against LSU and the Buckeyes. But that's only if the Frogs can stamp out the Bulldogs' pass rush.
Stopping the Georgia pass rush
 The Bulldogs stepped things up since the end of November after a largely sluggish regular season. Before facing Georgia Tech on Nov. 26, the Bulldogs had notched multiple sacks in a game just four times, with a season-high of six sacks in the convincing win against Tennessee.
But they had four sacks against the Yellow Jackets, another four sacks against LSU in the SEC championship game and four more against Ohio State. The defensive front has also been more aggressive in making plays behind the line of scrimmage, with a combined 25 tackles for loss during this three-game span — accounting for over 30% of the Bulldogs' 82 tackles for loss on the season.
The speed and athleticism was always there for the pass rush to return to this level of effectiveness. While TCU held Michigan to just one sack and three tackles for loss, the offensive line will be put to the test against Georgia.
Creating matchups for Quentin Johnston
But if able to protect Duggan, the Horned Frogs could dig up explosive plays against a pass defense that stands as Georgia's biggest on-paper weakness. The last two games haven't been pretty: LSU threw for 502 yards, three touchdowns and two interceptions on 9.7 yards per attempt, while the Buckeyes finished with 348 yards, four touchdowns and no turnovers on 10.1 yards per throw.
In doing so, Ohio State became the first Georgia opponent to eclipse 300 yards on more than 10 yards per pass with multiple scores and no interceptions since LSU in 2013.
TCU will look to spread the ball across multiple receivers. Five players have accounted for at least 22 receptions; these same five players account for 24 of the team's 33 receiving scores. But no target is more vital to the Frogs' offensive success than Quentin Johnston, one of the top receivers in the country.
He had the big play against Michigan, a 76-yard catch and run two minutes into the fourth quarter that pushed the Frogs' lead to 48-38 and erased the Wolverines' momentum. Overall, Johnston has made 59 catches for 1,066 and a team-best six touchdowns. Even facing off against Georgia, he may be the most talented player on the field Monday night.
Kendre Miller's availability
The all-conference running back left the Fiesta Bowl with what appeared to be a lower-body injury and is questionable for the game, said TCU coach Sonny Dykes. Miller ranks second in the Big 12 with 6.3 yards per carry and second with 17 touchdowns.
If he's unable to go, the offense will turn to backup Emari Demarcado, who answered the call against Michigan with a career-high 150 yards and a touchdown on 8.8 yards per carry. But the offense will also need a contribution from Duggan, who ranks third on the team with 461 yards and has taken on a larger role in recent weeks.
In the past two games, Duggan has accounted for 167 yards and three rushing scores on 5.6 yards per attempt. Even if Georgia dedicates resources to limiting Duggan's ability to escape the pocket, he'll be a huge factor as a runner inside the red zone and in short-yardage situations.
Georgia's offense has one injury to watch. Tight end Darnell Washington, a powerful blocker and key receiving target, is 'resting up and hopefully he'll be good to go,' coach Kirby Smart said, after he left the Peach Bowl with an ankle injury.
Depth against depth: How big is Georgia's edge?
That TCU is playing for the national championship after failing to even reach the postseason since 2018 qualifies as one of the most unexpectedly successful seasons in FBS history. More specifically, that the Frogs are in this game in Dykes' first year speaks to the coaching staff's ability to paper over a roster that is heavy on top-end talent but short on the sort of depth expected from national champions.
Georgia's recruiting machine has carved a roster deep enough to go at least two and often three deep across the board. The most striking example of this depth is seen on offense, where the Bulldogs opt to share the wealth.
Four players have run for at least 288 yards and four players have notched at least seven rushing touchdowns. The leading rusher, Kenny McIntosh, has 779 yards and 10 scores on 142 carries. The team's second-leading rusher, Daijun Edwards, has 739 yards and seven touchdowns on 135 carries. Former five-star prospect Kendall Milton has 559 yards and seven scores on a team-best 7.5 yards per carry.
And in the passing game, Bennett has eight targets with at least 15 receptions and five with at least 25 grabs. This group is led by star tight end Brock Bowers, an All-America pick with 56 catches for 790 yards. Wide receiver Ladd McConkey ranks second on the team with 53 receptions for 674 yards.
But what makes the passing game difficult to corral is the multiple ways the Bulldogs get players involved. In addition to delivering to his receiver corps, Bennett leans heavily on his tight ends and his teammates in the backfield. In addition to leading the team in rushing, McIntosh has posted 42 grabs for 505 yards.
Georgia will throw waves of skill talent at TCU. The Horned Frogs can run and hit in the back end, but can do they have the personnel to combat the Bulldogs' wealth of options?
This post appeared first on USA TODAY