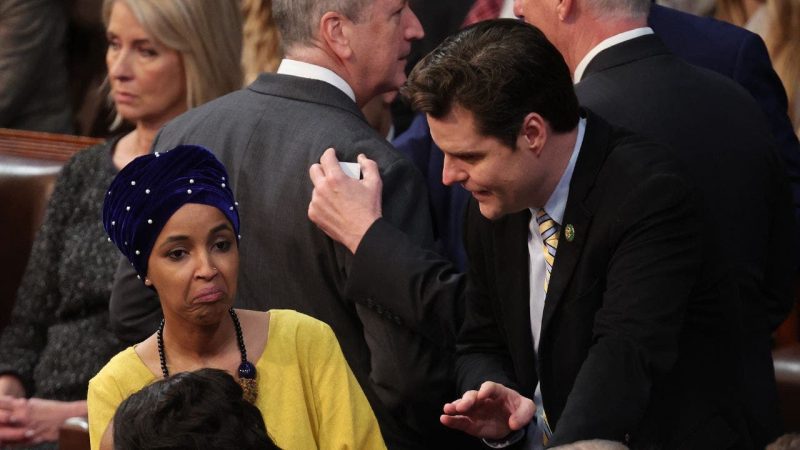 Gaetz gets cozy with Democrats on the House floor as he tries to prevent McCarthy speakership
Congressman-elect Matt Gaetz, R-Fla., has been one of Congressman-elect Kevin McCarthy's fiercest opponents throughout voting for House speaker, pushing for Republican alternatives who include former President Trump, Congressman-elect Jim Jordan and Congressman-elect Byron Donalds. 
The voting for House speaker has entered its fourth day and its 12th round as McCarthy attempts to wrangle the 218 votes necessary to win the speakership. 
With deliberations in the chamber ongoing, Gaetz has had some interesting conversations on the House floor this week as he attempts to prevent a McCarthy speakership.
On Friday morning, Gaetz appeared to chat with the incoming assistant Democratic leader, Congressman-elect James Clyburn of South Carolina, before the House was set to commence its 12th round of voting. 
On Thursday, Minnesota Congresswoman-elect Ilhan Omar appeared unamused after Gaetz approached her while he navigated the House chamber to speak with several Democrats between votes.
The pair did not reveal what was said during their surprising interaction.
After the House adjourned Tuesday, the internet went into a frenzy over footage of progressive Congresswoman-elect Alexandria Ocasio-Cortez chatting up Gaetz between ballots.
The unlikely pair were seen chatting on the House floor as the Republican worked to deny McCarthy the speakership.
AOC explained what was discussed. 
'McCarthy was suggesting he could get Dems to walk away to lower his threshold,' Ocasio-Cortez said of her mysterious conversation with Gaetz. 'And I fact-checked and said absolutely not.'
AOC was seen conversing with Gaetz along with her Democratic colleague, Angie Craig of Minnesota, at another point in the week. 
Craig shared a conversation with her wife on Twitter in which her wife questioned the interaction: 'What were you possibly talking about?'
Gaetz was also seen having a sit-down conversation with Congresswoman-elect Pramila Jayapal of Washington. Caught on video, the two members seemed to be getting along well while they waited for another vote to begin.
While this marks another conversation between Gaetz and a Democrat with an unknown topic, Jayapal was seen nodding her head while Gaetz spoke to her.
On Thursday, the third day of voting, Gaetz was animated while speaking with House Democratic Leader Hakeem Jeffries and a group of Democratic lawmakers in between votes. 
Despite his frequent conversations with Democrats throughout the week, Gaetz is confident not a single Democrat will budge in support of Jeffries, the Florida congressman said on The Ingraham Angle Thursday evening. 
'If Democrats join up to elect a moderate Republican, I will resign from the House of Representatives. That is how certain I am. I can assure your viewers, that won't happen,' Gaetz added. 
Friday morning, Gaetz was seen shaking hands with Congressman-elect Chip Roy, R-Texas. 
Roy has voted against McCarthy since the House speaker race commenced Tuesday but notably flipped his support for McCarthy early Friday afternoon during the 12th round of voting.  
This post appeared first on FOX NEWS