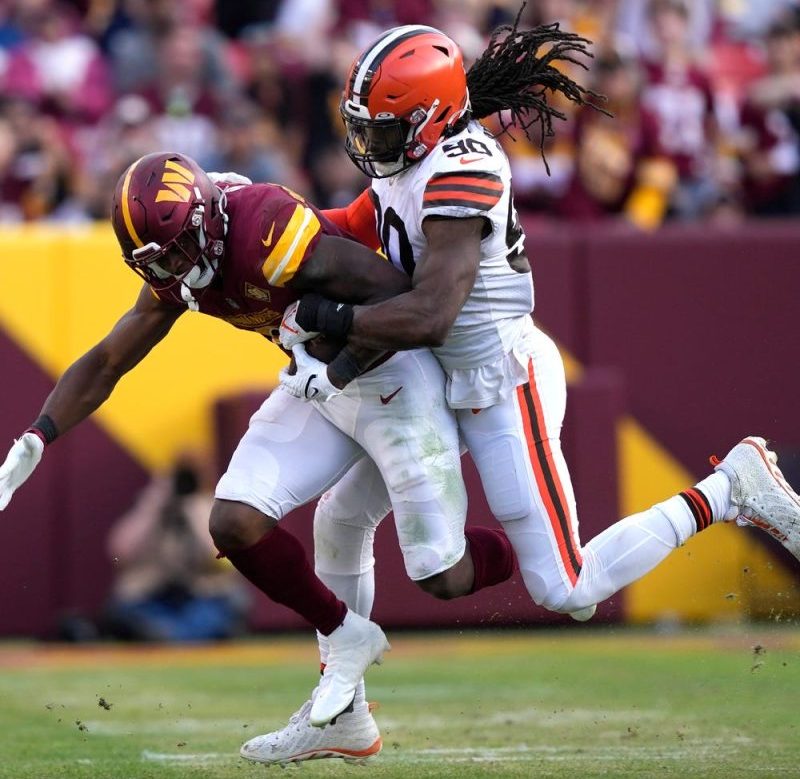 Browns player sent home from practice after strong words about future
BEREA, Ohio − The Browns have sent Jadeveon Clowney home from practice Friday, a person familiar with the situation confirmed to the Beacon Journal.
While his status officially remains up in the air for Sunday's finale at Pittsburgh, in all likelihood, the defensive end has played his final game with the team.
The move came a day after Clowney made strong remarks about his future with the Browns as well as the organization in general to Cleveland.com's Mary Kay Cabot. He was signed to a one-year deal this past May.
"Ninety-five percent sure I won't be back," Clowney told Cleveland.com on Thursday. "But there's still that 5 percent. You never know what can happen."
Coach Kevin Stefanski will address the media after practice. Rookie fourth-round draft pick Alex Wright would start in Clowney's place, as he has done in the previous four games Clowney has missed.
Follow every game: Latest NFL Scores and Schedules
Clowney's future with the Browns isn't the only one that remains up in the air after Sunday's finale against the Steelers. The defensive staff, specifically coordinator Joe Woods, all remain on shaky ground, something Clowney acknowledged could play a role in the '5 percent' that brings him back.
"There's supposed to be a lot of changes around here next year, so they might not be back — and I might," Clowney told Cleveland.com.
Clowney, who can become a free agent on March 15 at 4 p.m., was on his second one-year deal with the Browns. His current deal was worth up to $11 million with incentives.
During last June's minicamp, Clowney made it clear one of the reasons why he re-signed with the Browns was because of his connection with quarterback Deshaun Watson. The two were teammates for two seasons with the Houston Texans in 2017-18.
'I talked to him a few times before he signed, after he signed,' Clowney on the final day of minicamp last June 16. 'We stayed in touch through that whole thing about coming here. If he come, then I come. I told him if he goes, I'll follow him up here. I'll go back. That's what it came down to.'
Injuries have impacted Clowney's season after he had a career renaissance in 2021. He's played in just 12 of the Browns' 16 games, missing time early in the season due to an ankle injury and in December due to a concussion.
The 29-year-old has recorded just two sacks, four quarterback hits and four tackles for loss this season in 10 starts. He has one forced fumble which he also recovered in a Week 2 strip-sack of New York Jets quarterback Joe Flacco.
However, Clowney expressed frustration in what he felt was a lack of faith in him from the coaching staff and organization.
"I just feel like I need to be around somebody that believes in me and my ability," Clowney told Cleveland.com. "(It can't) just be me believing in myself. I believe in myself more than anybody."
When Clowney signed with the Browns, the thought of pairing him with another All-Pro and former No. 1 overall pick, Myles Garrett, was enticing. The first season, it worked incredibly well, at least for the two ends who combined for 25 sacks in 2021.
Clowney, though, told Cleveland.com he felt like the organization preferred to set Garrett up for success more than him by how the coaches moved Garrett around on the line but not him. He said the issue wasn't with his star teammate personally.
The former No. 1 overall pick of the Houston Texans played in 14 games in his first Browns season, recording nine sacks and earning a Pro Bowl alternate spot. The games played and sack total were both the best for Clowney since his 2018 Pro Bowl season in Houston, when he played in 15 games and had nine sacks.
Clowney's two seasons in Cleveland marked the first time since he spent consecutive seasons with the same team since the Texans traded him to the Seattle Seahawks before the 2019 season. He played 13 games for the Seahawks that season, with three sacks, before he signed with the Tennessee Titans for an injury-plagued 2020 season.
Contact Chris at ceasterling@thebeaconjournal.com.
On Twitter: @ceasterlingABJ
This post appeared first on USA TODAY