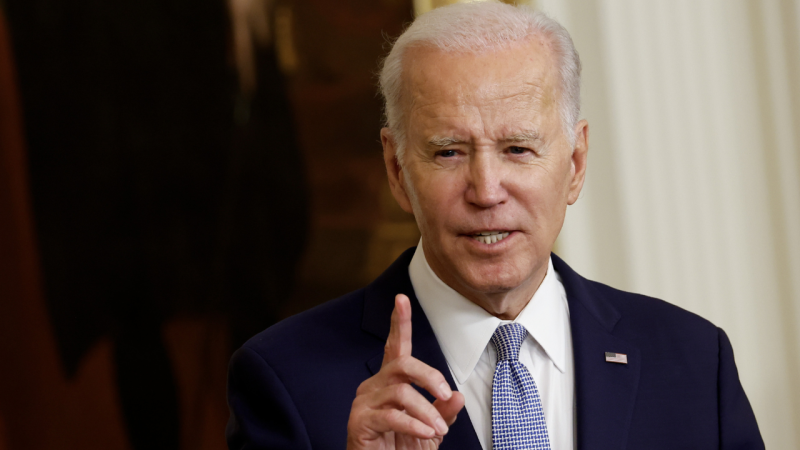 Biden links 'sick insurrectionists' to death of Capitol Police officer killed by Nation of Islam supporter
President Biden linked 'sick insurrectionists' spreading threats online to the death of a Capitol Police officer who was killed by a Nation of Islam supporter in an April 2021 attack.  
While speaking about the deadly Jan. 6, 2021, Capitol riot, Biden referred to the death of Capitol Police Officer William Evans, who was killed by Noah Green, an apparent supporter of the Nation of Islam.
Biden attributed Evans' death to threats made online by the 'sick insurrectionists' who stormed the Capitol in January 2021.
'Today is the ceremony to honor the heroes of Jan. 6. We also recognize the late U.S. Capitol Police Officer Billy Evans. His family is with us today,' Biden said.
'Three months after Jan. 6, while they were still cordoning off the Capitol because threats by these sick insurrectionists continued to be propagated on the Internet. Again, all America saw what happened when Officer Evans was killed defending a checkpoint you had to go through to get up the Capitol because of these God-awful, sick threats that continued to move forward.'
'And the whole world saw it,' he added. 'It's just hard to believe. It's hard to believe that it happened here in America.'
Green allegedly slammed his sedan into two police officers near the Capitol's North Barricade, the entrance where members of Congress and their aides come and go.
Evans was killed, and another officer was injured. Green was shot by officers shortly after emerging from the vehicle wielding a knife.
In the months leading up to his death, Green made many posts on Facebook professing his support of the Nation of Islam and its leader, Louis Farrakhan.  
Green described himself as a follower of the Nation of Islam and Farrakhan, whom he referred to as 'Jesus.' 
Fox News Digital's Bradford Betz contributed reporting.
This post appeared first on FOX NEWS