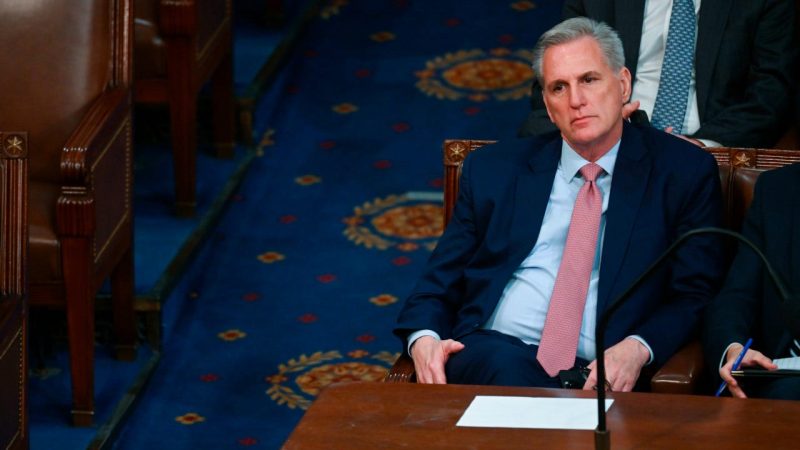 House to meet for historic 12th speaker vote as stalemate continues
On Friday the House entered its fourth day of having not elected a speaker and will meet at noon for a 12th vote, after lawmakers Thursday moved toward a deal that could help GOP leader Kevin McCarthy get enough votes to make it over the finish line for the role. 
After several lawmakers were at the Capitol late into the night discussing the details of the deal in GOP Whip-elect Tom Emmer's office, GOP leadership scheduled a conference call Friday morning for the broader Republican conference to discuss the deal. 
The House is set to reconvene at 12:00 p.m. ET for a 12th roll call vote, where McCarthy will learn if his concessions to the House Freedom Caucus members fighting his speakership bid will earn him enough of their approval to give him the gavel. 
This is the longest Speaker election since 1859, which went to a whopping 44 ballots. 
House Speaker Philip Barbour of Virginia won the Speakership on the 12th ballot in 1821, but it's unclear if McCarthy can do that today. 
Apart from the 'Never Kevin' holdouts, Republicans also have absentee votes to worry about. A number of Republicans have family matters and medical issues to attend to. A GOP aide said Rep.-elect Ken Buck, R-Colo., is in Colorado for a medical procedure and will miss the vote, but is returning to Washington later Friday evening. 
Republican lawmakers are hopeful that the negotiations between McCarthy friends and foes will earn him votes Friday to show progress, but it's unlikely he will get the necessary majority – 218 – on the first pass. 
This post appeared first on FOX NEWS