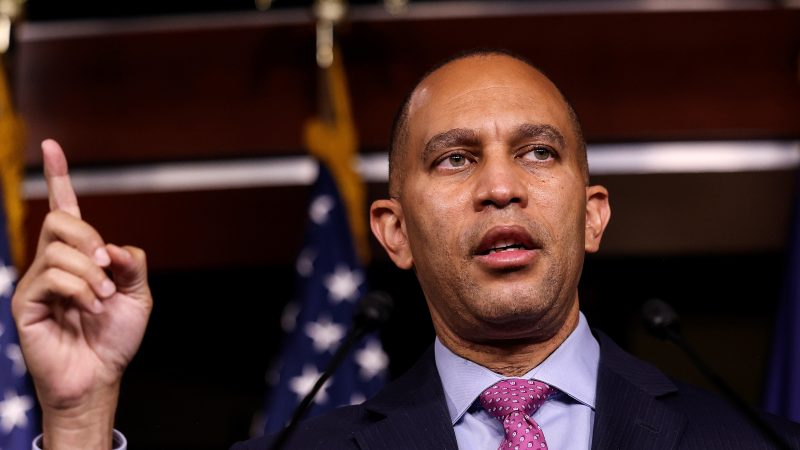 The speaker election drama: Who won and who lost
The House of Representatives failed to elect a speaker for the first time since 1923 — as nearly two dozen Republicans refused to support Rep. Kevin McCarthy of California for the job.
Here are the winners and losers so far from the ongoing debate over the speakership.
WINNERS
House Democrats
House Democrats embraced the GOP divide Tuesday and Wednesday as leadership advised its members to remain present at all votes to ensure the majority threshold remains a challenge to McCarthy and his allies.
Democratic members cheered as Republican nominations and vote tallies against McCarthy were announced. They chanted in unison for Rep. Hakeem Jeffries as he continued to be announced for nomination and unanimously voted for within the party. Rep. Kat Cammack, R-Fla., suggested Democrats were drinking on the House floor as votes continued.
This image of Democratic unison contrasted with the Republican divide. Rep. Andy Biggs, R-Ariz., tweeted Wednesday that he wants to 'break up the DC Cartel,' in a reference to McCarthy and his allies. Biggs' comments were likely a response to Rep. Don Bacon, R-Neb., who labeled McCarthy's opponents Tuesday as the 'Taliban 20.'
Dissenters in the House Freedom Caucus 
Opponents from within the conservative Freedom Caucus to McCarthy's bid for speakership are outnumbered 10 to 1 within the Republican Party, but they have been able to spike attempts to move forward due to the narrow Republican majority in the chamber.
House Freedom Caucus Chair Rep. Scott Perry, R-Pa., and other members have complained that the speaker position has too much power over its members and demanded McCarthy make reforms. They also claim McCarthy has been too agreeable to spending as the national debt continues to rise. Biggs, a member of the caucus, announced his intention to challenge McCarthy for the speakership late last year.
Byron Donalds
Rep. Byron Donalds took office in 2020 and had high hopes for the newly elected 117th Congress when he ran for conference chair, but he lost to Rep. Elise Stefanik, R-N.Y., who is a key McCarthy ally. The tumult in the House has given him a moment to revel in the spotlight anyway. He flipped his vote to oppose McCarthy in the third failed attempt Tuesday, drawing wide attention. The congressman then went on Fox News and CNN Wednesday morning to describe his logic.
'So, my thought is: If he doesn't have the votes, what are we going to do as a conference?' Donalds told 'Fox & Friends.' 'We either find someone to get to 218, or at a minimum, adjourn what we were doing and get off the floor so the needed negotiations can happen.'
McCarthy's critics then nominated Donalds for speaker all day Wednesday in opposition to McCarthy — touting the move as a historic event in which two Black members (along with Jeffries) were nominated for the position.
Matt Gaetz
Rep. Matt Gaetz, R-Fla., used the GOP divide to poke fun at McCarthy, of whom he has been a vocal critic. Gaetz wrote a letter to the Architect of the Capitol agency to investigate why McCarthy was using the House speaker's office when he has yet to win the position.
'I write to inform you that the Speaker of the House Office located in the U.S. Capitol Building is currently occupied by Rep. Kevin McCarthy,' Gaetz wrote in the letter he later posted online. 'What is the basis in law, House rule, or precedent to allow someone who has placed second in three successive speaker elections to occupy the Speaker of the House Office? How long will he remain there before he is considered a squatter? Please write back promptly as it seems Mr. McCarthy can no longer be considered Speaker-Designate following today's balloting.'
Washington, D.C., press corps
Journalists in the nation's capital had the pleasure of covering a circus of events. They were at it early, up late, inundated with endless inches of easy copy. And they got to write a true first draft of history — or at least get the first crack at a footnote that will be cited every time future speaker seekers have a problem getting the gavel.
With no structured leadership elected in the new Congress to establish rules, C-SPAN, the network covering the Capitol, was given free rein for its cameras to explore beyond the typical wide shot it uses for House floor debates. The broadcast cut back and forth to closeups of cheers, jeers, whispers and huddled-up meetings.
LOSERS
Kevin McCarthy 
McCarthy first ran for speaker in 2015 but later dropped out in a decision that he said was because 'there just wasn't a path to 218.'
McCarthy in 2023 has failed to gain 218 votes but has yet to agree that there again isn't a path to winning. The California congressman watched as Republicans who only last month were serving under him as minority leader rejected his bid to ascend to the speakership. Even if he eventually wins the job, he will be both tarnished and weakened by the challenge he has suffered.
Former President Donald Trump 
Trump endorsed McCarthy for speaker in late 2022, seemed to pull back as his choice failed to gain a majority of votes, and then changed his mind again Wednesday morning as he urged Republicans to unite behind McCarthy.
'Some really good conversations took place last night, and it's now time for all of our GREAT Republican House Members to VOTE FOR KEVIN,' Trump posted on Truth Social. 'CLOSE THE DEAL, TAKE THE VICTORY, & WATCH CRAZY NANCY PELOSI FLY BACK HOME TO A VERY BROKEN CALIFORNIA, THE ONLY SPEAKER IN U.S. HISTORY TO HAVE LOST THE 'HOUSE' TWICE! REPUBLICANS, DO NOT TURN A GREAT TRIUMPH INTO A GIANT & EMBARRASSING DEFEAT. IT'S TIME TO CELEBRATE, YOU DESERVE IT.'
This endorsement, however, made no difference as the 20 Republican members in opposition continued to vote against McCarthy in the three subsequent votes Wednesday, suggesting that Trump's ability to dictate terms to the party is at an end.
Jim Jordan
Rep. Jim Jordan, R-Ohio, was put in an awkward spot Tuesday as he was nominated for speaker despite his endorsement and introduction of McCarthy for the position. Jordan said McCarthy is the best choice to stop the agenda of Democrats.
'I think Kevin McCarthy is the right guy to lead us,' Jordan said on the House floor as he introduced McCarthy for speaker.
This introduction was followed by a nomination of Jordan for speaker by Gaetz.
'Maybe the right person for the job of speaker of the House isn't someone who wants it so bad,' Gaetz said. 'Maybe the right person for the job of speaker of the House isn't someone who has sold shares of himself for more than a decade to get it.'
With McCarthy's bid stuck, Jordan's decision not to stick with a portion of his House Freedom Caucus in opposing him seemed to be a gamble that wasn't paying off. Next year, he will be a senior member of a badly divided conservative alliance of lawmakers.
Newly elected House members
The two-day debacle over leadership elections has delayed the swearing-in of newly elected members to the House. Family members were forced cool their heels in Washington and add extra nights to their stays at the local Courtyard by Marriott or Holiday Inn Express.
They had arrived to celebrate and watch proudly as sons, daughters, dads and moms were sworn in by the speaker for the first time.
Except, there was no speaker.
This post appeared first on FOX NEWS