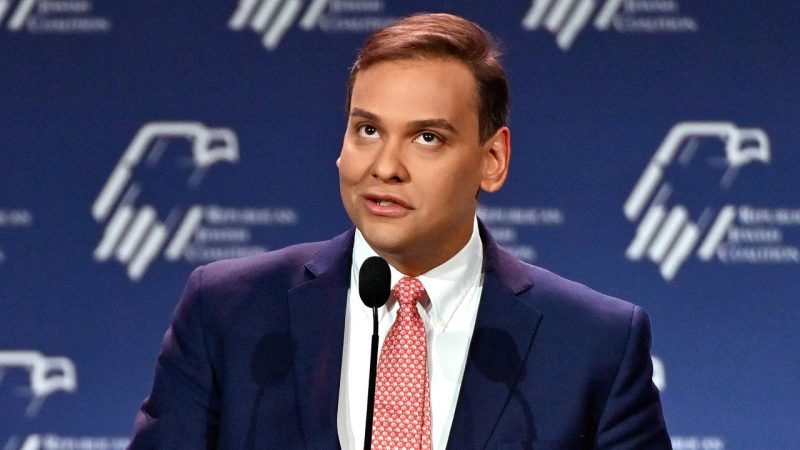 New York Rep.-elect Santos does not appear to have an office, staff in his district: report
New York Rep-elect George Santos reportedly does not appear to have an office or staff in his district. 
Fox 5 New York reported on Wednesday that the Republican's Douglaston, Queens, office was listed at the same location where retiring Rep. Thomas Suozzi opened his doors – but videos showed that door remains closed and nearby employees said there had been no action there over the past few weeks. 
'Any other member of Congress when first elected, you have your staff in the office on the day Congress opens,' retired New York Rep. Peter King told the station. 'People are going to be calling. You want to make sure the phones are working.'
When Fox 5 reached out to the realty company, the outlet was told the space was not available 'right now.' 
Fox News Digital attempted to call the number listed for Santos, but the voicemail box was full. Additional text messages and voicemails to Santos and his staff also went unanswered. 
The Republican, who flipped the district from blue to red, lied on his resume.
Suozzi, a Democrat, ripped his successor as a 'con man' in a guest essay for the New York Times this week. 
'When he is seated, it will diminish our Congress, our country and my constituents – soon his constituents,' he wrote. 'It saddens me that after 30 years of public service rooted in hard work and service to the people of this area, I'm being succeeded by a con man.'
In addition to his constituents, multiple House Democrats have called on Santos to resign.
His midterm opponent, Robert Zimmerman, has demanded a rematch. 
'George, if that's even your real name, if you're so convinced that #NY3 voters still trust you – resign & run against me again in a special election,' he tweeted in December. 'Face the voters with your real past & answer questions about your criminal history. Let the voters decide.'
Some Republicans have even said Santos should consider resigning and called for ethics investigations.
Santos dodged reporters and their questions on his way into the U.S. Capitol for the first day of the new Congress on Tuesday.
Fox News' Anders Hagstrom, Chris Pandolfo, Nikolas Lanum and The Associated Press contributed to this report.
This post appeared first on FOX NEWS