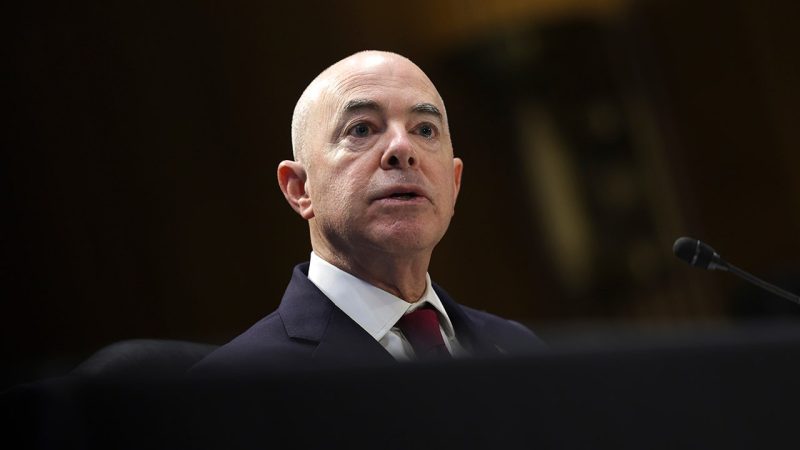 Mayorkas says massive migrant numbers 'straining our system,' calls for Congress to act
Homeland Security Alejandro Mayorkas, in an interview aired Wednesday, is warning that the enormous migrant numbers being encountered at the southern border are 'straining our system' as he again echoed administration calls for Congress to pass a sweeping immigration bill that includes an amnesty for millions of illegal immigrants.
Mayorkas was asked in an interview with The Washington Post whether the administration can handle an expected additional surge in migration across the southern border once the Title 42 public health order — which has been used to quickly expel migrants at the border since 2020 — comes to an end.
Mayorkas, in his answer, said that the number of migrants that Customs and Border Protection (CBP) is already encountering is putting significant pressure on the U.S. immigration system.
'There's no question that the number of encounters that we are experiencing at the border is straining our system,' he said, before calling the immigration system 'fundamentally broken.'
'No one disagrees with that. We just can't seem to agree upon the solution. And a solution is long, long overdue,' he said. 'Within the broken immigration system that we are operating we are managing the number of encounters, and we are prepared to address the end of Title 42. We've been preparing for this since well beyond last year.'
Migrant numbers have spiked dramatically under Mayorkas and the Biden administration. FY 2021 saw a historic 1.7 million migrant encounters, which was then surpassed in FY2022 when numbers hit 2.3 million.  So far, FY 2023, which began in October, is on track to surpass FY 2022's numbers. 
The situation has been complicated by the looming end of Title 42. The Biden administration attempted to end the order in May last year, but was blocked by a Republican legal challenge. 
However, in November, a federal judge found the use of the order, which was implemented during the Trump administration in response to the COVID-19 pandemic, unlawful and ordered it to be unwound on Dec. 21.
That was in turn blocked by the Supreme Court in response to an emergency request by Republican states. Oral arguments are expected in that case in the Spring.
Republicans and some Border Patrol officials have blamed the Biden administration for the surge, saying that it has rolled back Trump-era enforcement and border security and has encouraged migrants to come to the border. The Biden administration has rejected those claims, blaming the Trump administration for closing off legal asylum pathways and also focusing on 'root causes' such as poverty and instability in Central America.
DHS has outlined a six-point plan to deal with the end of Title 42, which includes surging resources to the border, greater Western Hemisphere cooperation, increased anti-smuggling campaigns and greater use of alternative forms of expulsion. But it has also predicted up to 14,000 migrant encounters a day once the order drops. Mayorkas, meanwhile, has repeatedly claimed the border is 'secure' – a claim that has sparked the ire of Republicans, some of whom have called for him to be impeached.
For a long-term solution, the Biden administration has repeatedly pushed a sweeping immigration reform proposal which was first introduced when the administration took office in 2021. Along with various expanded immigration pathways and technological upgrades, the centerpiece of the bill is a mass amnesty for millions of illegal immigrants — who could apply for an eight-year pathway to citizenship.
Mayorkas re-affirmed his support for the package in the interview, even despite its lack of Republican support which makes its passage unlikely in the upcoming Congress.
'On the very first day in office, President Biden ascent to the Hill to Congress, a comprehensive package that would have meant so much to our ability to really manage the situation at the border, to really bring a broken immigration system that hasn't been reformed for decades, to really bring it into the present the present day, not just from a point of view of enforcement, but also realizing the opportunities that immigration brings to our country,' he said of the bill.
Mayorkas went on to claim that the need for labor in the U.S. is 'so great.'
'We have 10 million job openings in the United States. I was reading about what Canada is doing to address a million open jobs. They're bringing in about 1.3 million migrants to fill that labor need that cannot be met within their own borders. President Biden sent forward a comprehensive package on day one. It has not occurred yet.' 
'We haven't realized the reform that everyone understands is so desperately needed,' he added. 'I'm an undying optimist, and we're going to stay true to the fight to pass reform that our country needs and from which our country will prosper.'
This post appeared first on FOX NEWS