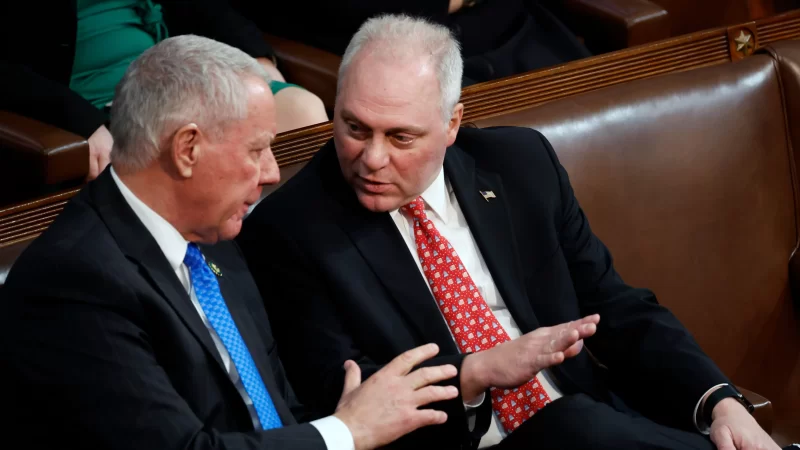 GOP rep says McCarthy may need to step aside, suggests alcohol could help party reach consensus
Rep. Ken Buck, R-Colo., said Wednesday that Rep. Kevin McCarthy, R-Calif., the GOP's primary candidate for House speaker, may need to step aside and let someone else run if he is unable to make a deal with the party's 20 holdouts who have so far refused to vote for him.
McCarthy has failed to capture the 218 votes required to become House speaker after six rounds of voting over a span of two days as Republicans hold a narrow majority of four votes in the chamber.
During an appearance on CNN, Buck was unsure at what point McCarthy should make the decision to step aside, but he said that it made sense for it to happen before Thursday. Buck also floated the idea in a separate Wednesday interview with Politico that serving alcohol could help Republicans reach a consensus.
'I've had a number of conversations with Kevin, and I just basically told him that at some point this needs to break loose. He either needs to make a deal to bring the 19 or 20 over, or he needs to step aside and give somebody else a chance to do that,' Buck said. 'I don't know what that time frame is, but it makes sense that at some point today we're able to move forward in a way that we elect a speaker.'
'The smart thing to do is to get together, have a conversation, choose somebody and let's move forward,' he added.
When asked who might be the person to replace McCarthy, Buck said Rep. Steve Scalise, R-La., was next in line.
'I don't know if Steve gets more or less. I think that at some point we've got to start looking at the rules and the committee assignments and other things and just get back to the basics of what their self-interest is in the case and meet some of those interests and hopefully get the votes,' he said.
'I think you need to break the 20 down. There are a few of those 20 that just aren't going to vote for Kevin McCarthy but would vote for somebody else. There are some of the others in that 20 who want changes in the rules and there are some others who care about policy. And so I think if Steve meets those three needs, he will be able to move forward and take the speakership,' Buck continued.
Buck said that a decision needs to be made 'at some point today' and that it should be made by the Republican conference as a whole because the continuous rounds of voting are beginning to wear members down.
'They're starting to get some open conflict on the floor as well as behind closed doors. I think that conflict isn't healthy, and I think that the moderates are talking about threats that they may work with the Democrats on somebody. The 20 are saying that they're not moving no matter what. At some point, people have to realize that we've got to choose a speaker and move forward. The American people sent us here to get the work done,' he said.
According to Politico reporter Rachael Bade, Buck suggested that Republicans conference 'in the basement' and have 'alcoholic beverages' served in an effort to help them reach a consensus.
'I'm not sure if alcohol will help or hurt,' he reportedly told the outlet.
The House adjourned Wednesday following a sixth vote for House speaker, with McCarthy once again coming up short. The chamber will reconvene at 8 p.m. Wednesday.
This post appeared first on FOX NEWS