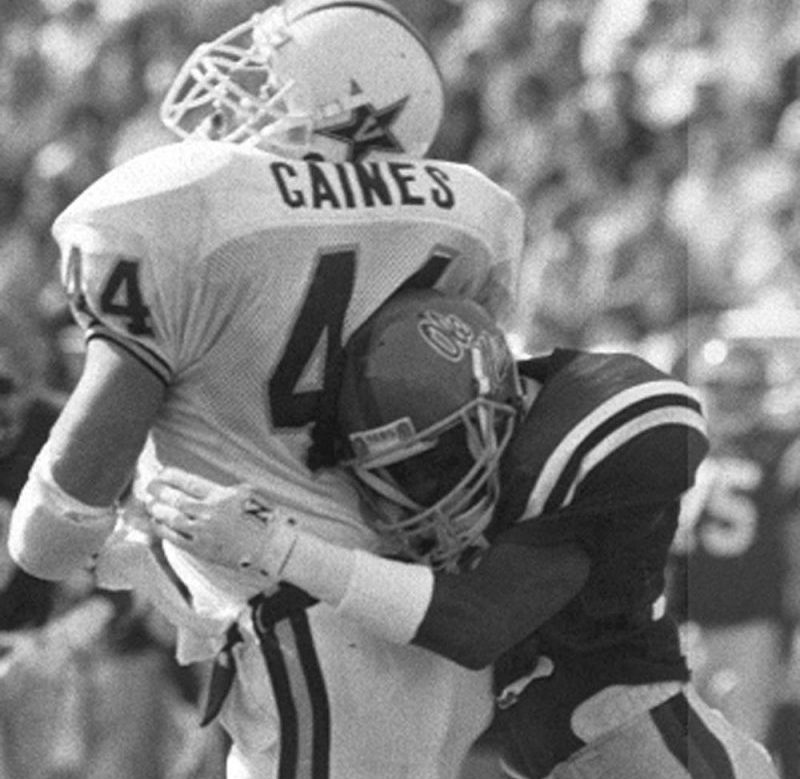 Ex-football player recalls being in Higgins' shoes after Hamlin's collapse
Perhaps no one understands the agony Cincinnati Bengals receiver Tee Higgins might have been feeling or was praying harder for Buffalo Bills safety Damar Hamlin's recovery than Brad Gaines.
Gaines found himself in an eerily similar situation to the incident that gripped the sports world when Hamlin collapsed on the field after tackling Higgins in the first quarter of the Monday Night Football game in Cincinnati.
Hamlin suffered cardiac arrest and his heartbeat was restored on the field. He was transported to University of Cincinnati Medical Center, where he is in critical condition.
It was a nightmarish reminder of a play Gaines, a former Vanderbilt running back, was involved in during the 1989 season, when he was tackled from behind by Ole Miss defensive back Chucky Mullins.
As Gaines and players from both teams returned to their feet, Mullins remained motionless on the field. What had appeared to be a routine hit left the redshirt freshman from Russellville, Alabama, paralyzed from the neck down after suffering broken vertebrae.
Follow every game: Latest NFL Scores and Schedules
Mullins died less than two years later of a pulmonary embolism while in an Oxford hospital.
'I was sick at my stomach; I couldn't sleep last night,' Gaines said after watching the play where Hamlin tackled Higgins. 'It just tore me up. For someone's life to be left in peril like that after so many things that have to come together to bring about an injury like and they do come together literally makes you want to throw up.'
Unlike the game Monday night, which was suspended, the Vanderbilt-Ole Miss game continued to be played after Mullins was flown to a Memphis hospital.
Mullins never walked again, and Gaines never played football the same before ending his career prematurely.
'Obviously, I prayed for Damar, but I also prayed for Tee Higgins,' Gaines said. 'There is no way that game was going to continue to be played. Unless you've been in those shoes you have no idea the kind of impact something like that has on the players. You saw what it did to me. I was never the same.'
Higgins, a former Oak Ridge standout and two-time Mr. Football winner, tweeted that his prayers and thoughts were with Hamlin and his family later Monday night.
Watson Brown, the Vanderbilt coach in 1989, witnessed Mullins' hit on Gaines from the sideline. Soon after seeing Hamlin collapse on the field Monday night, Brown sent a text to Gaines.
'I just wanted to make sure Brad was OK, because I thought about him after that play,' Brown said. 'I mean, we were in a game and all of a sudden it's not a game anymore. It's life and death. That's what those players and coaches were going through last night. And I knew what (Higgins) was going through because I saw what Brad went through and how much it affected him.'
Gaines visited Mullins on several occasions during the 114 days Mullins spent in the hospital and the two established a unique bond. On his first visit, Mullins told Gaines the injury was not his fault.
After Mullins died, Gaines vowed to visit his gravesite in Russellville, Alabama, three times every year − on Oct. 28, the day Mullins was injured, Christmas and on May 6, the day Mullins died. Gaines just returned last week from his Christmas visit, when, as he does on every visit, cleaned Mullins' headstone, pulled weeds from around the grave and sat and reflected.
Brown sends Gaines a text to check on him on each of the three days each year.
'I'll never stop doing that as long as I live,' Gaines said, holding back tears. 'It's something between me and Chucky. I think about Chucky on my drive to Alabama and back and I talk to him while I'm there.'
Ole Miss presents a player annually with the Chuck Mullins award. It goes to an upperclassman defender who embodies the spirit of Mullins in courage, leadership, perseverance and determination. That player also wears Mullins' No. 38 jersey.  
Reach Mike Organ at 615-259-8021 or on Twitter @MikeOrganWriter.
This post appeared first on USA TODAY