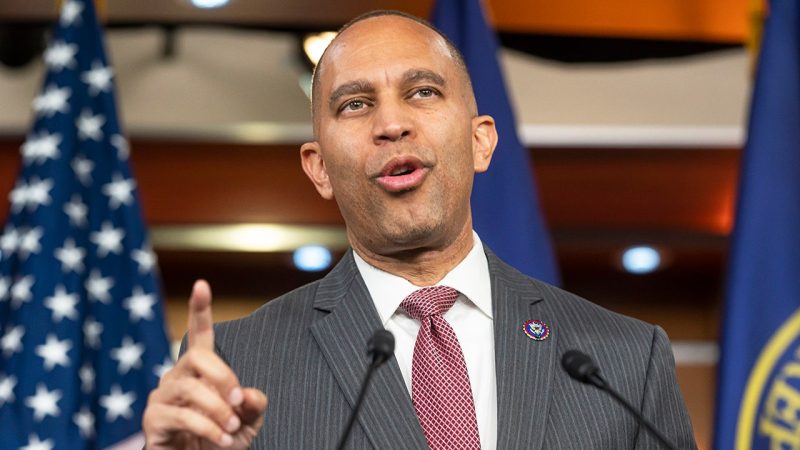 Democrats stress unity message, but pivot from addressing Cori Bush calling Byron Donalds a 'prop'
Top Democratic House leadership on Thursday morning stressed a message of 'unity' in the party, but pivoted when asked about comments from one Democrat in their caucus who called Rep.-elect Byron Donalds a 'prop.' 
House Minority Whip Katherine Clark, D-Mass., Democratic Caucus Chairman Rep.-elect Pete Aguilar, D-Calif., and House Minority Leader Hakeem Jeffries, D-N.Y., held a press conference on Thursday morning continuing to disparage Republican 'dysfunction' over the battle for House speaker and highlighted the 'unity' within the Democratic caucus. 
Jefferies, whom Democrats have unanimously voted for in the multiple rounds of votes for speaker, said Thursday, 'House Democrats are ready, willing and able to get to work on behalf of the American people,' Jefferies said. 
'But we need a willing partner on the other side of the aisle. It's my hope that today the House Republicans will stop the bickering, stop the backbiting, and stop the backstabbing of each other… so we can have the back of the American people.'
Later, however, Jefferies pivoted from having to address a fellow Democrat's inflammatory remarks about GOP Rep.-elect Byron Donalds, in what would appear to be the first time Democrats are not in lock-step agreement.
'FWIW, @ByronDonalds is not a historic candidate for Speaker. He is a prop,' Rep.-elect Cori Bush, D-Mo., tweeted Wednesday afternoon. 'Despite being Black, he supports a policy agenda intent on upholding and perpetuating white supremacy.'
 THE VOTE FOR HOUSE SPEAKER: LIVE UPDATES
When asked by Fox News Digital about whether he agreed with Bush's statement, Jeffries did not directly answer.
'My view has been let's continue to organize on our side as we've done strength, unity, resilience,' Jeffries told Fox News Digital.
'The Republicans have created a mess on their side and the Republicans need to sort it out,' he added.
Jefferies continued to hammer home his message criticism Republican division.
'Tip O'Neill got along with Ronald Reagan. Ted Kennedy got along with Orrin Hatch. Joe Biden got along with John McCain. Nancy Pelosi got along with John Boehner…Ruth Bader Ginsburg got along with Antonin Scalia.,' Jefferies remarked. 
'All we are asking is House Republicans to get along with each other,' he added.
This post appeared first on FOX NEWS