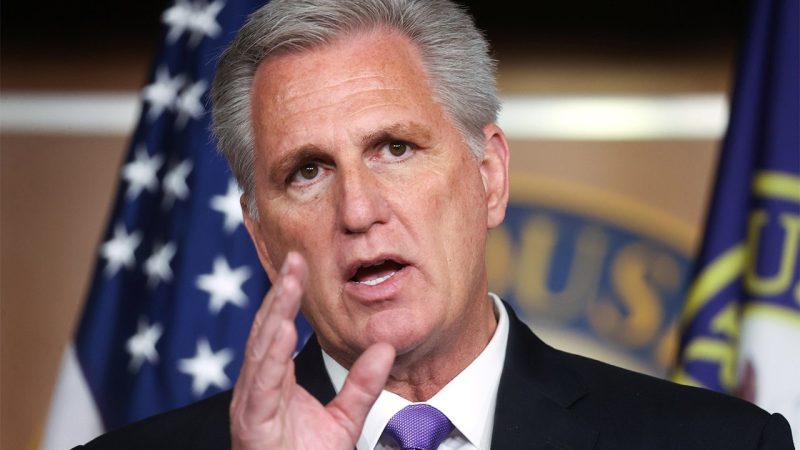 Trump warns lawmakers opposing McCarthy for speaker are playing a 'dangerous game,' the deal must get done
EXCLUSIVE: Former President Trump said Republican lawmakers opposing Kevin McCarthy as speaker of the House are playing a 'dangerous game,' telling Fox News Digital that he supports the GOP leader and 'getting the deal done,' while stressing that he is against 'allowing this to continue onward.'
In an exclusive phone interview Wednesday, the former president, who announced a 2024 presidential campaign last year, urged the faction of House Republicans blocking McCarthy, R-Calif., for speaker to stop the 'game.'
'Let's get this thing over with,' Trump told Fox News Digital. 'The problem is, there is a big downside to this game that is being played.'
'I think it is a dangerous game, and, frankly, if they are not happy with him, they can do something about it at a later date,' Trump said, again stressing that it is a 'dangerous game.'
He added, 'I support [McCarthy] and I support getting the deal done. What I don't support is allowing this to continue onward.' 
Trump's comments come after he posted on Truth Social Wednesday morning, saying 'it's now time for all of our GREAT Republican House Members to VOTE FOR KEVIN.' 
'CLOSE THE DEAL, TAKE THE VICTORY, & WATCH CRAZY NANCY PELOSI FLY BACK HOME TO A VERY BROKEN CALIFORNIA,THE ONLY SPEAKER IN U.S. HISTORY TO HAVE LOST THE 'HOUSE' TWICE! REPUBLICANS, DO NOT TURN A GREAT TRIUMPH INTO A GIANT & EMBARRASSING DEFEAT. IT'S TIME TO CELEBRATE, YOU DESERVE IT,' Trump posted. 'Kevin McCarthy will do a good job, and maybe even a GREAT JOB – JUST WATCH!' 
McCarthy, who has served as GOP leader, failed on three ballots to garner enough support to become speaker of the House Tuesday. It was the first time since 1923 that the House failed on the first vote for a speaker. 
Rep. Matt Gaetz, R-Fla., led the House Freedom Caucus charge against McCarthy's bid for speaker. He and 19 other Republican members have frozen the House in opposition to McCarthy while solidifying their support behind Rep. Jim Jordan of Ohio.
However, Jordan nominated McCarthy for speaker. 
Despite Trump's comments on Truth Social Wednesday, Gaetz told Fox News Digital Wednesday morning that endorsement of McCarthy for speaker has not changed the congressman's view on the former president or GOP leader, nor has swayed his vote.
'Sad!' Gaetz said in a Wednesday statement. 'This changes neither my view of McCarthy, nor Trump, nor my vote.'
Gaetz and approximately 19 other GOP lawmakers argue that McCarthy is not conservative enough, and claim he has failed to make certain assurances about rules changes that would decentralize power in the House.
Democrats were united in support for Rep. Hakeem Jeffries, D-N.Y., to be the next speaker over the three votes and many of their members mocked the GOP divisions on social media and in comments to the press.
The House will continue voting until a speaker is elected.
Fox News' Houston Keene contributed to this report. 
This post appeared first on FOX NEWS