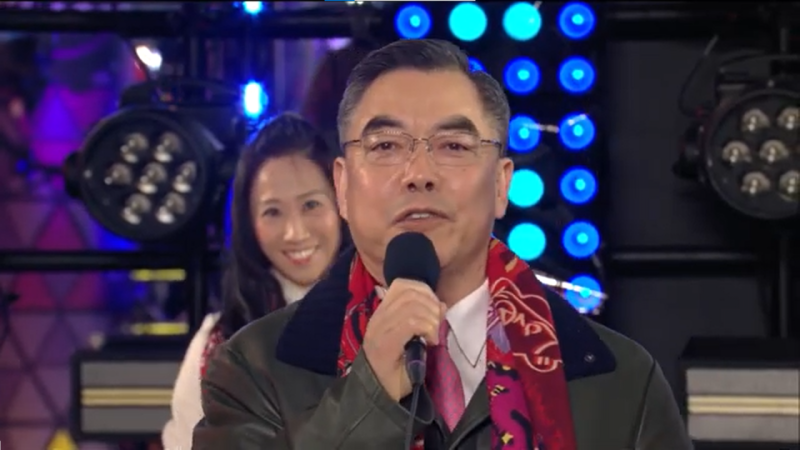 Times Square NYE celebration featured Chinese official who said Communist Party is 'great party'
A Chinese government official who hailed the Chinese Communist Party (CCP) as a 'great party' and repeatedly downplayed human rights violations in China was prominently featured at a New Year's Eve 'celebration' in Times Square Saturday evening.
Huang Ping, who has been the consul general of China's New York Consulate since 2018, is a staunch defender of the CCP and has previously denied the existence of a genocide being committed against Uyghur Muslims in Xinjiang, despite declarations to the contrary by the U.S. government.
Times Square's New Year's Eve 'Hong Kong Rocks!' event celebrated Chinese culture during its opening ceremony and featured remarks from Huang, who said it was his fourth such appearance.
'Hong Kong has always been an unparalleled place for you to discover,' Huang said onstage. 'It will be more proud, passionate and prosperous in the coming new year. All of you are welcome to visit Hong Kong and other parts of China to experience the wonderful scenery and splendid culture.'
'I'm extremely happy that I could be in the @TimesSquareNYC for the 4th time, joining the New Year's Eve #CountdownNYE with friends from around the world,' Huang also tweeted.
According to a press release by the Hong Kong Economic and Trade Office in New York (HKETONY), Elaine Fan, the director of Asian Affairs of the New York state governor's office, and Dawn Tolson, the executive director of the Mayor's Office of Citywide Event Coordination and Management (CECM), attended the opening ceremony with Huang.
The governor's and mayor's offices did not respond to Fox News Digital's requests for comment.
The press release that was published hours after the 'Hong Kong Rocks!' celebration listed Cimagine International Group LLC, or CIMG, as the media contact for the event. According to the website of the group, CIMG has been the 'host for [the] Chinese cultural opening ceremony of the biggest New Year's Eve Countdown Event at Times Square' since 2011.
'The opening ceremony assists to build a positive impression of Chinese culture in the world and thus helps The China National Tourism Administration, Beijing Municipal Commission, Yunnan Province, Shandong Province, the City of Chongqing, Henan Province and other organizations in China to popularize their business and tourism image,' the website says.
The website also touts 'billions of multi media exposure' and says they have 'not only seized the attention of over millions of audience at the scene, but also hundreds of millions of audience in front [of] the television.'
In the 'partners' section of the CIMG website, multiple Chinese state-run propaganda media outlets are listed, including China Central Television (CCTV), Xinhua News Agency, and China Daily. In addition to the media partners, which includes ABC and CNN, CIMG lists the Sino-American Friendship Association (SAFA) as one of its 'Strategic Partners.' According to an August 2022 op-ed from the Washington Post's deputy opinion editor, 'China experts have identified' SAFA as 'being involved in United Front work — a global effort to propagandize on behalf of the Chinese Communist Party.' The organization insisted to the outlet at the time that it is a 'independent, nonprofit, non-government organization.'
SAFA told Fox News Digital on Wednesday that it is 'not involved in united front work' and that the Post article included 'false information.'
'SAFA aims to share the wonderful Chinese and American culture and sports to both Chinese and American people,' Nellie Chen said. 'Thank you for your understanding, we do our best to work with our diversified communities and do not wish to involve in political matters.'
According to SAFA's website, the 'Honorary President' Xikun Yuan is a 'member of the 11th Standing Committee of Chinese People's Political Consultative Conference (CPPCC).' Despite Chen's comments to the contrary, a 2018 report by the U.S.-China Economic and Security Review Commission, a U.S. government agency, found that the CPPCC is a 'central part' of China's United Front system, which works to 'co-opt and neutralize sources of potential opposition to the policies and authority of its ruling Chinese Communist Party.'
The CPPCC is the 'key mechanism for multi-party cooperation and political consultation' under the leadership of the CCP, according to the CPPCC website.
According to the 'Hong Kong Rocks!' press release, SAFA President Peter Zhang and Times Square Alliance President Tom Harris also attended the opening ceremony with Huang.
The Times Square Alliance did not respond to Fox News Digital's requests for comment.
The press release said that prior to the Times Square celebration, 'over 100 guests and dignitaries from the government, diplomatic, business and academic circles, and travel communities of New York, joined a Hong Kong promotional event.' It is unclear which state or local government officials may have attended that event, which was apparently held at the Westin Times Square hotel.
Michael Sobolik, a fellow in Indo-Pacific Studies at the American Foreign Policy Council, warned about the 'Chinese Communist Party's malign influence' in the United States in a Tuesday statement to Fox News Digital.
'The Chinese Communist Party's malign influence in the United States is pervasive and perverse. It has infiltrated numerous corners of American society, including our national celebrations — as seen at the New Years Eve celebration in New York,' Sobolik said. 'The CCP, through 'united front' actors, uses American voices to advance its own hostile agenda. Governments at every level, from local and state to federal, must root out Beijing's ongoing efforts to exploit our openness and freedom.'
Huang has repeatedly praised the CCP and described the internment camps in which Uyghurs are detained as educational.
'There are lots of lies here, fabricated by some people with their own political agenda,' Huang said in a August 2021 interview, denying the existence of genocide and internment camps. 'As I said, there's no genocide, not a single evidence to prove that there's a genocide or something there. It's just a slandering.' 
'I see these centers as a campus, rather than camps,' he said at the time. 'We get these people there to be educated. And this has been quite effective in terms of countering terrorism and in de-radicalization. Up to now, there has not been a single terrorist attack in exactly four years.'
Huang made headlines in April after he attended the 25th annual Harvard College China Forum at Harvard Business School and called on Americans to be more 'tolerant to diversity' and to accept China's way of governance.
'Over the past 100 years, the CPC has united and led the Chinese people to achieve world-renowned achievements in developing our country and improving people's lives,' Huang said at the time, according to a transcript by China's ministry of foreign affairs. 'China will unswervingly be a builder of world peace, a contributor to global development, and a defender of the international order, and will continue to make unremitting efforts for human development and progress.'
'American society has always advocated the spirit of diversity and inclusiveness, but there are also some narrow-minded people who find it difficult to accept those countries with different histories, cultures and systems from the U.S.,' he said. 'They always point fingers at those countries and want to change them.'
'The path of socialism with Chinese characteristics is rooted in the 5,000-year-old Chinese civilization,' Huang continued. 'It is the choice of the 1.4 billion Chinese people. The development and progress China has made in the past few decades has fully proved that this is the right path that suits China's national conditions. We will follow this path unswervingly. A poll conducted by the Harvard Kennedy School on China for 10 consecutive years shows that the Chinese people's satisfaction with the government has remained above 90% year after year. We hope that the U.S. side will respect the path independently chosen by Chinese people and accommodate a peaceful and prosperous China.'
In January 2022, Huang tweeted videos of himself participating in Nasdaq's virtual bell-ringing ceremony and the lighting of the Empire State Building for the start of the Lunar New Year.
Huang said at the time that it was also his fourth time attending Nasdaq's bell ringing ceremony.
Ping did not respond to Fox News Digital's request for comment.
Fox News Digital's Brooke Curto contributed to this report.
This post appeared first on FOX NEWS