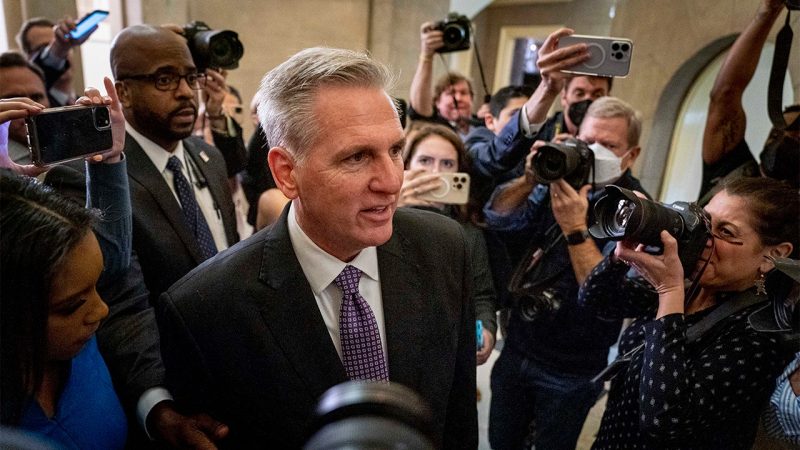 Pence joins Trump in backing McCarthy in House speaker race
Former Vice-President Mike Pence weighed into the ongoing GOP civil war, encouraging Republicans to vote in Rep. Kevin McCarthy as Speaker of the House.
Pence made his opinion known Wednesday after Republicans made multiple failed attempts to vote McCarthy into the chair.
'Urging Every Republican in [the House GOP] to support my friend, Kevin McCarthy as the next Speaker of the House,' Pence said.
He added, '[His] Leadership & Vision led to The New Republican Majority & I know Speaker McCarthy will lead the House to begin a Great American Comeback!'
On Tuesday, House members were tasked with electing a new speaker, but an initial vote resulted in no candidate meeting the 218-vote threshold — the first time in nearly a century. 
McCarthy called the defectors' bluff in forcing a second and third round of voting. A fourth vote on Wednesday also failed to elect McCarthy.
On the third vote, Donalds changed his vote from McCarthy to Jordan, raising the number of Republicans voting for someone other than McCarthy to 20. 
Pence's 2016 running-mate, former President Trump, said Republican lawmakers opposing Kevin McCarthy as speaker of the House are playing a 'dangerous game.'
Trump told Fox News Digital that he supports the GOP leader and 'getting the deal done,' while stressing that he is against 'allowing this to continue onward.'
In an exclusive phone interview Wednesday, the former president, who announced a 2024 presidential campaign last year, urged the faction of House Republicans blocking McCarthy, R-Calif., for speaker to stop the 'game.'
Fox News' Brooke Singman contributed to this report.
This post appeared first on FOX NEWS