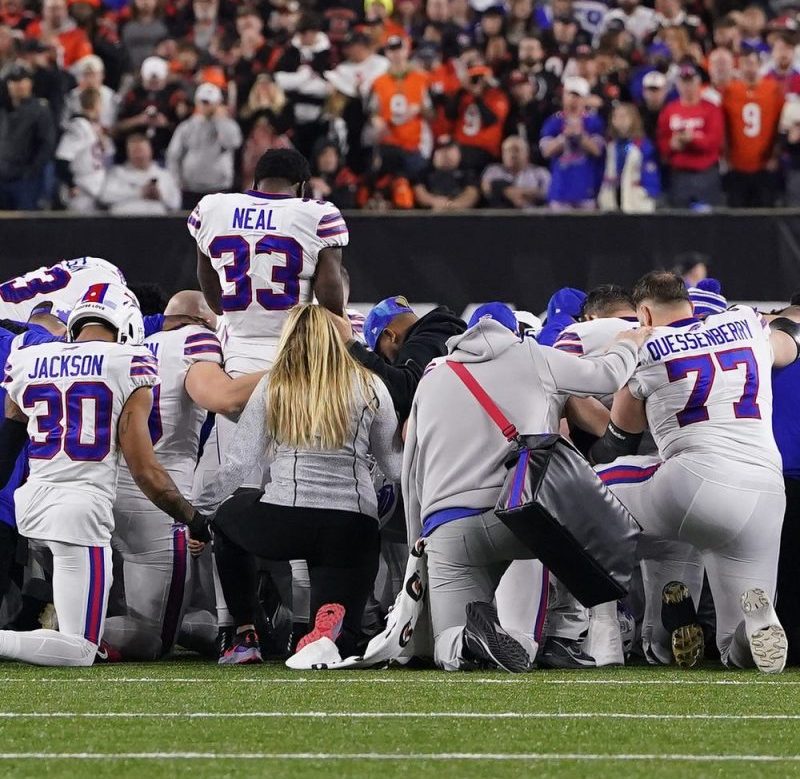 Fantasy football, betting sites impacted by suspended Bills-Bengals game
Now that the NFL has announced Monday night's Buffalo Bills-Cincinnati Bengals game will not be played this week, fantasy football leagues face a difficult decision on what to do about an incomplete Week 17 schedule. 
The matchup of two high-powered offenses figured to play a major role in determining season-long fantasy championships with most leagues conducting their title games this week.
However, after Bills safety Damar Hamlin collapsed on the field Monday night, the NFL suspended the game with 5:58 remaining in the first quarter.
Fantasy managers counting on Josh Allen, Joe Burrow, Joe Mixon, Stefon Diggs, Ja'Marr Chase and others on the two teams will get little to no production from them in the most important game of the season.
Among the major fantasy football websites, most of them posted announcements at the top of the page to explain the situation.
From MyFantasyLeague.com: 
We understand that many fantasy leagues are relying on the outcome of this NFL game to determine their fantasy championship. However, we have to wait until the NFL makes a decision on the game before we know how to handle the game for fantasy league purposes. This is an unprecedented situation, so we appreciate your patience while we await further news.
RealTime Fantasy Sports previously had provisions in place for suspended games, which it enacted.
'(I)f the game is canceled or re-scheduled for any time AFTER this week then all Bills/Bengals will receive 0 points.'
However, RTSports and other sites do allow the commissioners of individual leagues to enact their own solutions, such as awarding points retroactively from Week 18 games to the Week 17 matchup, moving the title game to Week 18 or combining points from both weeks into a single total score.
Other options could include calling the league championship matchup a draw, declaring co-champions and/or donating the league's prize money to charity (such as Hamlin's toy drive).
Sports betting impact
Sports betting sites such as FanDuel, DraftKings, BetMGM and Tipico Sportsbook have voided bets and daily fantasy contests involving the Bills-Bengals game.
However, FanDuel is counting the stats from Monday's game in its season-long best ball contests. 
Over the past two seasons, when COVID-19 caused several NFL games to be postponed, major fantasy sites extended their weekly scoring period to include games moved as late as Wednesday.
However, those instances were much different because the NFL was able to give teams advance notice of when their games would be rescheduled. The Bills and Bengals playing on Monday night complicated the NFL's timeline even more because postponing the game any later in the week would leave only a few days of rest before the Week 18 schedule begins on Saturday – with the opening round of the playoffs looming the following week. 
This post appeared first on USA TODAY