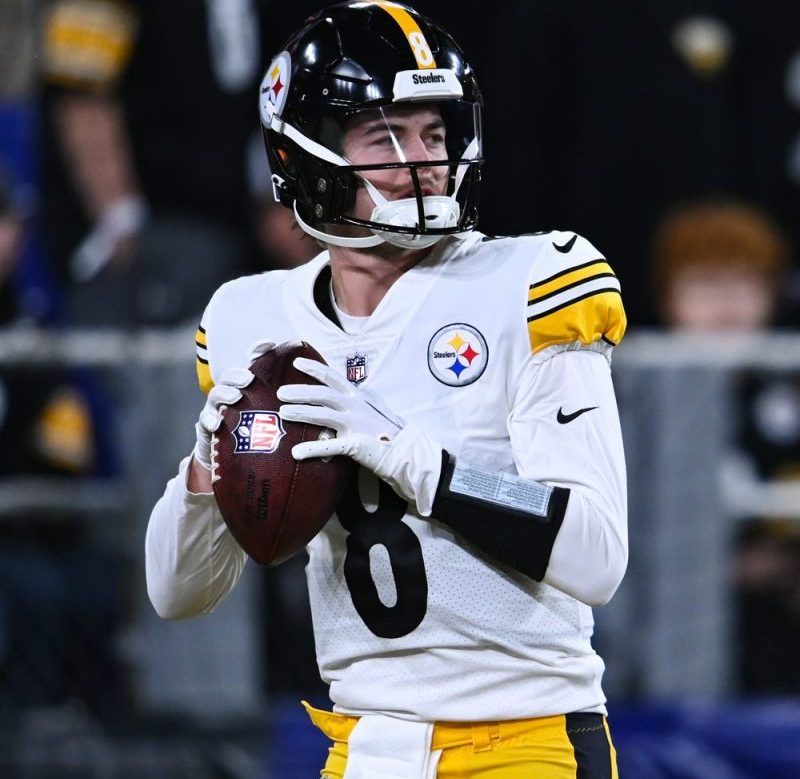 NFL winners, losers: Pickett grows up, and what was Rivera thinking?
Week 17 in the NFL clarified much of the playoff picture, though not all loose ends have been resolved.
One thread that was came in the NFC South, where the improbable run of the Carolina Panthers came to an end, in large part because of the way they defended Tom Brady's favorite target, Mike Evans. Now, Tampa Bay has won the NFC South.
Elsewhere in the conference, the Green Bay Packers (via a Washington Commanders loss) now control their destiny for the last remaining playoff spot in the NFC. But this team is much more than just quarterback Aaron Rodgers.
In the AFC, the Miami Dolphins continued their freefall and the New England Patriots climbed into the last open wild card spot … for now.
Here are the winners and losers from the penultimate week of the 2022 NFL season.
Follow every game: Latest NFL Scores and Schedules
WINNERS
Kenny Pickett grows up
Facing a defense that hadn't allowed a touchdown at home over the previous 15 quarters, Steelers rookie quarterback Kenny Pickett made several massive throws with their season on the line, down four points and needing a touchdown to go ahead.
Pickett (15-of-27 passing for 168 yards with one touchdown) didn't post huge numbers, but he played reasonably well. It was the game-winning series, however, when he shined. In the series, Pickett completed five of his six throws for 62 yards, including a 10-yard touchdown to running back Najee Harris in which Pickett escaped pressure and delivered an accurate pass on the move. He also converted two rushing first-down conversions on third downs via quarterback sneaks. Now, more importantly for the Steelers (8-8), their slim playoff hopes stayed alive with the victory. Pittsburgh needs to beat the Browns next week and have both the Patriots and the Dolphins drop their games.
Even if they miss playoffs, Lions rising
Winners of seven of their last nine, the Lions have an outside shot to make the postseason. Detroit (8-8) will need to beat the Packers (8-8) in Week 18 but will also need the Seahawks (8-8) to lose against the Rams (5-11). Frankly, all of that happening is unlikely, but — either way — this season has been a resounding success for Dan Campbell and the Lions.
Though there are still some issues to solve on defense, Detroit has injected speed onto its roster, and that's with star rookie Jameson Williams still being worked back from his torn anterior cruciate ligament suffered in the national championship game. Jared Goff is working Detroit's play-action passing game with absolute precision. The offensive line has been steady. And Detroit is the best team in the NFL at protecting the ball, having committed just 15 turnovers. These are all things this young team can take into next season and beyond.
Packers dangerous for many reasons
While the Vikings have had an unsustainable amount of luck, and Green Bay got a massive break with the Browns toppling the Commanders, the Packers (8-8) will be in a win-and-in scenario in next week's finale against the Lions (8-8). Yet it's not only Aaron Rodgers who makes Green Bay a suddenly difficult out.
Rodgers, to be clear, was efficient, completing 15-of-24 passes for 159 yards with two total touchdowns. But Green Bay's defense and special teams set the tone with the game's first two touchdowns: a 105-yard kickoff return by Keisean Nixon and a 75-yard pick-six by safety Darnell Savage. During Green Bay's four-game winning streak, it is allowing just 17 points per game. Granted, they haven't played the toughest opponents and have faced some teams struggling through injuries, but the Packers have limited opponents to 41.5% conversions on third downs and 44.4% conversions in the red zone. They've also forced 12 turnovers in that span.
The case for Jarrett Stidham
Let's get the atrocious overtime interception out of the way: Stidham shouldn't have lofted it in the face of pressure, and it's the type of play he will need to learn from if he's to become a viable NFL quarterback.
Still, making his first career start for the Raiders (6-10), Stidham showed that — depending on the price — he may be worth a flier next season as Las Vegas determines what to do at quarterback. Stidham (23-of-34 for 365 yards, three touchdowns and two interceptions) is 26 and carved up the NFL's best defense. When the Patriots drafted Stidham in 2019, Josh McDaniels was New England's offensive coordinator. Given his familiarity with Stidham, McDaniels makes sense as the coach who can extract the most out of him, and Stidham makes sense as a bridge player for a team that will almost certainly be looking for a new starting quarterback for the first time since the 2014 offseason.
LOSERS
Ron Rivera's stunning lack of awareness 
The Commanders coach otherwise had a solid season managing a deficient roster into playoff contention. Week 17, however, was a debacle. Rivera started Carson Wentz at quarterback because Wentz had one good quarter the previous week, after he had benched Taylor Heinicke in a blowout loss.
While Washington's offense had recently stalled, Heinicke's play was not the sole reason. The Commanders (7-8-1) committed careless penalties, the rushing game vanished at times and a defense that had forced turnovers suddenly stopped putting the offense in favorable positions. So, in a must-have game, rather than ride the momentum Heinicke had built, Rivera turned to Wentz, who has a track record of imploding in crucial games late in the season. That Rivera didn't have a short leash on Wentz (16-of-28 for 143 yards, 0 touchdowns, three interceptions) is egregious. That he didn't know Washington could be eliminated from playoff contention is utterly indefensible.
Colts' collapse has Irsay's fingerprints all over it
The Colts owner took a victory lap after interim coach Jeff Saturday won his first game in Week 10. Since then, Indianapolis has been in freefall. According to multiple reports, Irsay was the catalyst behind the team's first benching of Matt Ryan at quarterback, in October, when Frank Reich was still head coach.
Irsay has now overseen a series of moves that has done nothing but create massive instability. Irsay fired Reich in large part because the Indianapolis offense was ineffective. The Colts (4-11-1) have now been outscored 97-16 in their last 10 quarters. The Giants hadn't beaten anyone this season by more than eight points; they throttled Indy by 28. The offensive line, the position Saturday played and was expected to improve, has continued its slide as one of the most disappointing units in the NFL. The roster is flawed, the Colts don't have a quarterback and if anyone deserves blame, it's the owner.
Carolina makes dreadful decision, not once, not twice …
The Panthers carried an 11-point lead early in the fourth quarter. Had they won, they would have entered the season finale with the chance to win and clinch an improbable run to an NFC South championship. Instead, the Panthers (6-10) lost to the Buccaneers and were eliminated, and it was largely because they (twice) repeated a mistake that burned them earlier in the game.
After Panthers receiver Shi Smith caught a 19-yard touchdown in the fourth, Carolina played Bucs receiver Mike Evans in single-man coverage with no safety help, leading to 57- and 30-yard touchdown grabs on consecutive Tampa possessions that gave the Bucs a lead they would never relinquish. That it came after Evans hauled in a 63-yard score late in the second quarter, when Carolina also played him in single-man, is baffling and peak defensive mismanagement. As good as Steve Wilks has been as interim coach, this was not his finest moment.
Dolphins in freefall
At the end of Week 12, the Dolphins were 8-3. Their quarterback, Tua Tagovailoa, was creeping into the MVP conversation. They had been buyers at the trading deadline and a playoff berth looked certain. Since then, Miami (8-8) has lost five in a row. They need help to make the postseason. Tagovailoa has faced health issues with concussions, and the team's long-term questions at quarterback have not been answered.
That all but one of Miami's losses during the skid has been in one-score games signals both how close the Dolphins have been to an alternate reality and how costly their lapses have been. Miami has abandoned the rush at critical times. It has often committed careless penalties in high-leverage situations. Place kicker Jason Saunders has become wholly unreliable beyond 40 yards. The Dolphins have given the ball away 10 times during their losing streak. They are battling a rash of injuries. They have no one but themselves to blame.
This post appeared first on USA TODAY