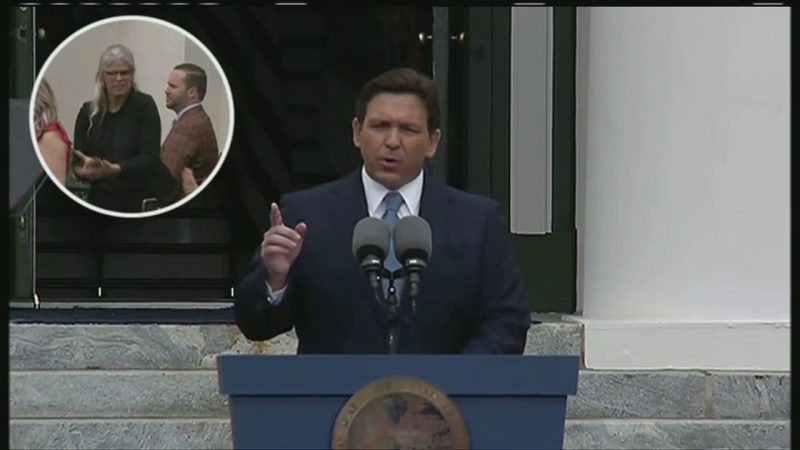 DeSantis: Soft on crime policies, 'woke ideology,' sparked 'mass exodus' to Florida from Democrat-run cities
Florida Gov. Ron DeSantis said Democratic 'soft on crime' policies and 'woke ideology' in other states were the reasons why Florida is the fastest-growing state in the country.
During his second inaugural address on Tuesday, the newly re-elected Republican governor contrasted his governing philosophy with that of Democrat-run cities and states. Characterizing Florida as a 'promised land of sanity,' DeSantis emphasized his commitment to backing law enforcement as opposed to the 'defund the police' movement.
'We will always support law enforcement and we will always reject soft on crime policies that put our communities at risk,' he said. 
DeSantis attributed Florida's fast-growing population to his administration's support for 'law and order' and the conservative principles guiding his government. Data released by the Census Bureau last month showed Florida's population grew to 22,244,823 between 2021 and 2022, an increase of 1.9% in one year. It was the first time since 1957 that Florida was the state with the largest percent increase in population. 
The Census Bureau reported that areas of the country with blue states, the Northeast and Midwest, each lost population as Americans are moving to the South and the West. While Florida was the fastest-growing state, Texas was the largest-gaining, reaching a total population of 30,029,572 million. Texas and California are now the only two states with a population exceeding 30 million.
Calling upon the well-known metaphor of the 50 U.S. states as a 'laboratory of democracy,' DeSantis said Florida's growth showed Democratic experiments with radical-left policies are failing. 
'The policies pursued by these states have sparked a mass exodus of productive Americans from these jurisdictions, with Florida serving as the most desired destination, a promised land of sanity,' DeSantis said. 
'Many of these cities and states have embraced faddish ideology at the expense of enduring principles,' he continued. 'They've harmed public safety by coddling criminals and attacking law enforcement. They've imposed unreasonable burdens on taxpayers to finance unfathomable levels of public spending. They have harmed education by subordinating the interests of students and parents to partisan interest groups. They have imposed medical authoritarianism in the guise of pandemic mandates and restrictions that lack a scientific basis. 
'This bizarre but prevalent ideology that permeates these policy measures purports to act in the name of justice for the marginalized. But it frowns upon American institutions. It rejects merit and achievement. And it advocates identity essentialism,' DeSantis said. 'We reject this woke ideology. We seek normalcy, not philosophical lunacy. We will not allow reality, facts and truth to become optional. We will never surrender to the woke mob. Florida is where woke goes to die.' 
This post appeared first on FOX NEWS