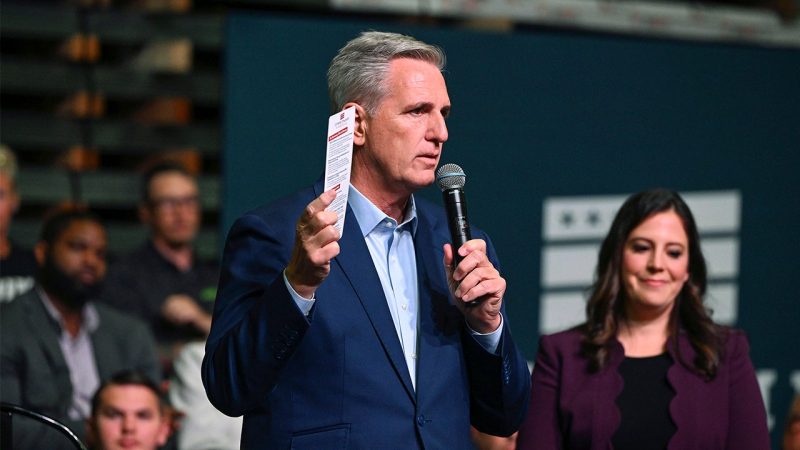 Some House Republicans concerned McCarthy speakership would continue 'past and ongoing Republican failures'
Prospective House Speaker Kevin McCarthy is still tussling with some members of his party who are concerned electing him to be speaker would be a 'continuation of past and ongoing Republican failures.'
Last week, the California Republican floated a congressional rule change that would make it easier to remove a House speaker in exchange for his rise to the post, a key demand from powerful GOP opponents.
Under current rules, which were imposed under House Speaker Nancy Pelosi, a Democrat, only a member of the House leadership can offer a motion to vacate, while the new proposal would allow any member of the House to force a vote to remove the speaker, at any time.
On Sunday afternoon, McCarthy met with GOP members to try and rally support for his speakership vote on Jan. 3, when the new Congress takes office. The embattled Republican leader conceded rank-and-file members will be allowed to call for the speaker's removal, though he wasn't clear about how many members would need to sign on to the motion, according to reports.
The meeting came after his letter on New Year's Eve, titled 'Restoring the People's House and Ending Business as Usual,' which was his admission of the deep dysfunction of the House of Representatives and his pitch to make it right.
In response to McCarthy's letter, GOP Reps. Scott Perry of Pennsylvania, Paul Gosar of Arizona, Chip Roy of Texas, Dan Bishop of North Carolina, Andy Harris of Maryland and Andrew Clyde of Georgia, along with Rep.-elects Andy Nogales of Tennessee, Anna Paulina Luna of Florida and Eli Crane of Arizona sent a letter of their own.
'Regrettably, however, despite some progress achieved, Mr. McCarthy's statement comes almost impossibly late to address continued deficiencies ahead of the opening of the 118th Congress on January 3rd,' the letter stated. 'At this state, it cannot be a surprise that expressions of vague hopes reflected in far too many of the crucial points still under debate are insufficient. This is especially true with respect to Mr. McCarthy's candidacy for speaker because the times call for radical departure from the status quo – not a continuation of past and ongoing, Republican failures.'
The letter continues to say that McCarthy's 14-year presence in senior house leadership puts the burden of House dysfunction on him, which he now admits.
Rep. Andy Biggs announced in early December that he would run against McCarthy for speaker.
'We cannot let this all too rare opportunity to effectuate structural change pass us by because it is uncomfortable to challenge the Republican candidate who is a creature of the establishment status quo, or because the challenge is accompanied by some minimal risk,' Biggs wrote in an Op-Ed for the Daily Caller at the time.
Biggs and four other Republicans pledged to vote against McCarthy, which could be problematic with the party's slim majority — 218 votes are needed to clinch the speaker seat.
Biggs' candidacy is largely seen as an opportunity to showcase that McCarthy cannot get the 218 votes required to be speaker. McCarthy's opponents say that once that reality becomes clear, other alternatives will step up.
Republicans in the incoming House have a majority with 222 seats, and McCarthy needs 218 votes to clinch the speakership. With five opposed, theoretically he only needs one vote from those five to get that spot.
But those votes could be fluttering away.
'Mr. McCarthy's statement also continues to propose to restrict the availability of the traditional motion to vacate the chair as a means of holding leadership accountable to its promises; we have from the beginning made clear that we will not accept following Nancy Pelosi's example by insulating leadership in this way,' the nine House GOP members said in their letter on Sunday. 'We also note that the statement fails completely to address the issue of leadership working to defeat conservatives in open primaries. The progress made thus far has been helpful and should guide our thinking going forward.'
This post appeared first on FOX NEWS