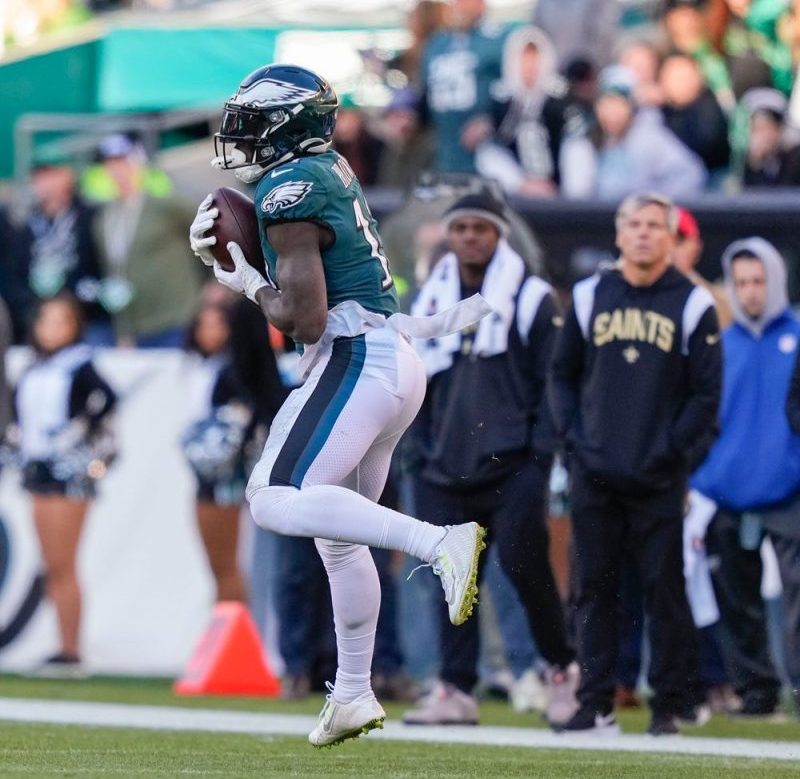 Saints deny Eagles chance to clinch top spot in NFC
PHILADELPHIA − No Jalen Hurts, big problem.
The Eagles played a punchless first half, not getting their first first down until 12 seconds remained. Then after recovering somewhat in the second half, Gardner Minshew threw a crushing interception returned 11 yards for a touchdown in the fourth quarter.
That was too much for the Eagles to overcome as they fell 20-10 to the New Orleans Saints on Sunday.
The loss was damaging in so many ways. Hurts sat out his second straight game with a shoulder injury. He might have to play in the season finale as the Eagles (13-3) missed a chance to not only clinch the NFC East, but the No. 1 seed in the NFC playoffs, with the bye that goes with it.
The Eagles can still accomplish both goals with a win over the Giants this weekend.
Follow every game: Latest NFL Scores and Schedules
But no doubt, the Eagles saw the difference between Hurts, who's a leading candidate for the MVP, and Minshew, who finished 18-for-32 for 274 yards with a touchdown and interception.
Minshew threw three interceptions in the two games in place of Hurts. He couldn't move the offense in the first half as the Eagles went scoreless for the first time this season. And when the Eagles needed Minshew to convert a 4th-and-1 at midfield with 8:32 left, he came up short on a QB sneak, a play that's virtually guaranteed with Hurts' ability as a runner.
Minshew's bright spot was a 78-yard touchdown pass to A.J. Brown with 45 seconds left in the third quarter, when Brown got open deep, then brushed off his defender and ran about 35 yards into the end zone.
That brought the Eagles to within 13-10 with the fourth quarter approaching.
But even after the Eagles' defense stopped the Saints throughout the second half, racking up 7 more sacks and breaking the team record in a season with 62, Minshew couldn't move the offense again.
There were several costly penalties, including a holding call on left guard Landon Dickerson that negated Kenny Gainwell's 28-yard touchdown run early in the third quarter. The Eagles settled for a 56-yard field goal instead.
And then Minshew threw the interception that sealed the game. The Eagles took possession at their 9 with 6 minutes remaining. On second down, Minshew tried to hit Brown on a quick screen, but cornerback Marshon Lattimore jumped the play, intercepted the ball and scored.
The Eagles were done.
But really, they never got started after a deplorable first half. The fans weren't happy, booing the Eagles after each possession, the boos growing louder after each 3-and-out as the Saints took a 13-0 lead.
The Eagles didn't come close to scoring. They didn't get their first first down of the game until Minshew threw a 12-yard pass to Dallas Goedert with 12 seconds left in the first half.
And without star right tackle Lane Johnson, the Eagles allowed five first-half sacks.
It was only slightly better on defense, but the Saints QBs of Andy Dalton (13 completions) and Taysom Hill (2) were a perfect 15 of 15 for 188 yards passing until their first incompletion − a Josiah Scott interception with 34 seconds left in the first half.
The Saints had the ball for 22:50 in the first half, the Eagles for just 7:10.
But the Eagles did set the team sack record with two in the first half. That gave them 63 for the season. Fittingly, Brandon Graham got the record-breaking sack. That gave him 10 on the season, making him the fourth Eagle in double figures in sacks.
No NFL team has had four players in double figures since sacks became an official stat in 1982.
'Man, that would mean a lot because we'll go down in history for that,' Graham said. 'But there's no pressure. I'm just out here having fun … We heard about that (team) record for so long in this organization, so to be able to be two sacks away, don't think about it, just be us.'
MINSHEW AND WENTZ? What Carson Wentz can learn from Eagles' Gardner Minshew as both QBs get a second chance
The Eagles needed to score 30 points or more Sunday in order to break the previous franchise record for points in a season. The Eagles scored 474 points in 2014.
There are personal records at stake, too.
Wide receiver A.J. Brown needs 106 yards receiving to set the franchise record for receiving yards in a season, set by Mike Quick with 1,409 yards in 1983. Brown, with 93 yards receiving, is 13 yards of Quick's record.
Dubious penalty negates TD
As if things weren't going badly enough for the Eagles' offensively, they had put together by far their best drive of the game when they started the third quarter with − get this − some running plays. They drove to the Saints' 28 when Minshew handed the ball off to Kenny Gainwell, who found a hole and ran it in for a touchdown.
But left guard Landon Dickerson was called for a hold and the Eagles settled for a 56-yard field goal. Replays showed that Jordan Mailata might have been guilty of a hold as Dickerson 'pancaked' his opponent.
Josh Sweat has scary injury
It appeared that Eagles defensive end Josh Sweat suffered a significant injury in the first quarter. He was trying to make a tackle on Adam Prentice on a 3rd-and-1 from the 19. Sweat went down and banged his hands on the turf. But he didn't appear to be moving his legs, so he stayed face down on the turf for several minutes.
A cart came on the field and Sweat was slowly lifted onto it as the entire team came over to wish him well. He appeared to be moving his arms, but not his legs as the cart was driven off slowly.
The Eagles announced that Sweat has a neck injury was transported to a local hospital for precautionary reasons. He has movement in all extremities.
Hurts not only key player out
The Eagles listed three key players on the gameday inactive list. Right tackle Lane Johnson is sitting out with an abdominal injury. The Eagles are hoping that he can return in time for the playoffs. Also, nickel cornerback Avonte Maddox is also expected to be out until the playoffs with a toe injury.
The other inactives were RB Trey Sermon, DE Janarius Robinson and G Sua Opeta.
The Eagles gave the practice-squad elevation to punter Brett Kern. That's his third and final elevation. The Eagles will have to create a spot on the 53-man roster for Kern for him to play again.
For the Saints, starting safety Marcus Maye and guard Andrus Peat are sitting out with injuries. But CB Marshon Lattimore and WR Chris Olave, both listed as questionable, are playing.
Contact Martin Frank at mfrank@delawareonline.com. Follow on Twitter @Mfranknfl.
This post appeared first on USA TODAY