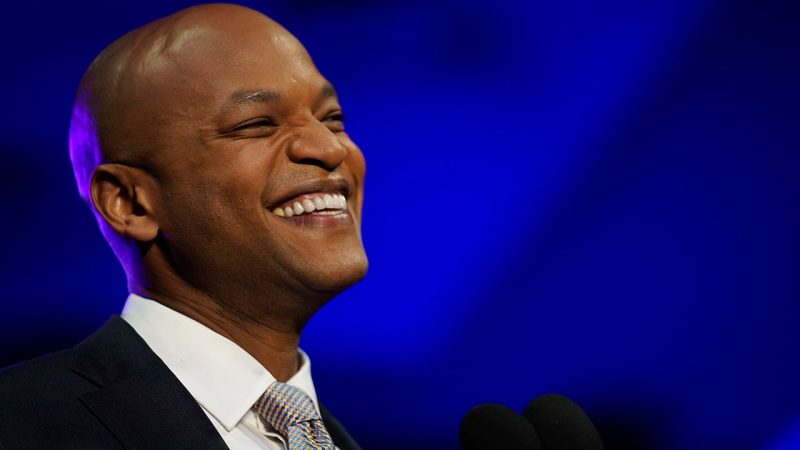 Rising political stars on the right and left: 12 people to watch in 2023
The new year and new Congress add up-and-coming political figures, as well as familiar faces with changing roles, to the list of those who have the potential to shape the future of politics.
In no particular order, here are a dozen Republican and Democratic rising political stars to watch in 2023.
Gov.-elect Wes Moore of Maryland
Combat veteran Wes Moore made history in the 2022 midterms as the first Black governor elected in Maryland. 
Before breaking onto the political scene, Moore was a best-selling author and CEO of Robin Hood Foundation, an anti-poverty nonprofit organization. Following his election, Moore was nominated as finance chair of the Democratic Governors Association.
Endorsed by Oprah Winfrey and President Joe Biden, the Democrat made a splash last cycle, winning his first ever bid for political office and remaining a clear rising figure in his party.
Elected as the third black governor in U.S. history, Moore was compared to former President Barack Obama throughout his campaign and has been championed for a future White House run.
At 44 years old, Moore could have a long career in politics, potentially in Congress and beyond.
Sen. Steve Daines of Montana
Republican Sen. Steve Daines has represented Montana in the Senate since 2014 and is currently serving his second term. 
After years of legislative success, pushing for stricter border security and advocating for Second Amendment rights, Daines was elected as chairman of the National Republican Senatorial Committee (NRSC) in the new Congress. 
As NRSC chair, the fifth-generation Montanan will be in charge of unseating his own state's current Democratic senator, Jon Tester, who is up for re-election next cycle. Senate Republicans have a favorable map in 2024 and Daines declared he will do 'whatever it takes to makes sure we have a Republican majority.'
With experience under his belt and the new leadership role, Daines will be at the forefront of GOP decision-making, elections and overall shaping of the party.
Rep.-elect Maxwell Frost of Florida
Maxwell Frost recently entered the political scene, becoming the first Gen Z congressman at only 25 years old. 
Frost is one of the survivors of the horrific mass shooting at Marjory Stoneman Douglass School in Parkland, Florida, and has since been a vocal supporter of stricter gun control measures.
Frost was elected to represent Florida's 10th Congressional District and is making a name for himself as one of the newest recruits of the progressive group known as 'The Squad.' 
The young Democrat is expected to work closely with well-known Squad members Reps. Alexandra Ocasio Cortez, D-N.Y., and Cori Bush, D-Mo., and given his age, will likely be a strong voice among young voters.
Rep.-elect Mike Lawler of New York
The incoming Republican congressman wants to reach across the aisle, and after a huge upset victory in the Empire State, he appears to have the Democratic Party's attention.
In a surprise victory, Mike Lawler unseated DCCC Chair Rep. Sean Patrick Maloney, D-N.Y., in the midterm race to represent New York's 17th Congressional District. The defeat marked the first time the chair of a House campaign committee was unseated since the 1990s. 
Lawler, a former New York assemblyman, vowed to take a bipartisan approach in his new role and was endorsed by House Minority Leader Kevin McCarthy, D-Calif.
Throughout his campaign, Lawler supported a gas tax holiday and a 10% property tax exemption for volunteer firefighters and EMS personnel, pushed back against age-inappropriate curriculum within school districts, and backed securing the southern border. 
Sen.-elect John Fetterman of Pennsylvania
Sen.-elect John Fetterman served as mayor of Braddock, Pennsylvania, for 13 years before exiting the steel town to become the state's lieutenant governor.
His midterm election was one of the most closely watched races of the 2022 cycle. Despite suffering a stroke in May, which caused Fetterman to have severe auditory processing issues and little public engagement for the closing months of his campaign, the Democrat ultimately prevailed and defeated his Republican challenger in the race.
Following his election, the hoodie-wearing Harvard graduate was named one of The New York Times 2022 'Most Stylish' individuals.
Iraq War Veteran, Rep.-elect Wesley Hunt
Born and raised in Houston, Congressman-elect Wesley Hunt flipped Texas' 38th Congressional District red in the 2022 midterms.
Hunt served one combat deployment to Iraq and as a diplomatic liaison officer during two deployments to Saudi Arabia.
'Changing Washington won't be easy, but graduating from West Point and serving in the United States Army, being deployed to combat zones, and flying Apache helicopters over Iraq has prepared me for tough fights and big challenges. I truly believe nothing is more worth fighting for than our great country and our way of life in the Houston area,' Hunt states on his election website.
Mayor-elect Karen Bass of Los Angeles
The City of Angels has a lot of cleaning up to do, and Democratic Mayor-elect Karen Bass was elected to take on the job.
In November, Bass was elected as the first female mayor of Los Angeles, California, after representing California's 33rd and 37th Congressional Districts in Congress for several years. She was also on a short list to be President Biden's vice presidential nominee in the 2020 election.
Born and raised in the city, Bass jumped into the activism scene early, founding the Community Coalition and the Los Angeles-based National Foster Youth Institute.
Aside from her social work, Bass has a long history of representative experience, serving as chair of the Congressional Black Caucus and chair of the Crime Subcommittee of the House Judiciary Committee.
Over the next few years, Bass will take on the challenge of reshaping the famous California city that currently faces high rates of homelessness and rising crime, while remaining one of America's most popular tourist destinations.
Jack Smith 
In November, Attorney General Merrick Garland appointed Jack Smith as the special counsel to the Justice Department. 
Smith was named to oversee the criminal investigation into documents obtained during a raid on former President Donald Trump's Mar-a-Lago residence.
Before being named to oversee investigations into Trump, Smith was the chief prosecutor for the special court in The Hague, assigned with investigating war crimes committed during the Kosovo War during the late 1990s.
'I will exercise independent judgment and will move the investigations forward expeditiously and thoroughly to whatever outcome the facts and the law dictate,' Smith said after being appointed.
Smith will be at the center of deciding the fate of the former president, as the ongoing investigations into Trump continue.
Rep. Suzanne DelBene of Washington
Incoming Minority Leader Hakeem Jeffries selected DelBene to become chair of the Democratic Congressional Campaign Committee to lead the attempt to win the Democrats control of the House in the 2024 election.
DelBene has served in Congress since 2012 and is the current vice chair of the House Ways and Means Committee, as well as chair of the New Democrat Coalition.
Rep. DelBene was one of the three House members who supported the rule change to allow the House leader to nominate someone as chair. 
If confirmed by the Democratic Caucus, her vote for the rule change could be one the smartest decisions of her political career.
Marjorie Dannenfelser, president of Susan B. Anthony Pro-Life America
Majorie Dannenfelser is leading the charge in post-Roe politics. Dannenfelser is currently the president of pro-life group Susan B. Anothony Pro-Life America, which worked diligently to elect pro-life candidates up and down the ballot in the 2022 midterm elections, and will continue their fight into 2023 and beyond.
In June, after the Supreme Court overturned Roe v. Wade and returned the power to place bans on abortion back to the states, many conservatives sought stricter bans on abortion while the GOP also defended letting states decide abortion rules without federal intervention. 
Dannenfelser will be at the center of the abortion debate in future local and national elections, and will likely play an influential role in the 2024 presidential election.
Gov. Charlie Baker of Massachusetts
After accepting the position to become president of the National Collegiate Athletic Association (NCAA), one of the most popular governors in America will step into a landmine of unresolved issues that will test his executive skills. 
Though Baker's term as governor ends in January, the Republican will continue to shape the future of American sports.
Transgender athletes, legalized gambling on college sports, and students being allowed to market themselves and be paid for their performance in amateur sports are just a few of the complex controversies waiting for him when he takes over the NCAA on March 1.
'As governor of Massachusetts and a successful private sector CEO, Charlie Baker has demonstrated the type of results-oriented, bipartisan approach that we will need to bolster the well-being of student-athletes, realize the opportunities and overcome the challenges facing the NCAA,' Grant Hill, an independent member of the NCAA Board of Governors, said of Baker's new role.
Gov.-elect Joe Lombardo
Sheriff Joe Lombardo unseated Nevada's Democratic Gov. Steve Sisolak in the 2022 midterm elections, the only gubernatorial pickup for Republicans.
After serving more than two decades in the Las Vegas Metropolitan Police Department, Lombardo was elected as Clark County sheriff in 2014.
Despite being endorsed by Trump, Lombardo later backed off his support of the former president's repeated claims that his 2020 was 'stolen.'
'After four years of Steve Sisolak's small business and job-killing policies, Gov.-elect Lombardo's unique perspective as a seasoned law enforcement officer and fiscal conservative will get the state moving in the right direction on behalf of all Nevada families,' Republican Gubernatorial Association co-chairs Govs. Doug Ducey and Pete Ricketts said after Lombardo's successful election.
This post appeared first on FOX NEWS