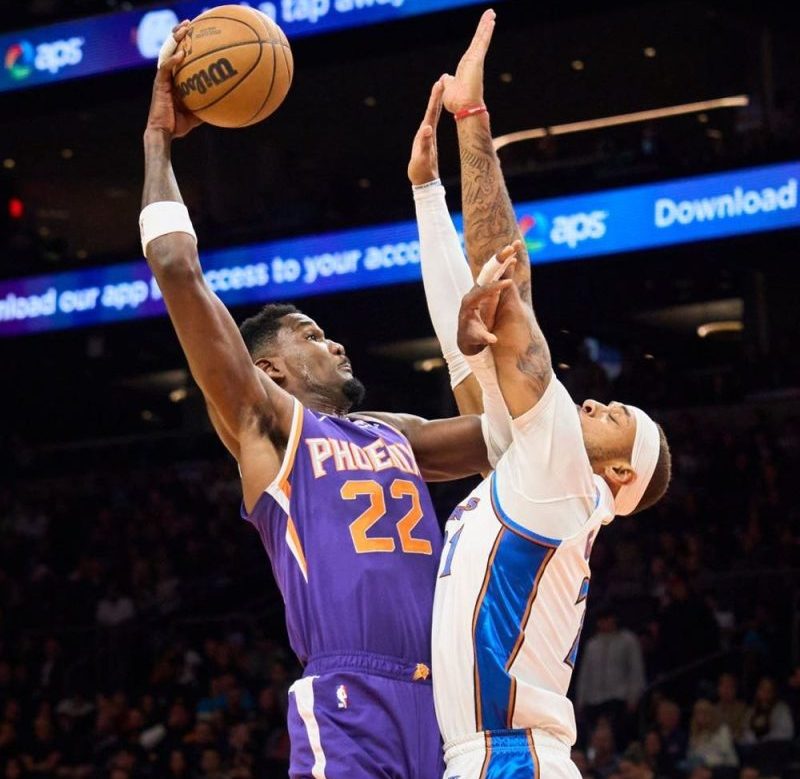 Suns coach, former No. 1 pick have heated exchange in loss
Suns coach Monty Williams and center Deandre Ayton had a heated exchange during a timeout late in Phoenix's 113-110 loss Tuesday night to Washington before a sellout crowd of 17,071 at Footprint Center. 
The exchange occurred with Phoenix down, 107-100, with 43.4 seconds left.
'It was the whole team in those moments,' Williams said after the game. 'It wasn't just Deandre, it was the whole group out there not executing properly. It was a bit of frustration, but that happens. That was not an isolated one person or one player thing.'
Washington (12-20) used a 15-0 run late in the fourth quarter in ending a 10-game losing skid with the Ayton-Williams exchange a part of that ugly finish for the Suns (19-13).
'We weren't really exchanging words,' Ayton said. 'We're a family. He know how to talk to his boys and his boys know how to just communicate. Obviously, the whole world see it, but it's really all love and just getting us back to regroup and just take out the confusion.'
Follow every game: Latest NBA Scores and Schedules
It appeared Ayton missed setting a screen for Mikal Bridges on a play that ended with Chris Paul forcing the ball to Torrey Craig, who was denied on the shot.
Ayton was called for a foul on the other end.
As Washington's Deni Avdija was attempting his free throws, Bridges started jawing at Ayton and pointed down to the other end of the court.
Seeing the argument unfold, Wizards All-Star Bradley Beal started smiling and clapping.
Landry Shamet missed a shot on the other end and the Wizards called a timeout with 43.4 seconds left to get out of a Suns trap. From there, Ayton and Williams were part of a heated exchange that brings back memories of the back-and-forth between the two in Game 7 of the Western Conference semifinals the Suns lost to Dallas.
'Everybody got to see us intensified in the moment,' Ayton said. 'Damn, we lost our upper hand. It can get a little emotional. Oh I thought you said this, but Coach clarified it up in the huddle where we all were exchanging words.'
Without All-Star Devin Booker, Phoenix went on a scoring drought during that 15-0 Washington run that lasted four-plus minutes. Booker missed his second straight game with groin soreness.
After Bridges' layup put the Suns up, 100-94, with 4:22 remaining in the game, the Suns didn't score again until Shamet's 3 with 18.9 seconds left. Phoenix gave up 25 points in the game's final 5:49.
'You can't make any excuses,' Shamet said. 'Obviously, you want to start with them. Give them credit. It's not like those guys are bad players by any stretch. They got some guys over there who can obviously score the ball. They've struggled as of late, but it's the NBA.'
Shamet paced Phoenix with a career-high 31 points, hitting nine 3s, which is also a career best and ties a franchise record for most made 3s in a game. Ayton posted a double-double of 30 points, which ties a season high, and 13 rebounds.
Kyle Kuzma scored a team-high 29 to lead the Wizards, hitting 5-of-10 from 3, while Beal added 27. Washington led by as many as 17 points before Phoenix rallied in the third to cut that deficit to two going into the fourth.
The Suns opened the fourth quarter with a 14-2 run to go up 10 points only to see the Wizards come back to win.
'Our defense in the fourth broke down,' said Williams, as he noted the Suns allowed 25 points off 14 turnovers. 'That kind of put us in mud. I thought we got a bit tired. We missed some shots down the stretch. We didn't execute well down the stretch for sure, but just a tough fourth quarter for us defensively.'
Paul added a double-double of 12 points on 3-of-11 shooting and had 11 assists, but seemed to hurt his right shoulder, the same one that hindered him in the Lakers series, in the fourth quarter.
'Nah, it's not like that,' said Paul after the game when asked if the shoulder felt like it did in the Lakers series. 'Scared me probably more than anything.'
The veteran point guard ran into a screen set by Wizards big Taj Gibson, went down and immediately grabbed at his shoulder with 5:19 left in the game.
Paul laid on the court for a bit grimacing in pain, but got up, walked to the huddle and finished the game.
'He felt a little something,' Williams said. 'That's why he laid there. He was able to continue, but he wasn't quite himself after that.'
Down five with 3.8 seconds left and no timeouts, Avdija fouled Paul on a 3. Paul looked to make two free throws to close within three and miss the third on purpose with the hope of getting the offensive rebound and hitting a 3 to tie it.
A career 87.1% free throw shooter, Paul made the first, but missed the second. He attempted to miss the third one on purpose in looking to get an extra possession, but made it. Paul committed a lane violation to nullify the make.
'It's a possession game at that point,' Paul said. 
Have opinion about current state of the Suns? Reach Suns Insider Duane Rankin at dmrankin@gannett.com or contact him at 480-787-1240. Follow him on Twitter at @DuaneRankin.   
This post appeared first on USA TODAY