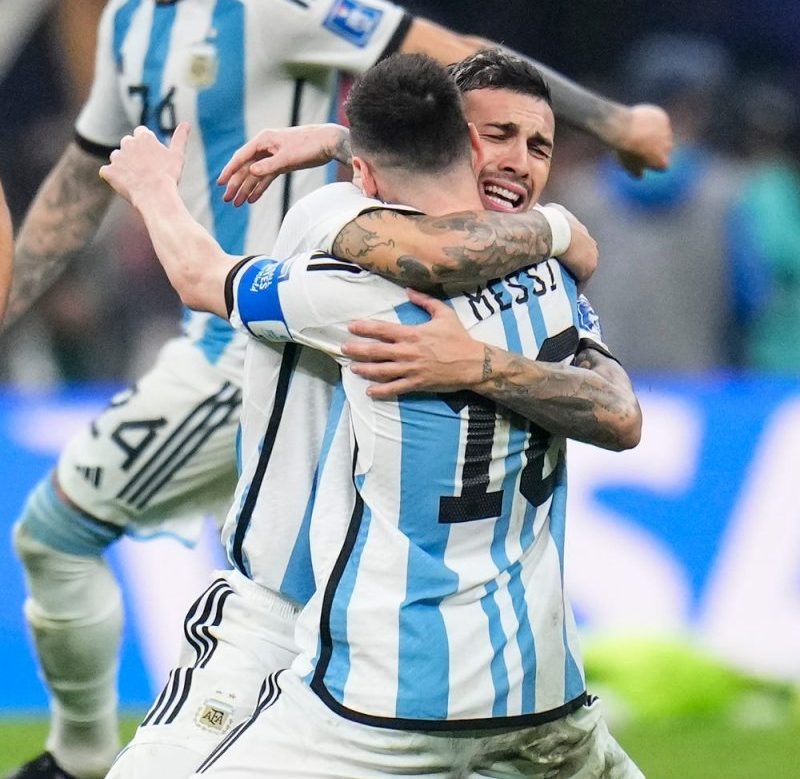 World Cup final recap: Argentina defeats France in penalty kicks
After four weeks of soccer.in Qatar, Argentina has been crowned the World Cup champion, beating France on penalty kicks Sunday in what will be remembered as one of the great finals of all time.
Lionel Messi is a world champion for the first time, finally capturing the just about the only trophy missing from his cabinet. Messi scored twice in the final and converted his penalty kick, finishing the tournament with seven goals in seven matches.
France's Kylian Mbappe finished as the top scorer with eight goals – including three in the final – but his team fell short in the penalty shootout with the chance to win a second consecutive World Cup.
Here's how everything unfolded on Sunday at the Lusail Stadium in Qatar:
Follow every match: Latest World Cup Scores and Schedules
Lionel Messi is a World Cup champion. Finally.
In his last World Cup appearance, Messi won the title that has eluded him throughout his illustrious career as Argentina beat France in a penalty shootout Sunday. Gonzalo Montiel, whose handball in extra time gave France a lifeline, made the final penalty, setting off a wild celebration among the Argentina players and their fans. 
Messi waved to the fans as several of his teammates dissolved into tears. 
While this game will be remembered for Messi's majestic moment, it also will be remembered for Kylian Mbappe's heroics. All but left for dead after a lethargic first 80 minutes, he scored twice in 90 seconds to force extra time and then, after Messi had scored, converted a penalty to force the shootout. 
– Nancy Armour
ARGENTINA WINS IN PENALTIES! 
Kingsley Coman and Aurélien Tchouaméni missed for France, while Argentina converted all four kicks to win the country's third World Cup championship. Gonzalo Montiel scored the winner for Argentina.
World Cup final heading to penalty kicks
For the third time in history, the World Cup final will be decided by penalty kicks. Lionel Messi and Kylian Mbappe each scored in the second period of extra time to send this to penalties, truly one of the matches in World Cup history.
Each team had a big chance in the last minute of extra time.
GOAL FRANCE! Kylian Mbappe penalty makes it 3-3 
After a handball in the penalty area, France's Kylian Mbappe converted from the penalty spot in the 118th minute, his third goal of the night for the second hat trick in World Cup final history.
GOAL ARGENTINA! Lionel Messi scores on rebound to take 3-2 lead
Lionel Messi pounced on a rebound to smash the ball over the line and put Argentina ahead 3-2 in the 108th minute of the World Cup final. It's his second goal of the night and he's back in the lead for Golden Boot.
France, Argentina still tied after first period of extra time 
Neither team scored in the first 15 minutes of extra time, meaning we're just 15 minutes away from penalty kicks if the scoreline holds. Argentina had two huge chances in the final few minutes but France defender Dayot Upamecano made a game-saving slide tackle to block a shot and Lautaro Martinez was unable to get a shot on frame in a 1-on-1 with keeper Hugo Lloris.
World Cup final heading to extra time at 2-2
Both teams pushed hard for a winner in the final 10 minutes of regulation, but we're heading to extra time in Qatar, with an additional 30 minutes and penalty kicks if necessary to decide the world champion.
Four of the last five World Cup finals have gone to extra time, including Argentina's loss to Germany in 2014.
GOAL FRANCE! Kylian Mbappe ties it up
Less than two minutes after scoring a penalty kick to get France back into the game, Kylian Mbappe hammered home the equalizer. Mbappe is now the tournament's top scorer with seven, pulling his country back after struggling for the first 75 minutes of the game.
Wow.
Argentina also blew a 2-0 lead in the quarterfinals against the Netherlands, but went on to win in penalty kicks.
GOAL FRANCE! Kylian Mbappe's penalty makes it 2-1
It's going to be a breathless final 10 minutes plus stoppage time after Mbappe converted from the spot in the 80th minute.
France still can't find a way through
After a listless first half, the defending champions still haven't been able to get anything going since the break – while Argentina is taking advantage of the space to create some good chances in the first 20 minutes of the half.
HALFTIME: Argentina leads France 2-0
It was all Argentina in the first half, heading into the break up 2-0 behind goals from Lionel Messi and Angel Di Maria. They're 45 minutes away from their first World Cup championship since 1986, and the first of Messi's storied career.
Messi is the first player to score in all four rounds of the knockout stage – converting penalty kicks in the quarterfinals, semis and final after a goal from open play in the round of 16.
GOAL! 2-0 Argentina as Angel Di Maria scores
A beautiful counter-attack ends with Angel Di Maria finding the back of the net on a sweeping cross from Alexis Mac Allister. Lionel Messi's clever flick from the midfield released his teammates into space behind the French back line.
You're not going to see a nicer goal than that in a World Cup final.
GOAL! Lionel Messi penalty makes it 1-0 Argentina
Argentina's Angel Di Maria was fouled in the box by France's Ousmane Dembélé, gifting a penalty kick to Lionel Messi – who converted cooly from the spot as Hugo Lloris went the wrong way.
It's Messi's sixth goal of the tournament, and he's now in the lead for the Golden Boot.
Argentina applying pressure early
The Argentines have been on the front foot in the first 20 minutes, getting a couple of decent looks at goal and have been caught offsides twice already.
France goalkeeper Hugo Lloris was down for a little bit after taking some contact in the penalty area.
France recovered from flu
Les Bleus are back to full strength. Well, as full strength as they get at this tournament. 
Midfielder Adrien Rabiot and defender Dayot Upamecano, who missed the semifinal with the flu, were back in the starting lineup for France for Sunday's final against Argentina. Raphael Varane is also in the starting XI, two days after missing practice with 'flu-like symptoms.' 
Ibrahima Konate and Kingsley Coman, who missed practice the same day as Varane, are also available to play. 
One player who isn't available is Karim Benzema.
The reigning Ballon d'Or winner is training again with Real Madrid after recovering from the thigh injury that's kept him out of the World Cup, and there were reports the club had cleared him to join France for the final. But Benzema is listed on the start sheet as 'absent.' 
The only change to Argentina's lineup is Angel Di Maria is back starting and Leandro Paredes is coming off the bench.
The 34-year-old Di Maria started Argentina's first four games at the World Cup, but came on as a substitute in the quarterfinal game against the Netherlands. He didn't play in Tuesday's semifinal against Croatia. 
– Nancy Armour
What Argentina, France must do to win World Cup final
This wasn't the final many expected when the World Cup began almost a month ago, what with France hollowed by injuries and Argentina losing to Saudi Arabia in its opener. Yet here we are, the defending champions and Lionel Messi and Co. emerging as the class of the tournament as both chase history.
So what are the keys to victory for each team? 
Argentina: 
Be ruthlessForget what's at stakeCorral Kylian Mbappe
France: 
Stay presentDon't overlook Argentina's youngstersDon't mess with what's working
Read Nancy Armour's full World Cup final preview here
Is Qatar's World Cup a prelude to Olympics in the Middle East?
There will come a day, not long from now, when Qatari officials will make their case that the success of this World Cup has shown Doha to be a worthy host of a Summer Olympics. Possibly as early as 2036. They will tout the dazzling World Cup stadiums, first-class training facilities and the efficient metro system that whisked fans between games. They will show photos of those smiling fans, celebrating their teams as the skyline glitters in the background.  
They will remind the IOC that a Middle Eastern country has never hosted an Olympics, and point to the unfairness of excluding a region with more than 400 million people. It will be a compelling argument and one sure to tempt IOC president Thomas Bach, the great statesman he fancies himself to be.
– Nancy Armour, USA TODAY Sports
2022 Golden Boot: Messi, Mbappe tied for most World Cup goals 
The World Cup final will decide the winner of the Golden Boot award as the top scorer of the tournament.
Argentina's Lionel Messi and France's Kylian Mbappe have each scored five goals in Qatar, with Messi holding the tiebreaker having three assists to Mbappe's two. Their teammates, Julian Alvarez of Argentina and Olivier Giroud of France are tied for third with four goals each.  
Premier League, European clubs brace for fallout from winter World Cup 
The tournament in Qatar has been described by FIFA president Gianni Infantino as the "best World Cup ever." Europe's biggest soccer clubs, however, might not agree.
Staged in November and December for the first time in its 92-year history, the true impact of a midseason World Cup remains to be seen.
"We are exhausted,' said Croatia midfielder Mateo Kovacic, who plays for Chelsea in the English Premier League. 'Many of us will be exhausted when we come back to our clubs."
The disruption caused by staging the World Cup during the European season has long been a point of contention. Traditionally held in June and July, the tournament dates had to be moved because of Qatar's soaring temperatures at that time of the year.
– Associated Press
This post appeared first on USA TODAY