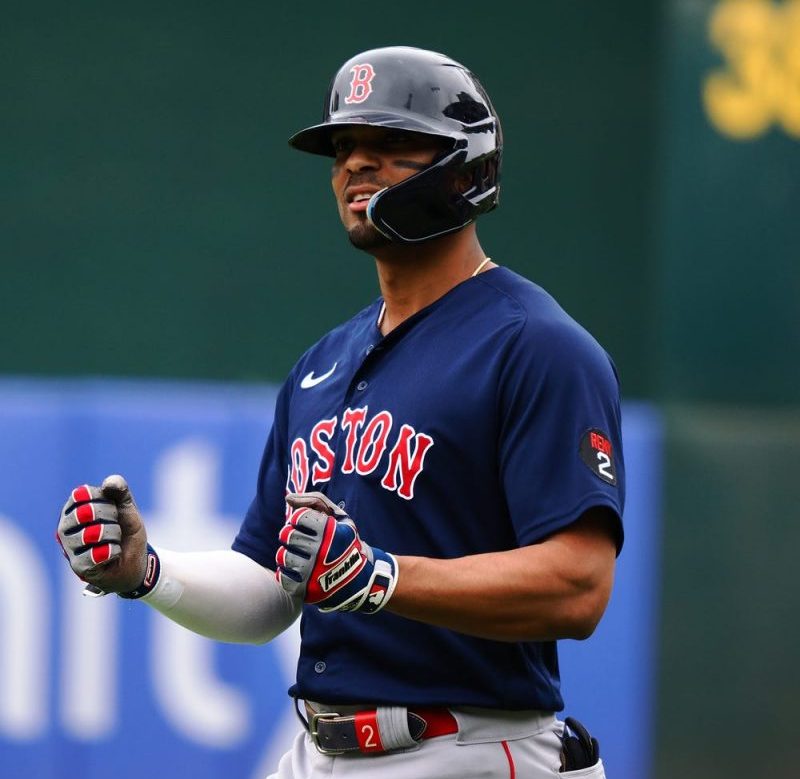 X marks the spot: Padres prove nothing is small-market about San Diego
SAN DIEGO – The San Diego Padres are absolutely blowing everyone's minds.
They play in the 27th-smallest market in baseball.
They are trapped by the Pacific Ocean to the West, the desert to the East, Mexico to the South and Los Angeles to the north.
And yet, they are spending money wilder than anyone can possibly imagine, sending shock waves throughout the sport.
They signed shortstop Xander Bogaerts to a stunning 11-year, $280 million contract, including a no-trade clause, late Wednesday evening as the winter meetings ended. They paid a $120 million more than the Boston Red Sox's final six-year, $160 million offer to keep him.
This is a team that offered free agent shortstop Trea Turner $342 million over 11 years on Monday, only to be snubbed when he took an 11-year, $300 million contract with the Philadelphia Phillies.
This is a team that informally offered free agent outfielder Aaron Judge a 10-year, $400 million contract on Tuesday, only for Judge to sign a 9-year, $360 million deal to return to the New York Yankees.
They weren't about to be left at the altar again, signing Bogaerts, despite already having Fernando Tatis Jr. and Ha-Seong Kim at shortstop. So now they have Bogaerts playing shortstop, and two shortstops playing out of position with Tatis moving to the outfield and Kim to second base.
If it backfires, hey, it's only money, right?
"We've got a real desire to win,'' Padres GM A.J. Preller said, "and do it for a long time.''
The Padres have become the National League's version of the old George Steinbrenner Yankees, with a franchise record payroll exceeding $235 million and counting, and they still owe Red Sox first baseman Eric Hosmer $12 million a year.
Sure, the Bogaerts contract gives them protection in case All-Star third baseman Manny Machado opts out of the remaining five years and $150 million in his contract.
Well, considering the Padres' spending habits, would anyone be surprised if they doubled it?
All-Star right fielder Juan Soto is a free agent after the 2024 season and already turned down $430 million from the Washington Nationals before he was traded.
You don't think the Padres will give him $500 million?
How about $600 million?
It's hard to believe this is the same franchise that had the sixth-lowest payroll in baseball just five years ago at about $96 million, and had never been in the top half of team payrolls since 2000.
This year, they are projected to have one of the five highest payrolls in baseball, and have given out three contracts of at least 10 years and $280 million in the past four years.
If they're truly a small market team, someone forgot to tell them.
"The Padres are not a small market,'' said agent Scott Boras, who represents Bogaerts, "because they're one of the few major-league teams that has four and five million people and one sport in town. It's kind of like the San Antonio Spurs of the NBA. They're a different franchise because there is no professional sport competition.''
The Padres also drew 36,931 fans a game this past year, fifth-highest in baseball, capping their season-ticket sales for the 2023 season.
"I know few major leagues team that have stopped selling season tickets, including major-market teams,'' Boras said, "so I think we have to identify San Diego as something very different than a mid-market team.
"They have a very successful owner who has the wealth of many of the top major market owners. So to suggest they're not a major-market team is something that doesn't really fit the true economic profile of what they enjoy in this city.''
Certainly, if nothing else, the Padres are making a whole lot of teams uncomfortable. If they can spend like the New York Mets, New York Yankees and Los Angeles Dodgers, despite their revenue being pocket change in comparison, how about all of the other teams? You don't think the rabid fanbases for the Red Sox, Chicago Cubs and all of the mid- and small-market teams in baseball are suddenly screaming, "Why not us?''
"Hey, it's not about ultimately sending a message or winning on that front,'' Preller says. "It's about getting a good player and getting the quality of guys who can play for the Padres.''
And no matter what the price.
Say hello to the Padres, who reside in that serene resort town, who suddenly is turning the baseball world upside down.
Follow Nightengale on Twitter: @Bnightengale
This post appeared first on USA TODAY