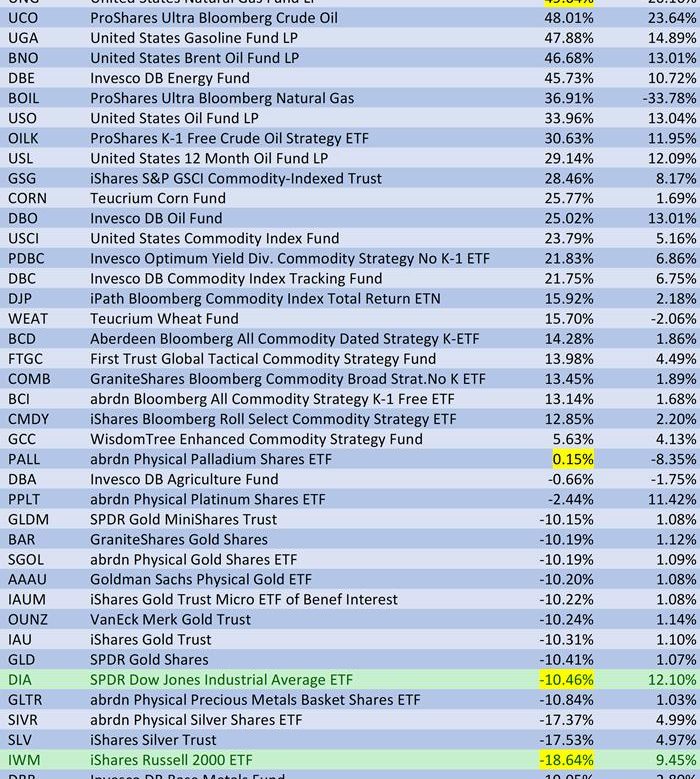 Markets are Shifting; Should Your Trading Strategy Shift Too?
Popular commodity ETFs listed in descending order by year-to-date performance to 10-31-2022. For comparison, IWM, SPY, QQQ and DIA performances are highlighted. PALL ETF is the last ETF positive year-to-date. Please note that multiple commodity ETFs above had double-digit gains last week and do not use leverage.
Mish is at the Money Show, so I (Wade Dawson) am filling in for two days till she returns, and I already managed to miss her daily publishing deadline.
Sorry folks. I am posting this late or early now, but all of you are included, and all of you have time to take advantage of the macroeconomic backdrop unfolding that Mish is discussing today at the Money Show — and over the next several weeks.
The fourth quarter is traditionally a bullish seasonal trading pattern, but this quarter could see declines, or a divergence might continue emerging. The SPY ETF is in a trading range of 380 to 395, yet small-caps (IWM, AKA Gramps) and the Dow Jones (DIA) are pulling away.
Commodity ETFs provide exposure to metals, energy, grains, cattle, coffee and sugar, as well as diversification away from the market and potentially high profits. Commodities historically are also a powerful hedge against inflation, so buying before periods of sustained inflation is wise. However, trading specific commodity spikes can be challenging, and drawdowns brutal.
The Invesco Deutsche Bank Commodity ETF has closed below its 50-day moving average on 10-31-22 after struggling and regaining it briefly.
DBC's price fluctuations on Monday aptly captured the mood of uncertainty and price volatility, which will probably continue in stocks, bonds and commodities with eyes on the Fed. Looking at DBC, it can reclaim its 50-day moving average and eventually its 200-day moving average, but it could also quickly decline in the short term since the price is below the 27.05 resistance level. There is also strong support which rests lower at 23.50.
Our proprietary indicators, such as our Real Motion Indicator and TriplePlay Indicator, signal high-probability impulse momentum-driven price moves. They help signal and alert traders where and when capital should be deployed and into which commodities. We tend to trade individual commodities, precious and industrial metals, energy like crude oil, natural gas, unleaded gasoline, and soft commodities grown or ranched — such as sugar, corn, wheat, and soybeans.
You can sign up for a free consultation with Rob Quinn, our Chief Strategy Consultant, by clicking here to learn more about Mish's real-time trading system. Our Real Motion Indicator and TriplePlay Indicator are available on trading platforms such as StockCharts, Fidelity, and TradeStation. Rob Quinn can also provide pricing and trading software compatibility by clicking here for a 10-minute call or quick video chat for a one-to-one trading consult.
The Money Show: Today!
Our members still get 20% off the registration price! Join Mish at the Money Show in Orlando today. Use either link to join Mish.
Michele Schneider will deliver a 45-minute presentation on How to Benefit from a Commodities Super Cycle: 1:15 pm ET to 2:00 pm ET. For members of Premium, this presentation will serve as a precursor to her 2023 Market Outlook, which will be given to subscribers as we get closer to 2023.
"I grew my money tree and so can you!" – Mish Schneider
Get your copy of Plant Your Money Tree: A Guide to Growing Your Wealth and a special bonus here.
Follow Mish on Twitter @marketminute for stock picks and more. Follow Mish on Instagram (mishschneider) for daily morning videos. To see updated media clips, click here.
Mish in the Media
Mish goes over Meta and Palantir and discusses how trends are switching on BNN Bloomberg.
Two US Stocks may have bottomed out on CMC Markets. 10/26/2022
Mish is patiently watching Macro Trends unfold on Ameritrade. 10/26/2022
How to Trade Post-Earnings on Business First AM. 10/25/2022
Small caps start the party and rally to resistance on Bloomberg TV. 10/25/2022
Will earnings surpise to the upside? See Mish chat on Real Vision Daily Briefing with Maggie Lake 10/24/2022.
Mish presents "Looking for Inflation in All the Wrong Places" for Against All Odds Research.
ETF Summary
S&P 500 (SPY): Sold off into previous support (386) with 380 now support and 395 resistance level to watch.Russell 2000 (IWM): 181 still support, 186 same resistance.Dow (DIA): 324 support, 330 resistance.Nasdaq (QQQ): Sold off into previous support (277) with support now at 275 with 281 resistance.KRE (Regional Banks): 62 support, 65 resistance level; same as before.SMH (Semiconductors): 186 support, 193 resistance.IYT (Transportation): 208 support, 214 resistance; same as before.IBB (Biotechnology): 127 support, 132 first resistance; same as before.XRT (Retail): 61 support, 65 resistance; same as before.
Wade Dawson
MarketGauge.com
Portfolio Manager