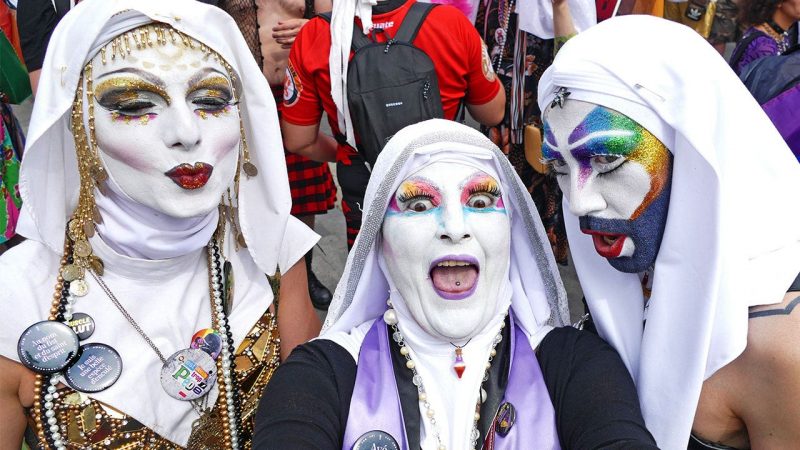 Dem senator to fundraise with supporter of Sisters of Perpetual Indulgence, critical race theory
Sen. Tammy Baldwin, D-Wis., is set to attend a 'very intimate' fundraiser hosted by a left-wing politician who supports the Sisters of Perpetual Indulgence, critical race theory (CRT), has a history of anti-police rhetoric and believes 'white supremacy' has a 'stranglehold' on society.
Baldwin, who is up for re-election in 2024 in the battleground state of Wisconsin, will be celebrated at a San Francisco reception on Sunday among hosts with a long record of left-wing activism, according to a flyer for the fundraiser. The event seeks to collect individual contributions between $250 and $3,300 to support the Democratic senator. 
Bay Area city council member Carolyn Wysinger, who is co-hosting the fundraiser, backs several controversial groups. She recently slammed the Los Angeles Dodgers for uninviting the Sisters of Perpetual Indulgence, an anti-Catholic group of 'queer and trans nuns,' to their June Pride night.
'3-0 is what LA fans get for sitting back as the Dodgers banned the Sisters of Perpetual Indulgence from their Pride Night to please religious zealots,' Wysinger wrote in a Facebook post. 'Black Lesbian Jesus is not pleased and until y'all do right by the gays a broom will be comin yalls way….'
The Dodgers have since reinvited the group, despite concerns from religious organizations over their protests that include pole dancing on crosses and using the phrase 'go and sin some more.' 
Wysinger also spoke at a 'Drag Up! Fight Back!' event that sought to 'protect trans kids' and claimed 'Right-wing GOP Christian Nationalists' are calling for the 'imprisonment and even death of LGBTQ people,' according to a flyer for the gathering on Do The Bay.
The protest, where children were photographed in attendance, featured adult drag performances and members of the Sisters of Perpetual Indulgence.
Wysinger is directly involved with CRT efforts, which Democrats have long maintained are not being implemented in K-12 educational institutions.
The left-wing politician was a fellow, and later participant, at the African American Policy Forum's Critical Race Theory Summer School, which pushes the teaching of CRT in K-12 schools.
'I'm SO excited to join [African American Policy Forum's] CRT Summer School!' Wysinger wrote last July on Twitter. 'As a 2020 inaugural fellow, I'm glad to be back with Dr. Kimberle Crenshaw & 160 CRT profs. As attacks on CRT advance, now more than ever we must have the tools necessary to fight for a multiracial democracy.'
The 2022 CRT Summer School sessions were designed to address why CRT 'has been deployed as an entering wedge into dismantling the commons, public institutions, and racial and social progress since the mid 20th century,' its website states.
The sessions also analyzed 'why the particular assaults on CRT and racial justice education land differently to even those whom we count as our allies.' The sessions aimed to 'educate constituents about what CRT is and what it was before right-wing operatives distorted and defamed it.'
Wysinger's controversial viewpoints extend even further. She has a record of anti-police rhetoric and suggested that 'racist police violence' is a 'public health emergency.' 
'The public-health emergency that is racist police violence requires me to speak out more than ever, because Pride is a defense of Black bodies and always has been,' she wrote in a 48Hills opinion piece in 2020.
Wysinger later added that 'white supremacy' has a 'stranglehold' on society.
'Folks that know that racist police violence is an issue, but can't do the one thing it takes to break the system, the one thing it takes to break the stranglehold of white supremacy on society, the one thing it takes to stop anti-Blackness from being taught worldwide: Stop centering whiteness,' she wrote.
While serving as board president of San Francisco Pride, Wysinger and her colleagues banned the San Francisco Police Officers Pride Alliance from wearing their uniforms while marching in an LGBTQ parade.
Also expected to be in attendance at Baldwin's fundraiser is Gretchen Sisson, the lead investigator for the University of California, San Francisco's Abortion Onscreen program who in 2022 sought to normalize abortion through implementing more 'abortion plot lines' in television.
'We hope these shows and others continue to build on these depictions by giving main characters abortion plotlines instead of only guest actors and working to reflect the reality of abortion patients in the U.S,' Abortion Onscreen's 2022 report read.
Sisson, who has donated hundreds of thousands of dollars to candidates, has also said her money gets her 'access' to politicians. 
'The traditional idea is that donors give money because they want to be in proximity to power. I would never deny that being a major donor is a major power and gives me access,' Sisson told San Francisco Magazine in 2019. 'But that's not why I do it. I don't care about being close to power. I care about changing what power looks like.'
Baldwin's campaign did not respond to a request for comment on the fundraiser.
This post appeared first on FOX NEWS