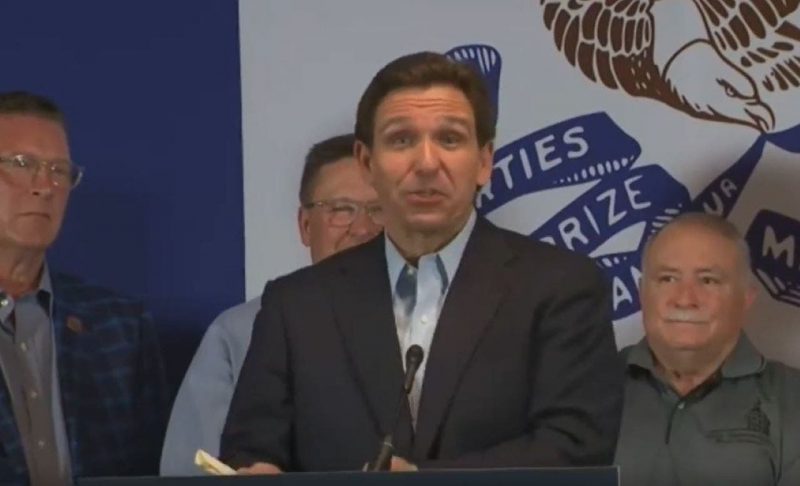 DeSantis response to Trump attack sparks laughs from Iowa crowd: 'Are you kidding me?'
Florida Republican Gov. Ron DeSantis drew laughs from an audience in Iowa after hitting back against criticism from former President Donald Trump on his record as Florida governor.
'He used to say how great Florida was,' DeSantis told a reporter following a speech Tuesday night on the campaign trail in Iowa. 'Hell, his whole family moved to Florida under my governorship. Are you kidding me?'
The Florida Republican's comments drew a loud laugh from the crowd.
'Look, I'm going to respond to attacks,' DeSantis added.
'I mean, if you say Cuomo did a better job with COVID than Florida did — first of all, that's not what he used to say. Six months ago he would have never said that, right?'
The Trump campaign did not immediately respond to a request for comment from Fox News Digital.
Trump, who recent Fox News polling shows holds a substantial lead on DeSantis among GOP primary voters, has criticized DeSantis for weeks over his record in Florida, including attacks that DeSantis says are 'delusional.'
'He's been attacking me by moving left,' DeSantis said last week.
'Remember, I left that decision up to the Governors!' Trump, who moved his primary residence to Florida in 2019 after living there part-time for decades, posted on Truth Social. 'For COVID Death Rates Per State, Ron, as Governor of Florida, did worse than New York.'
'In Education, Florida ranks among the worst in the Country and on crime statistics, Florida ranked Third Worst in Murder, Third Worst in Rape, and Third Worst in Aggravated Assault,' Trump said. 'For 2022, Jacksonville was ranked as one of the Top 25 Major Crime Cities in the Country, with Tampa and Orlando not doing much better…'
DeSantis returned to Iowa for the first time as a declared presidential candidate this week for two days of campaigning while Trump is also headed to the state on Wednesday afternoon to campaign at various events, including a sit-down with Fox News' Sean Hannity for a town hall in Clive, Iowa, which will air on the Fox News Channel at 9 p.m. ET on Thursday.
Fox News' Paul Steinhauser contributed to this report.
This post appeared first on FOX NEWS