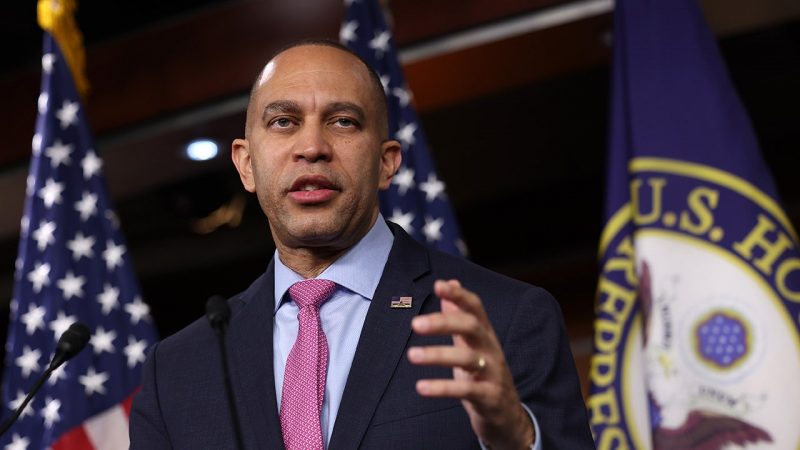 Democrat leader: 'un-American' 'MAGA Republicans' trying to 'crash' economy for 2024 political benefit
House Minority Leader Hakeem Jeffries suggested Tuesday that 'MAGA Republicans' are attempting to 'crash' the United States economy via debt ceiling negotiations because it is in their political interest to do so. 
'Right now we're focused on making sure that we avoid a catastrophic default, that we don't allow the extreme MAGA Republicans to crash the economy and trigger a job killing recession, which to this day, many of them clearly want to do because they believe that it is in their political interests in 2024,' the New York Democrat told reporters on Tuesday as Republicans and Democrats continue to debate raising the debt limit on Capitol Hill.
'That is incredibly irresponsible, is unpatriotic, and it's un-American and I'm thankful for President Biden's leadership and making sure that he protects the U.S. economy.'
Jeffries was responding to a question about whether Democrats would step in and help vote McCarthy out of the speakership if conservatives move to hold a vote forcing him to vacate the speakership.
Jeffries' office did not immediately respond to a request for comment from Fox News Digital regarding what specific Republicans he believes are attempting to intentionally tank the economy for political gain.
House Speaker Kevin McCarthy has been attempting to gin up Republican support for a deal with President Biden that is facing strong opposition from conservatives in the House Freedom Caucus, including Rep. Chip Roy, who said the agreement doesn't make meaningful cuts and violates the agreement between McCarthy and caucus members to secure his speakership. 
'It's not a good deal,' Roy tweeted Tuesday. 'Some $4 Trillion in debt for – at best – a two year spending freeze and no serious substantive policy reforms.'
'I'll debate this bill with anybody,' McCarthy said over the weekend. 'Is it everything I wanted? No, because we don't control all of it. But it is the biggest rescission in history. It is the biggest cut Congress has ever voted for in that process.'
The agreement between Biden and McCarthy would keep nondefense spending roughly flat in the 2024 fiscal year and increase it by 1% the following year, as well as provide for a 2-year debt-limit increase.
The agreement would also rescind about $30 billion in unspent coronavirus relief money that Congress approved through previous bills, with exceptions made for veterans' medical care, housing assistance, Indian Health Service and some $5 billion for a program focused on rapidly developing the next generation of COVID-19 vaccines and treatments.
McCarthy has said the House will vote on the legislation Wednesday evening, giving the Senate time to consider it before June 5 – the date when Treasury Secretary Janet Yellen said the U.S. could default on its debt obligations if lawmakers did not act in time.
The House Rules Committee is set to meet on Tuesday afternoon to prepare the debt ceiling bill for floor debate on Wednesday.
Republicans and Democrats have traded barbs in recent days pointing to the other party as being responsible for the debt ceiling impasse.
'It's pretty obvious who to blame here – the extremist Republicans who control Kevin McCarthy. I mean, they're the ones who made him go through 17 votes to get elected Speaker. They're holding the country hostage,' said Rep. Seth Moulton, D-Mass. 'We didn't like Donald Trump, we didn't like his tax cuts. It's created much of this deficit. And yet we raised the debt limit three times under Trump because it's the right thing to do for the country.'
Asked if Americans would feel the same, Moulton said, 'Look I hope they do, because that's the truth.'
'President Biden waited 97 days to speak with Kevin McCarthy about this debt ceiling stuff, so if anything untoward happens, this is 100% the Biden-Schumer shutdown,' said Rep. Derrick Van Orden, R-Wis., on the steps of the U.S. Capitol. Asked if he believes Americans would feel the same way, he added, 'I think if more media outlets report it honestly like you're doing, they would, if they're told the truth.'
Fox News' Patrick Hauf contributed to this report
This post appeared first on FOX NEWS