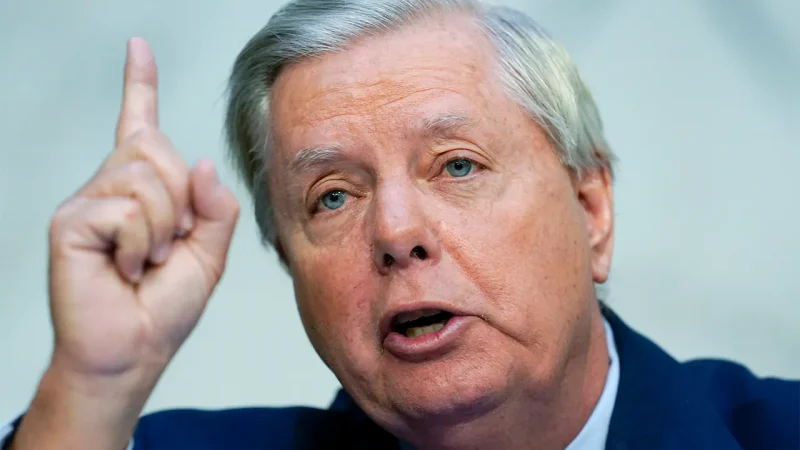 Lindsey Graham vows to 'undo' 'absurd' bipartisan debt deal, calls it 'disaster for defense'
Sen. Lindsey Graham, R-S.C., vowed Monday he would do everything within his power to 'undo' the bipartisan debt ceiling bill and the 'disaster' he said it would be for America's defense.
'I will use all powers available to me in the Senate to have amendment votes to undo this catastrophe for defense,' Graham wrote on Twitter. 'I support raising the debt limit for 90 days to give us a chance to correct this disaster for defense.' 
'Have total disgust for political leaders' decision to make it remotely possible to gut our national security apparatus at a time of great peril. Take this absurd idea off the table,' he added.
Earlier in the afternoon, he repeated criticism he leveled against the defense spending aspects of the deal on Sunday, calling it 'welcome news to China,' and suggested it ran counter to Democrats' and Republicans' 'screaming about the rise and growing threat of China.'
'How far the Party of Ronald Reagan has fallen. The Biden defense budget has been ridiculed by Republicans for over a year,' he wrote on Twitter. 'As to the share of GDP spent on defense, the Biden budget matches and eventually dips below the lowest level in modern history. Nothing in this bill provides weapons or technology to help Ukraine defeat Putin and make the world more stable.'
'To Biden, McConnell, and McCarthy, what are we going to do about our own national defense as well as our support of Ukraine? We need to know,' he added.
During an appearance on 'Fox News Sunday,' Graham warned House Speaker Kevin McCarthy, R-Calif., against slashing the defense budget in order to reach a deal on the debt ceiling. His comments came prior to the release of the full details of the deal.
'Number one, I respect Kevin McCarthy. I want to raise the debt ceiling. It would be irresponsible not to do it. I want to control spending. I'd like to have a smaller IRS. I'd like to claw back the unused COVID money. I know you can't get the perfect – but what I will not do is adopt the Biden defense budget and call it a success,' Graham said. 
'Kevin said that the defense is fully funded. If we adopt the Biden defense budget, it increases defense spending below inflation – 3.2% increase in defense is below inflation,' he added.
Biden and McCarthy reached an agreement on the debt ceiling late Sunday, averting a potentially catastrophic U.S. default just days ahead of a June 5 deadline. They released the House version of the bill later in the evening.
The deal includes a 3% rise in defense spending next year, less than the current annual inflation rate of more than 4%. It would also keep nondefense spending roughly flat in the 2024 fiscal year and increase it by 1% the following year, as well as provide for a 2-year debt-limit increase.
The House Rules Committee will meet at 3 p.m. on Tuesday to prepare the debt ceiling bill for a debate on the floor Wednesday.
Fox News' Danielle Wallace, Bradford Betz and Chad Pergram contributed to this report.
This post appeared first on FOX NEWS