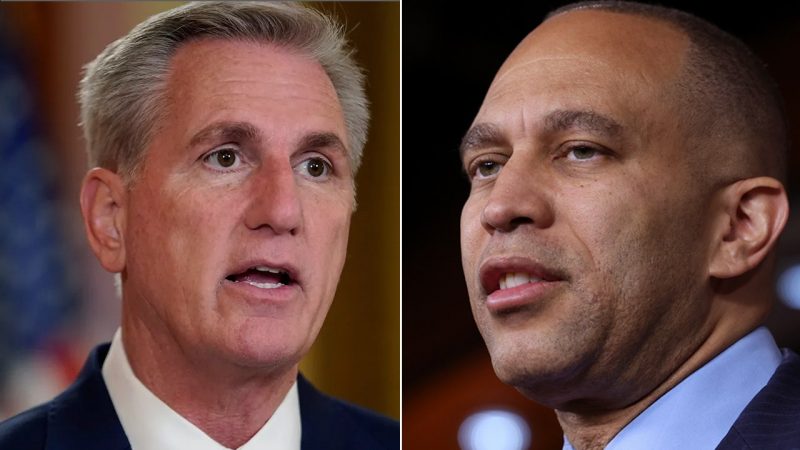 Lawmakers react to debt ceiling deal reached between House GOP and Biden
Washington leaders responded on Sunday to the bipartisan Fiscal Responsibility Act, a deal reached between House Speaker Kevin McCarthy, R-Calif., and President Biden to evade defaulting on the country's financial obligations.
Both McCarthy and Biden held their posture as long as they could with a looming deadline of June 5, and on Sunday, reached a final agreement with just days to spare.
'The Fiscal Responsibility Act does what is responsible for our kids, what is possible in divided government, & what is required by our principles,' McCarthy said on Twitter. 'Republican resolve achieved this transformative change to how Washington works.'
Senate Republican Leader Mitch McConnell of Kentucky issued a statement in response to the agreement on Sunday evening.
'The United States of America will not default on its debt,' he said. 'Today's agreement makes urgent progress toward preserving our nation's full faith and credit and a much-needed step toward getting its financial house in order.'
McConnell added he was grateful for McCarthy and other House Republicans for working to ensure the debt limit increase includes steps to 'rein in' the reckless spending of Democrats in Washington, D.C.
'This agreement the Speaker reached with President Bident sets meaningful limits on the Administration's spending agenda,' McConnell said. 'At the same time, it secures permitting reforms and introduces the link between federal assistance and work.'
As a unit, McCarthy and other House GOP leaders – Majority Leader Steve Scalise (R-La), Majority Whip Tom Emmer (R-Minn.), and Republican Conference Chairwoman Elise Stefanik (R-N.Y.)  – issued a statement regarding the new bill.
The group credits House Republicans with stopping 'out-of-control' spending that has crippled family budgets by securing a series of historic wins.
Those wins, the group said, include cutting spending year-over year for the first time in over 10 years while funding national defense and health benefits for veterans, and 'clawing back billions' of unspent COVID funds.
READ THE TEXT HERE:
'We enact for the first time into law 'Pay-Go' rules for the Executive Branch, which forces the Executive Branch to find dollar-for-dollar savings in government for costly rules and regulations, so that executive overreach is reined in and held accountable,' the statement reads. 'We are just 140 days into this Republican majority. And we're just getting started.'
But not all Republican House members were ready to jump in celebration because of the deal, including Lauren Boebert, R-Colo., who posted to Twitter earlier in the day.
'The usual establishment people are popping champagne over this debt ceiling deal,' she said. 'It's more worthy of a Bud Light.'
House Minority Leader Hakeem Jeffries, D-N.Y., also tweeted earlier in the day.
'Thankful that President Biden has reached an agreement in principle to prevent a devastating GOP-manufactured default,' he said. 'Look forward to reviewing the legislative bill text once it is released this afternoon. And continuing our work to put people over politics.'
The 99-page bill was released just before 7:30 p.m. on Sunday.
The House Rules Committee will meet at 3 p.m. on Tuesday to prepare the debt ceiling bill for a debate on the floor Wednesday, Fox News has learend.
Fox News' Chad Pergram contributed to this report.
This post appeared first on FOX NEWS