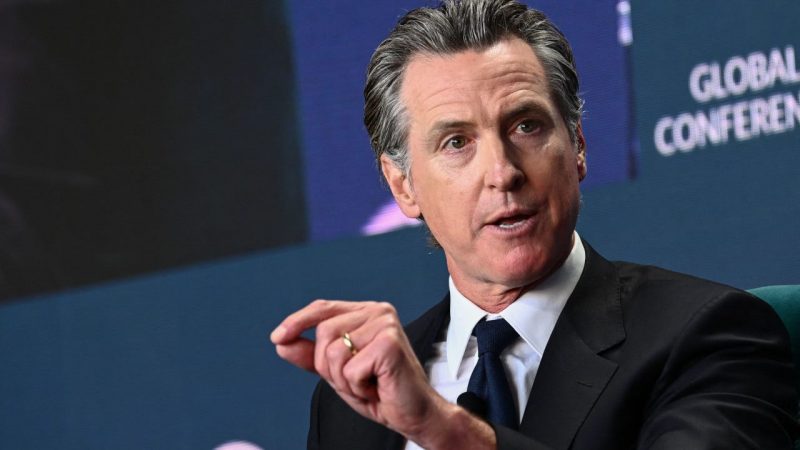 Gavin Newsom blames DeSantis-signed bill for Florida shooting, gets fact-checked
California Gov. Gavin Newsom was fact-checked by Florida Gov. Ron DeSantis' spokesman after he blamed the Memorial Day shooting in Hollywood, Florida, on laws DeSantis signed that are not yet in effect. 
At least nine people, including minors, were hospitalized Monday after an altercation escalated into gunfire at the Hollywood Beach Broadwalk, police said. Police detained one person of interest in the shooting while another remains at large.
Newsom reacted to reports of the shooting on social media, blaming gun violence on a bill DeSantis signed in April that eliminates the requirement for an individual to obtain a permit to carry a concealed firearm.
He claimed the permit-less carry bill DeSantis signed 'removes requirements' for background checks, instruction, training and oversight. 
'Until our leaders have the courage to stop bowing down to the NRA and enact common sense gun safety this kind of senseless violence will continue,' Newsom tweeted.
However, DeSantis press secretary Jeremy Redfern replied shortly afterward, noting that the bill Newsom referenced is not yet in effect.
'Hi Gavin,' Redfern said. 'How does a law that doesn't take effect until July 1st change this outcome?' 
Newsom's claims about the constitutional carry law removing requirements for background checks are also misleading.
The law allows eligible citizens 21 years of age and up to carry without asking the government for a permit and without paying a fee. The legislation does not change who is eligible to obtain a carry permit, and those who still wish to get a permit may do so under the law. 
Under existing Florida law, people who wish to obtain a license to carry concealed weapons in public must:
Be a citizen or lawful permanent resident of the United StatesBe at least 21 years old'Desire a legal means to carry a concealed weapon' for lawful self-defensePass a fingerprint-based background checkComplete a firearms training class, among other requirements.
Though the constitutional carry bill makes getting a license — and these requirements — voluntary, the federal government still requires licensed firearms dealers to run a background check on prospective buyers. Neither federal nor state law requires private sellers to conduct background checks.
Monday's shooting in Hollywood, Florida, happened on the Hollywood Oceanfront Broadwalk near a convenience store, a Ben & Jerry's ice cream store and a Subway sandwich shop.
The nine people injured included six adults and three children, a spokesperson for Memorial Healthcare System told the Associated Press.
Police spokesperson Deanna Bettineschi said four children between the ages of 1 and 17 were hit, along with five adults between 25 and 65. One was in surgery late Monday while the others were stable, she said. It was not immediately clear if the hospital was counting a 17-year-old as an adult.
Several of the wounded were taken to a children's hospital, Bettineschi said.
Police are searching for more suspects. 
The Associated Press contributed to this report.
This post appeared first on FOX NEWS