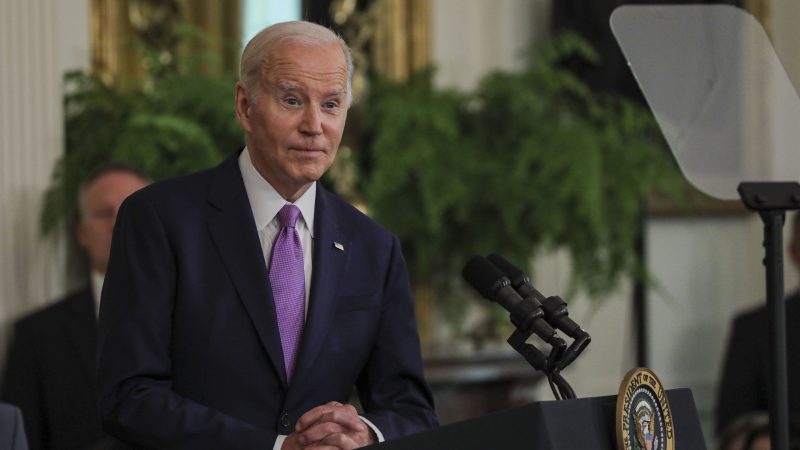 Biden falsely claims he has 'four granddaughters,' again omitting Hunter's child with ex-stripper
President Biden on Friday told a crowd gathered at the White House that he has 'four granddaughters,' but failed to mention his fifth granddaughter born out of wedlock to Hunter Biden and Lunden Roberts.
'Look, there's an awful lot — an awful lot to be proud of, and the way in which women's sports has come along is just incredible. And you're changing the — it's not just in sports. It's across the board, in every single thing, and it's really neat to see since I've got four granddaughters,' Biden said during an event celebrating the LSU women's basketball team winning the national championship.
Biden has repeatedly refused to acknowledge Hunter's estranged 4-year-old daughter whenever he speaks about his grandchildren, most recently during a Take Our Kids to Work Day event at the White House last month. 
December 2022 marked the second Christmas season in a row that the White House left the granddaughter out of a Christmas stocking display, and before that, in 2020, Biden incorrectly said he and First Lady Jill Biden had five grandchildren, forgetting about then-newborn Beau Biden, but completely leaving out the fifth granddaughter.
The stumble later forced a correction from the first lady, who said they have six grandchildren, still leaving out the granddaughter, who would bring their total number of grandchildren to seven.
Earlier this month, White House press secretary Karine Jean-Pierre rebuffed a reporter's question about the granddaughter, saying she was 'not going to speak to that' from the podium when asked why Biden has yet to acknowledge her.
Roberts met Hunter while working as a stripper at a Washington, D.C. club while he was dating Hallie Biden – the widow of his late brother, Joseph R. 'Beau' Biden III – according to the New York Post.
Roberts also reportedly wants the granddaughter to be able to use the Biden surname. Hunter continues to litigiously fight the name change as well.
Fox News' Joe Schoffstall and Charles Crietz contributed to this report.
This post appeared first on FOX NEWS