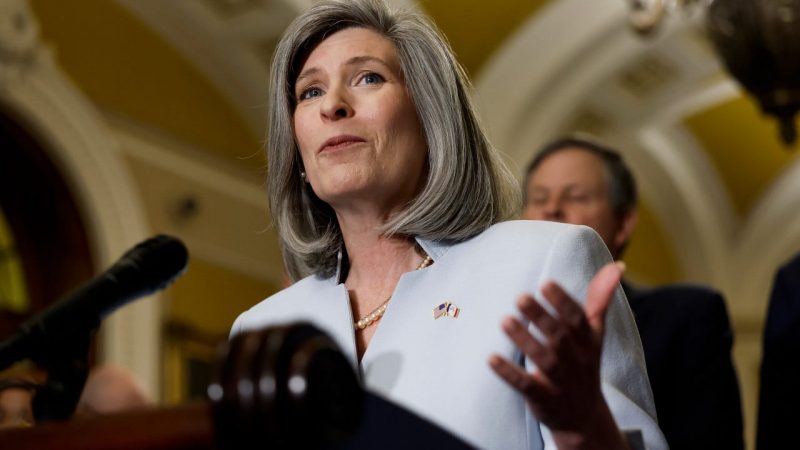 Iowa Sen Joni Ernst demands investigation of ATF for alleged waste of 'millions' in taxpayer dollars
Iowa Republican Sen. Joni Ernst called on a Justice Department watchdog Tuesday to investigate whistleblower allegations that the Bureau of Alcohol, Tobacco, Firearms and Explosives (ATF) has wasted millions of taxpayer dollars. 
In a letter sent to Inspector General Micahel Horowitz, Ernst cited ATF whistleblowers and an Office of Special Counsel (OSC) report that accused ATF of wrongfully classifying non-law enforcement jobs as law enforcement. 'This resulted in ATF bureaucrats being provided pay and benefits reserved for those law enforcement personnel including enhanced retirement benefits and premium pay rates,' Ernst wrote.
While acknowledging that the Office of Personnel Management (OPM) is working with the Department of Justice and ATF to take appropriate action, Ernst expressed concern about 'the limited scope of the remediating actions.' 
'According to the whistleblowers, OSC's report 'did not adequately capture the extent of ATF's illegal practices or the full impact of the harm.' In fact, the whistleblowers believe 'there were many more misclassified positions than were captured in [OPM's] audit and that the agency significantly underreported the waste directly and tangentially associated with the widespread practice of misclassifying positions,' including failing to account for the impact of the wrongdoing on ATF's non-law enforcement personnel,' she wrote. 
Earlier this month, Special Counsel Henry Kerner alerted President Biden and members of Congress to 'substantial waste, mismanagement, and unlawful employment practices' at ATF. In a May 2 report, the OSC substantiated whistleblower allegations that ATF unlawfully provided law enforcement pay and benefits to non-law-enforcement personnel, resulting in ATF overpaying agents by up to $20 million over a five-year period. 
The OSC said the full extent of waste at ATF 'could be much higher given that the unlawful job classifications had been common practice at ATF far longer than the five-year timeframe reviewed by investigators.' 
An OPM investigation subsequently 'conclude[d] that ATF leadership had acted outside of merit system principles and demonstrated disregard for the rule of law and regulations that implement Federal human capital management policies and practices.' A total of 108 ATF employees were found to have received law enforcement benefits despite not being eligible to receive them. 
'I thank the whistleblowers for coming forward with these very serious allegations and am pleased that under OPM's oversight, ATF has initiated corrective measures,' said Special Counsel Henry J. Kerner. 'While I find the report to be reasonable, progress toward full resolution has been slow, which may be attributable to the long-standing nature of the problems and the entrenched culture reinforcing ATF's practices. I am pleased that OPM continues to monitor progress in implementing required corrective actions, and I urge ATF's internal affairs to hold the responsible parties accountable.'
Though OPM is addressing the problem, Ernst said, 'more work remains to be done on this important issue to ensure the ATF's culture of gross mismanagement of taxpayer funds is fully examined and remediated to stamp out any willingness to abuse the public trust which may exist amongst ATF bureaucrats.'
READ ERNST'S LETTER BELOW. APP USERS: CLICK HERE
'The American people deserve to know the full extent of the ATF bureaucrats' dishonest dealings, she wrote. 'It is incumbent upon all public servants to act with the utmost levels of professionalism but when bureaucrats abuse the public trust it is the responsibility of watchdogs to hold the bad actors accountable for their malfeasance.'
ATF spokesperson Kristina Mastropasqua said the agency has taken 'extensive corrective actions' since the OPM's findings were issued, including, 'implementation of new policies and procedures, reclassification of numerous positions and reassignment of employees.'
'Discussions between the Department of Justice, ATF and OPM regarding the appropriate classifications of law enforcement positions are ongoing. ATF and the Department are committed to expeditiously resolving the few remaining issues, in a manner that, consistent with applicable laws and regulations, maximizes public safety,' Mastropasqua said. 
This post appeared first on FOX NEWS