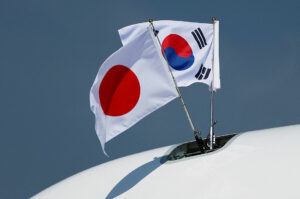 S. Korea's Yoon praises Japan's Kishida for his efforts to mend ties
HIROSHIMA — South Korean President Yoon Suk Yeol said on Sunday that Japanese Prime Minister Fumio Kishida's expression of compassion for those who suffered as forced laborers under Japan's colonial rule had resonated with many South Koreans.
Mr. Yoon, meeting Mr. Kishida on the sidelines of the Group of Seven (G7) summit in the Japanese city of Hiroshima, praised his leadership in seeking to respond to global challenges in security and the economy.
In Seoul earlier this month, Mr. Kishida said, "For me personally, my heart hurts when I think of the many people who endured terrible suffering and grief under the difficult circumstances of the time."
Sunday's meeting was the third between the two this year, marking a thaw in years of icy relations between the Asian neighbors. South Korea announced in early March a plan for its companies to compensate victims of forced labor under Japan's 1910-1945 colonization of the Korean Peninsula.
Before their meeting on Sunday, Mr. Yoon and Mr. Kishida visited the Hiroshima Memorial Peace Park to pay their respects at a memorial for Koreans who died in the US atomic bombings of Japan in 1945.
"I feel that our visit was important for both Japan and South Korean relations, as well as for us to pray for world peace," Mr. Kishida told Mr. Yoon of the first visit to the memorial by the leaders of both countries together. The joint visit symbolizes efforts by both leaders to face the painful past and heal from it, Mr. Yoon's spokesperson Lee Do-woon told a briefing.
"It also means the two countries, along with their ally the US, will collectively respond to nuclear threats in the northeast Asia region and the world," Mr. Lee said.
As many as 100,000 Koreans suffered in the bombings of Hiroshima and Nagasaki, half of them dying that year. About 43,000 returned to South Korea and 2,000 went to the North, according to the Korea Atomic Bombs Victim Association. — Reuters