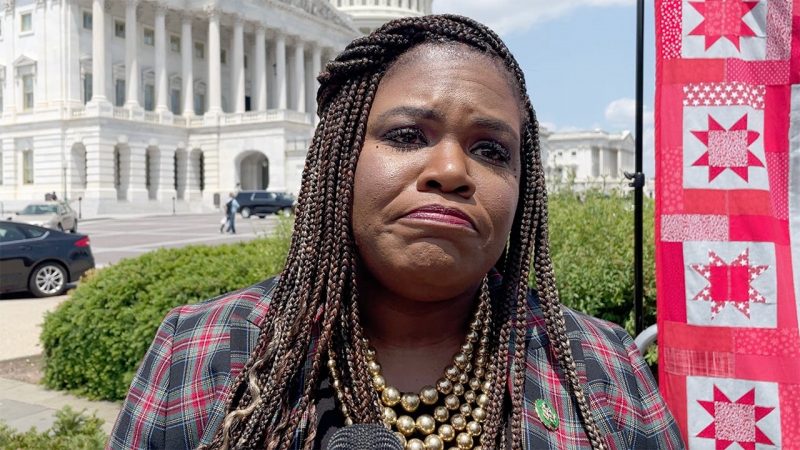 Cori Bush's $14 trillion reparations proposal would equal nearly 7 Afghanistan wars in spending
Rep. Cori Bush, D-Mo., said that if the U.S. can finance trillion-dollar wars, it can fund reparations. But Bush's astronomical $14 trillion reparations proposal would cost nearly seven times that of the Afghanistan war.
The Missouri Democrat introduced her reparations proposal this week to compensate for what she believes are racist government policies that created a wealth gap between White and Black people. 
During a press conference on Wednesday, the 'Squad' member said the U.S. has 'a moral and legal obligation to provide reparations for the enslavement of Africans' to atone for the harm it caused. 
'Black people in our country cannot wait any longer for our government to begin addressing… all of the harm it has caused since the founding, that it continues to perpetuate each and every day all across our communities, all across this country,' Bush said during the press conference.
'Let us speak this truth, uncomfortable as it may be: Our country was not founded on the principle that all people are created equal,' she continued. 'It was founded at the expense of the lives, freedom and well-being of Black people, African folks who they stole.'
When a Fox News Digital reporter asked where the federal money would come from for the massive proposal, Bush said they were still hashing out the details. She added that if the country can finance costly wars, it can generate money for reparations.
'We're still having those kinds of conversations,' Bush said. 'We're working with this administration, we're talking with other members of Congress… but I'll say this, if we can continue to fund these endless wars, or we can continue to put trillions of dollars into forever wars… we're talking about things that are happening now.' 
Bush's proposal would carry a price tag equivalent to almost seven times that of the Afghanistan war. The 20-year war is estimated to have cost the U.S. around $2.3 trillion, according to Brown University's Costs of War Project. 
Bush's federal proposal follows a growing push for reparations in several cities, most notably in San Francisco. In 2021, a coalition of progressive city leaders banded together to form Mayors Organized for Reparations and Equity (MORE) to provide the federal government with a blueprint for implementing a national program, Fox News Digital previously reported. 
'Our coalition stands on the belief that cities can — and should — act as laboratories for bold ideas that can be transformative for racial and economic justice on a larger scale, and demonstrate for the country how to pursue and improve initiatives that take a reparatory approach to confronting and dismantling structural and institutional racism,' the group said of its mission.
MORE has included several heavy-hitting Democratic mayors who have put into motion or implemented reparations pilot programs in their cities, such as former Providence, Rhode Island, Mayor Jorge Elorza; St. Louis Mayor Tishaura Jones; Sacramento, California, Mayor Darrell Steinberg; and former Los Angeles Mayor Eric Garcetti. 
The White House has refused to say whether President Biden supports reparations for slavery and instead said it is 'going to leave it there for Congress to decide.'
Bush's office did not immediately respond to a Fox News Digital request for comment.
Fox News Digital's Elizabeth Elkind contributed to this report.
This post appeared first on FOX NEWS