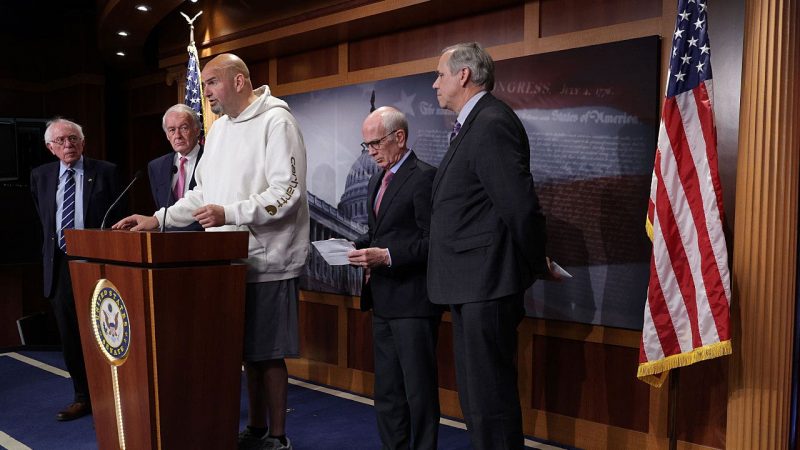 Boebert slams Fetterman for wearing hoodie, shorts to Senate news conference: 'No excuse'
Rep. Lauren Boebert, R-Colo., blasted Democratic Senator John Fetterman's 'unbecoming' decision to attend a Senate press conference while wearing a hoodie and shorts.
'John Fetterman redefined Casual Friday on a Thursday morning,' Boebert wrote on Twitter. 'It's truly unbecoming for someone to show up like that to any job, let alone a job that only 100 people are elected to do.'
The Pennsylvania senator attended a Thursday news conference to discuss debt limit negotiations wearing a white hoodie, gray workout shorts, and running shoes, while standing alongside four fellow Democratic Senators who all were dressed in a suit and tie.
'There's just no excuse for it,' the Colorado Republican said in her tweet blasting Fetterman's Senate attire.
During his time as Mayor of Braddock and campaign for the Pennsylvania Senate, Fetterman was known for wearing sweats on the job, but raised eyebrows when he showed up to the United States Senate in a hoodie.
Fetterman has been seen wearing a hoodie and shorts in the Senate several times since his return from a six-week hospital stay, where he was being treated for clinical depression.
Fetterman initially checked himself into the hospital in February, and did not return in-person to the Senate until April.
On his first appearance in the chamber since his weeks-long hospital stay, the Senator was seen wearing a black Carhart hoodie and blue casual shorts.
Fetterman's office didn't immediately return a request for comment on Boebert's criticism.  
Among the debate about Fetterman's controversial Senate attire, Fox News Digital recently reported the Senator's office doctored his remarks in their transcriptions from several hearings, amid concern over the Senators health.
This post appeared first on FOX NEWS