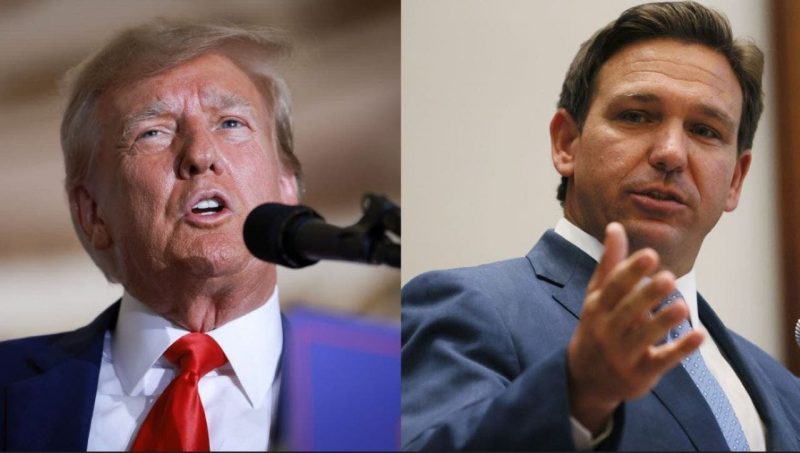 DeSantis says he is one of only three 'credible' 2024 options, chances for Trump 'not great': report
Republican Florida Gov. Ron DeSantis said Thursday that he is one of only three 'credible' options in contention for the White House in 2024, and that former President Trump's chances at winning were 'not great,' according to a report by The New York Times.
'You have basically three people at this point that are credible in this whole thing,' DeSantis reportedly told donors on a call organized by Never Back Down, the super PAC supporting him. 'Biden, Trump and me.' 
'And I think of those three, two have a chance to get elected president — Biden and me, based on all the data in the swing states, which is not great for the former president and probably insurmountable because people aren't going to change their view of him,' he reportedly said.
Later in the call, DeSantis reportedly told participants, 'the corporate media wants Trump to be the nominee,' citing the criticism leveled at him by journalists and current presidential candidates.
When reached for comment, DeSantis' political team said they had nothing to share concerning the report. However, the Trump campaign told Fox News the governor's comments show he is being fooled by his consultants.
'Ron DeSantis is having a no good, very bad week with two devastating losses on Election Day, and letting Disney steamroll him. Everything he is saying is exactly what consultants tell candidates to manipulate and bamboozle them,' Trump spokesperson Stephen Cheung said, referencing DeSantis' ongoing fight with Disney and losses by candidates he endorsed in multiple elections on Tuesday.
DeSantis is expected to officially enter the 2024 race for the White House next week after months of buildup and speculation, according to sources familiar with the governor's decision.
The sources say he will file formal paperwork with the Federal Election Commission next week to declare his candidacy for president – news that was first reported by The Wall Street Journal.
Once he announces, DeSantis will join an increasingly crowded Republican field that includes Trump, businessman Vivek Ramaswamy, former Arkansas Gov. Asa Hutchinson, conservative radio host Larry Elder, and former U.N. Ambassador Nikki Haley.
Fox News' Paul Steinhauser contributed to this report.
This post appeared first on FOX NEWS