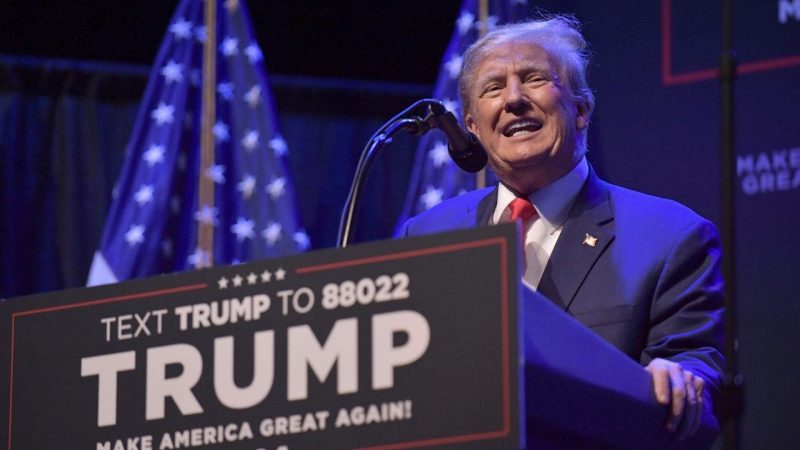 Trump-DeSantis jockeying: Some Iowa, N.H., Republicans named as Trump endorsers say they're wrongly listed
Laura Carlson says she 'loved' what Donald Trump did 'when he was president.' 
Carlson, the second vice president of the Iowa Federation of Republican Women, was named on a list of roughly 150 'elected and grassroots leaders' in Iowa that the former president unveiled this past weekend. As the state whose caucuses lead off the GOP presidential nominating calendar, White House campaigns highly prize and show off their Iowa endorsements.
But Carlson told Fox News on Tuesday that she hasn't endorsed anyone in the burgeoning field of Republican presidential candidates. 'It's way too early,' she said.
Carlson says having her name on the former president's Iowa endorsement list was a miscommunication with the Trump campaign, and she received a 'lovely apology.' 
'Things like that happen,' she added.
Margaret Stoldrf, a Republican activist and GOP chair in the state's 3rd congressional district, echoed Carlson, telling Fox News 'I think Trump was a great president.' 
But Stoldrf, who was also named on Trump's endorsement list, noted that she's staying neutral for now.
Trump, who launched his third straight White House run in November, is currently the overwhelming front-runner in early Republican presidential nomination polls. In second place in those surveys is Florida Gov. Ron DeSantis, who currently remains on the 2024 sidelines but is expected to launch a campaign in the coming weeks. And he's been heavily targeted the past couple of months by Trump and the former president's political allies.
DeSantis on Saturday crisscrossed through Iowa, helping Hawkeye State Republicans last Saturday raise money at events in the northwestern and eastern parts of the state. 
After a scheduled rally in Des Moines by Trump was canceled at the last minute due to severe weather warnings, DeSantis made an unscheduled stop in Iowa's capital city on Saturday night and spoke with supporters at a barbeque joint just a couple of blocks from where the Trump rally would have been.
Former GOP congressional candidate Gary Leffler said that he was attending a DeSantis event on Saturday when a reporter informed him that his name was on Trump's endorsement list.
'I lean Trump, but I 100% believe that DeSantis is the future of the party for 2028,' Leffler told Axios, adding that he met with officials on both the Trump and DeSantis teams on Monday to discuss his support.
Trump unveiled a list of roughly 50 state lawmakers in New Hampshire during a campaign event he held three weeks ago in the state that holds the first primary and the second overall contest in the Republican nominating calendar.
On Tuesday, the pro-DeSantis super PAC Never Back Down announced an endorsement list of 51 New Hampshire state representatives who pledged to support the governor's looming presidential campaign. And as Fox News first reported on Tuesday, DeSantis will return to New Hampshire on Friday to meet with those lawmakers and spotlight how his conservative 'Florida blueprint' can be replicated as a model across the country..
But four of the lawmakers on the Never Back Down list also appeared among endorsements that Trump unveiled three weeks ago.
State Rep. Brian Cole of Manchester, who represents Hillsborough County District 26 in the state House of Representatives and is vice chair of the Manchester Republican Committee, told Fox News: 'I've had a chance to talk to DeSantis' team. I actually met with DeSantis. After speaking with both of them, I think he's going line up better [than Trump] with New Hampshire voters.'
Cole explained that he spoke with the Trump campaign Tuesday morning to tell them the news.
'They weren't too happy but they understand,' he shared.
Also on both lists are state Reps. Debra DiSimone of Atkinson and Belknap County's Juliet Harvey-Bolia.
Harvey-Bolia told NBC News 'I'm endorsing both… DeSantis has a lot of promise for the future, and Trump is great now.'
The fourth lawmaker is state Rep. Lisa Smart, who also hails from Belknap County. In a statement released Tuesday by the Trump campaign, Smart wrote: 'I was so incredibly proud to join many of my colleagues in endorsing President Donald J. Trump last month and my support for him has not changed. I'm dismayed by the games played by Never Back Down and I will NOT be participating in any activities with Ron DeSantis.'
Asked about Smart's comments, Never Back Down shared a signed statement by Smart saying she pledges 'to endorse Governor Ron DeSantis for President of the United States.'
Because of their outsized importance in the Republican presidential nomination race, there's intense jockeying between the campaigns and their allied super PACs when it comes to endorsements.
Veteran New Hampshire based conservative activists Greg Moore told Fox News that 'it's very important for these campaigns to be very explicit and intentional to make abundantly clear when they ask someone if their supporting you that you're going to be releasing their name and they're going to publicly held out there as endorsing. I think often times that step is skipped.'
Moore, the longtime state director for Americans for Prosperity, suggested that 'when that happens you end up with situations where it appears someone's flipped from one candidate to another, which gives the perception nationally that someone's either losing or gaining momentum when in fact it's often at the staff level where the staffers were not explicit in asking for endorsements.'
This post appeared first on FOX NEWS