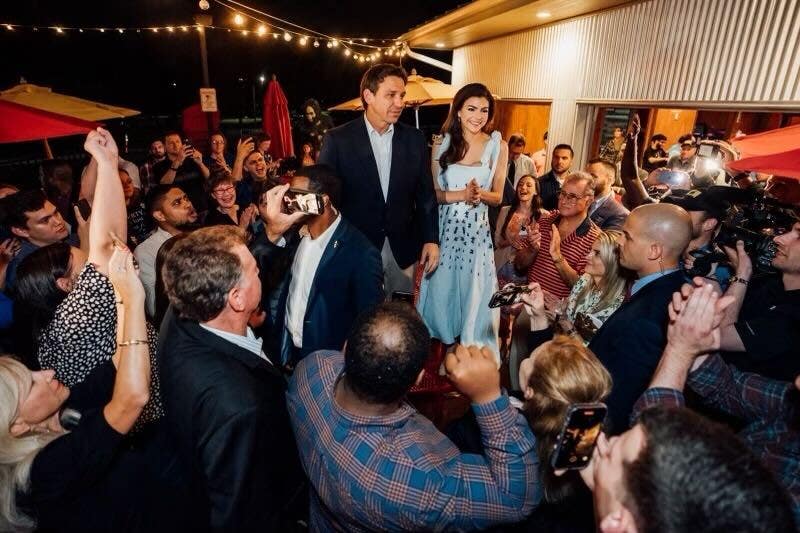 DeSantis steps in and meets with voters after Trump cancels Iowa rally, causing online firestorm
Florida Gov. Ron DeSantis met with Iowa voters in Des Moines after former President Donald Trump canceled his event there, sparking debate about the reason for Trump's change of plans.
After a packed day of events in Sioux Center and Cedar Rapids, DeSantis made a surprise trip to Des Moines to talk to voters at Jethro's BBQ Southside, just minutes from where Trump cited the potential for severe weather in canceling his planned Des Moines rally.
DeSantis, who has not yet announced a bid for president and has avoided directly addressing the former president, appeared to take a jab at Trump while in Des Moines, remarking that it was a 'beautiful night.'
'My better half and I have been able to be all over Iowa today, but before we went back to Florida we wanted to come by and say hi to the people of Des Moines,' DeSantis told those gathered at the BBQ joint, according to the New York Times. 'So thank you all for coming out. It's a beautiful night, it's been a great day for us.'
The surprise appearance came after Trump's planned rally in Des Moines was abruptly canceled Saturday. While the campaign cited tornado watches and the potential for severe weather, the explanation drew skepticism from Iowa officials and speculation online that the former president may have feared a smaller than expected crowd at the event.
'In the interest of the safety for everyone in Iowa at the sold-out event in Des Moines, due to the National Weather Service's Tornado Watch in effect in Polk and surrounding counties, we were unfortunately forced to postpone the event. We will be there at the first available date,' Trump campaign spokesperson Steven Cheung told Fox News Digital in a Sunday afternoon email.
'Trump is dominating in poll after poll – both nationally and statewide,' he continued. 'There is nobody else who can generate the type of enthusiasm and support like he can. There were thousands of supporters who had RSVP'd for the rally, which would have eclipsed the tiny crowds others are so proud of.'
Trump's campaign Twitter account tweeted out a video following the cancellation of the Des Moines rally showing campaign staff going to the house of an elderly couple who support Trump. The campaign staff had hats and other gear for the couple and put Trump on the phone with them, where he thanked them for their support and said he looks forward to seeing them and that he wants them to 'stay healthy.'
'I wanted to see you today, but a little thing called tornadoes, they prevailed,' Trump said.
However, hours later DeSantis was standing on a table bench to address an enthusiastic gathering of about 150 people, boasting about his record in Florida and the work being done in Iowa, saying the results could be repeated across the country. DeSantis then posed for photographs with supporters.
'If you're willing to deliver results, the people are there,' DeSantis said. 'They'll follow because they just want to see a better future. We've done that in Florida. They have done that in Iowa. We are going to have a chance pretty soon to make sure that that's done in every state in this country.' 
The impromptu appearance capped a busy day in the Hawkeye State, where the first votes of the 2024 Republican primary will be cast.
While DeSantis has yet to officially launch a bid for president, polls show he is the main challenger to Trump's path to the nomination should he decide to run.
The Florida governor has already earned the endorsements of some high-profile Iowa Republicans, including state Senate President Amy Sinclair and state House Majority Leader Matt Windschitl. He unveiled over 30 other endorsements ahead of his Iowa visit. The Trump campaign has also released a list of several endorsements in Iowa in recent months. 
This post appeared first on FOX NEWS