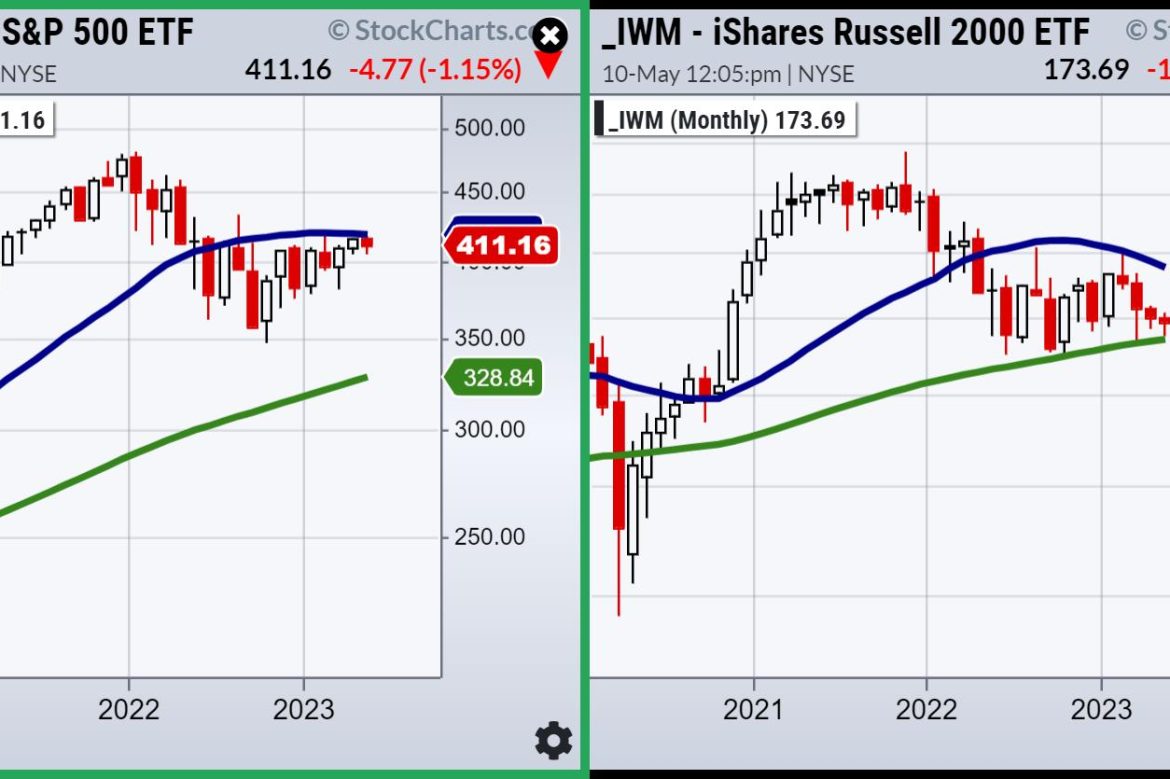 Fresh Macroeconomic Look after CPI
I was honored to spend time on Making Money with Charles Payne, which airs on Fox Business, and give a brief glimpse into why I am not as bearish right now based on the macro. (link below)
My macro take based on business cycles and zooming out on the charts? The economic contraction based on longer business cycle timeframe or 6-8 years, might be done. The 80-month moving average (green line) held in small caps (IWM) retail (XRT) and transportation (IYT). That doesn't mean we start expanding, though; it just means the market looking forward, might trade to the upper regions of the trading range. That is the Stagnate part of stagflation.
On the other hand, the business cycle within the longer cycle or 2 years as measured by the 23-month moving average (blue-line) has yet to pierce to the upside, except in a couple of sectors like semiconductors (SMH). Thus, growth stocks could expand further while the "inside" parts of the US economy remain sideways for longer. Hence, we have bad news and good news.
The bad news is the indices, and many sectors, are rangebound and may remain so for a long time.
The good news is the indices, and many sectors, are rangebound and may remain so for a long time.
We still believe that the SPY could clear over the 23-month moving average. Ultimately though, the small-caps (IWM) must follow. Two scenarios can spoil the party:
If IWM fails the 80-month moving average going into more of a recessionary cycle-worst influence are the Regional Banks. That would force SPY to reconsider the rally.IWM holds yet cannot get above 190-200. In that case the SPY could be at 240 and still reverse course.
Clearly, you can see the difference between the small caps and the S&P 500 on the daily timeframe as well.
A first step would be for IWM to rally above the 50-DMA or blue line. Then, maybe, we are on the way to more upside. Shorter-time frame of course, but a good start if it can happen.
Real Motion Momentum is meh in the SPY and about to enter a bear phase in the IWM. Momentum needs to clear back over both moving averages in IWM to get even more interesting.
More macro:
High grade corporate bonds (LQD) and high yield high debt junk bonds are both in trading ranges. However, seasonally, and historically, yields tend to peak in May. Considering the CPI numbers, that is possible.
The US Dollar is holding major support, testing the lows of its 2 year business cycle expansion. That is a good line in the sand. Furthermore, gold and silver are also now range bound- albeit at higher levels. Copper and Platinum are strong. Soft commodities, especially sugar and cocoa, are strong. Food prices remain the stickiest part of inflation.
That is the Flation part of stagflation.
The CPI numbers exclude food and energy. Plus, global inflation still high.
For more detailed trading information about our blended models, tools and trader education courses, contact Rob Quinn, our Chief Strategy Consultant, to learn more.
IT'S NOT TOO LATE! Click here if you'd like a complimentary copy of Mish's 2023 Market Outlook E-Book in your inbox.
"I grew my money tree and so can you!" – Mish Schneider
Get your copy of Plant Your Money Tree: A Guide to Growing Your Wealth and a special bonus here.
Follow Mish on Twitter @marketminute for stock picks and more. Follow Mish on Instagram (mishschneider) for daily morning videos. To see updated media clips, click here.
In this appearance on Fox Business's Making Money with Charles Payne, Mish and Charles discuss if economy has contracted enough with support in place, and present 3 stock picks.
Mish covers the trading range and a few of her recent stock picks on Business First AM.
In this appearance on Real Vision, Maggie Lake and Mish discuss current state of the market, from small caps to tech to gold.
In the Q2 edition of StockCharts TV's Charting Forward 2023, hosted by David Keller, Mish joins RRG Research's Julius de Kempenaer and Simpler Trading's TG Watkins for an roundtable discussion about the things they are seeing in, and hearing about, the markets.
Mish and Dave Keller discuss why Mish believes that yields will peak in May, what to expect next in gold, and more in this in-studio appearance on StockCharts TV's The Final Bar!
Mish explains why Grandma Retail (XRT) may become our new leading indicator on the May 4th edition of Your Daily Five.
Mish discusses the FOMC and which stock she's buying, and when on Business First AM.
Mish covers strategy for SPY, QQQ, and IWM.
Coming Up:
May 11th: Mario Nawfal, Twitter Spaces at 8am ET & Jim Pupluva, Financial Sense Podcast
May 18th: Presentation for Orios VC Fund, India
May 19th: Real Vision Analysis
May 22nd: TD Ameritrade
May 31st: Singapore Radio with Kai Ting 6:05pm ET MoneyFM 89.3.
ETF Summary
S&P 500 (SPY): 23-month MA 420Russell 2000 (IWM): 170 support – 180 resistanceDow (DIA): Dancing on the 23-month MANasdaq (QQQ): 329 the 23-month MARegional banks (KRE): 42 now pivotal resistance-holding last Thurs lowSemiconductors (SMH): 23-month MA at 124Transportation (IYT): 202-240 biggest range to watch Biotechnology (IBB): 121-135 range to watch from monthly chartsRetail (XRT): 56-75 trading range to break one way or another
Mish Schneider
MarketGauge.com
Director of Trading Research and Education