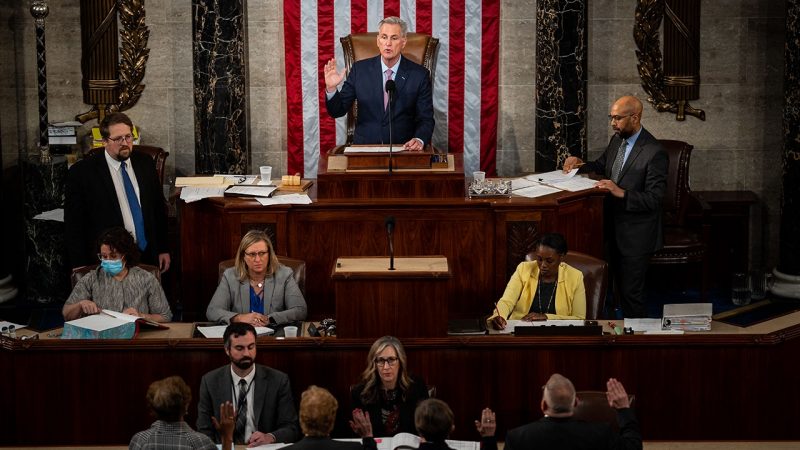 The Speaker's Lobby: Not quite a pay raise
It's politically toxic for Members of Congress to approve a pay raise for themselves.
So, the House did the next best thing. It approved something that is kind of like a pay raise.
But not really.
Members of the House of Representatives earn a base salary of $174,000 a year. Those in leadership positions make $193,400. The Speaker takes home $223,500. Those salaries have stalled since 2009. 
It would take both bodies of Congress to approve a formal pay raise. The 27th Amendment to the Constitution says any pay increase can't take effect until there's an election in the House. That's so lawmakers must face the music from the voters if they supported a pay increase.
So, the House is now implementing a plan which allows the House to reimburse Members for expenses they incur while in Washington, DC. House Members previously held two 'work stations.' One in the district. One in Washington. The new program says that lawmakers now have one 'work station.' Thus, they are eligible for reimbursements when on Capitol Hill. 
The House already covers the travel of lawmakers to and from Washington. The new program enables lawmakers to apply for reimbursements to cover rent, utilities and meals in Washington. The reimbursements are taxable. The House did not allocate additional money to cover expenses. The reimbursements simply come out of the kitty which the House disburses for each of the offices of all 435 members and six non-voting delegates. That money can go toward paying staff, purchasing office equipment – or for reimbursements to Members. 
One private calculation of the benefit revealed that lawmakers could potentially receive well over $30,000 in reimbursements if they exploited every option. However, the reimbursement system mirrors how federal agencies repay their employees for workplace expenses.
The House never took a roll call vote to authorize the new guidelines. On December 30 of last year, the House Administration Committee – then run by the old Democratic majority – approved updates to the Members' Congressional Handbook for reimbursements. The panel unanimously supported the upgrade. It would be up to the Republican majority to implement the new rules. Lawmakers have just started to receive official guidance on how to submit paperwork for reimbursements. In fact, most lawmakers questioned by Fox knew little about the logistics of the program.
An aide to House Speaker Kevin McCarthy, R-Calif., said that the new language in the handbook 'is not a policy change,' characterizing the new provisions as providing 'administrative clarity.' 
Both Republicans and Democrats embraced the 'clarity.' 
Or, at least the chance for the House to foot some of their bills while in Washington.
'It makes a lot of sense,' said Rep. Jamaal Bowman, D-N.Y. 'It's very challenging to have a mortgage, buy a home, rent here and travel and all the things that go with that.'
Lawmakers have long fretted about Congress only attracting wealthy persons to serve. A Washington, DC landlord famously denied 26-year-old freshman Rep. Maxwell Frost, D-Fla., an apartment last year because the Generation Z-er had bad credit. 
'This ain't meant for people who don't already have money,' tweeted Frost who was 25 when voters elected him.
'Congress was out of line with traditional workplace reimbursement structures,' said Rep. Matt Gaetz, R-Fla. 'So I support the changes that will bring us in line with what normal businesses do.'
Many House members sleep in their offices on couches and rollaway beds because housing is so expensive compared to other cities. Many members from the famous 1994 GOP class which flipped the House for the first time in 40 years made a point of sleeping in their offices. That was so voters wouldn't perceive them as 'going native' in Washington.
Former House Speaker Paul Ryan, R-Wisc., always slept in his office. However, some House Speakers have argued that the Congressional couch-surfing is unbecoming to a Member of Congress. That's to say nothing of the argument that Members are actually using a federal resource for personal purposes.
But it's hard to argue with the finances of Members. Inflation spurred a lot of air mattress inflation over the years on Capitol Hill. 
'A third of the Congress slept in their offices,' said Rep. Jay Obernolte, R-Calif., 'That's not a healthy situation.'
And, big paychecks off Capitol Hill in lobbying may tempt lawmakers to abandon office if they can't cover their bills. That creates the 'turnstile' effect in Washington. That potentially creates a separate set of ethics issues.
'There are a lot of Members who are having a hard time with expenses,' said Rep. Morgan Griffith, R-Va., of the reimbursement changes. 'So I think it was probably needed.'
Some lawmakers doubt they'll use the reimbursement system.
'I stay in my office. It's a very Spartan way to live up here in DC,' said Rep. Bob Good, R-Va. 'I'm not here to socialize or to make friends.'
But like with any Congressional perquisite, there are always questions about the potential for abuse. Lawmakers must show receipts and account appropriately for the reimbursement requests. 
'The House Office of Finance is a stickler for details,' said Brad Fitch who tracks the inner-mechanics of Capitol Hill for the Congressional Management Foundation. 'So they've got a pretty powerful financial incentive not to screw up.'
But the political sensitivity of Congressional 'pay raises' and other perks explains why it took the House so long to develop standards for reimbursements. Lawmakers are very jumpy about the perception that they're receiving a benefit unavailable to the rest of the public. That's why a Congressional pay raise is out of the question in this political environment. The House could never conjure together the votes to approve such a measure. So, they took this step instead.
Leaders on both sides of the aisle are okay with the plan. The bipartisan Select Committee on the Modernization of Congress endorsed the reimbursement package. 
House Minority Leader Hakeem Jeffries, D-N.Y., dismissed suggestions that the public could interpret the plan as a pay raise or a extra benefit for members.
'It's a reimbursement,' said Jeffries. 'The effort to make sure that Members are reimbursed for housing expenses has been bipartisan in nature from the very beginning.'
But Fitch says there will always be skeptics of such programs for Members.
'Any topic about Congressional spending gets into a very radioactive political environment,' said Fitch. 'Every time, it's resulted in a pretty big, messy story for the United States Congress.
Rep. John Larson, D-Conn., says lawmakers are 'afraid of what the politics might be' of covering basic expenses for lawmakers when they're working in Washington, DC.
But Larson offered a somber assessment about the realities surrounding this issue. 
'In this day of very partisan politics, will it be used against Members?' asked Larson. 'Bank on it.'
This post appeared first on FOX NEWS