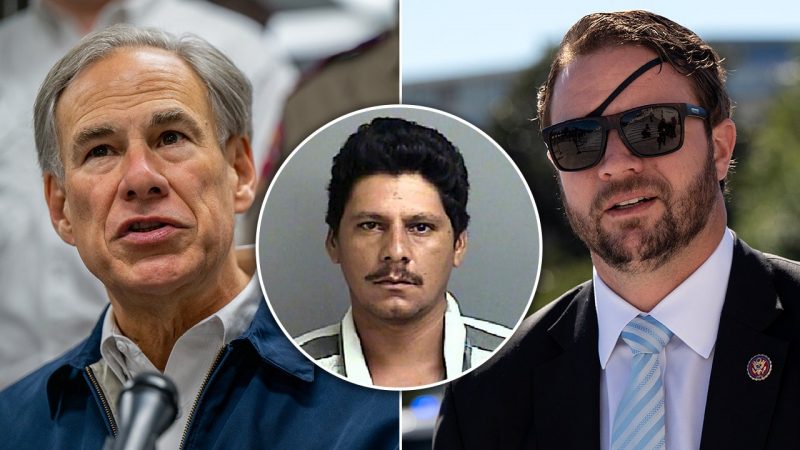 Texas shooting suspect: Gov. Abbott, lawmakers respond after four-day manhunt ends with arrest
Several lawmakers from Texas took to Twitter to praise the efforts of a massive law enforcement task force Tuesday evening after they apprehended 38-year-old Mexican national Francisco Oropesa, who is accused of killing five neighbors including a 9-year-old child in Cleveland, Texas last month.
U.S. Marshals, Texas Department of Public Safety and the U.S. Border Patrol's BORTAC team apprehended Oropesa, 38, without incident Tuesday evening. He was found hiding in the closet of a home, under a pile of laundry before he was taken into custody.
Texas Gov. Greg Abbott tweeted: 'Great job by law enforcement.'
Sen. Ted Cruz called the suspect a 'mass murdering illegal alien' and said he 'deserves the death penalty.'
'Thank you to the brave men and women of law enforcement who worked tirelessly to apprehend this mass murdering illegal alien who killed 5 innocent people,' the U.S. senator wrote.
He added: 'The victims deserve justice. And this monster when convicted deserves the death penalty.'
Rep. Dan Crenshaw, R-Texas, also responded.
'Grateful to learn that Francisco Oropesa has been apprehended by law enforcement in Texas,' he wrote in a tweet. 'Justice will be served for the victims of this unthinkable murder.'
Crenshaw previously tweeted that he had 'full confidence' that law enforcement officers would locate Oropesa and have him stand trial for his alleged involvement.
CBP Acting Commissioner Troy Miller also praised the efforts of the various law enforcement personnel who contributed to the search and subsequent apprehension.
'I am incredibly proud of the members of our U.S. Customs and Border Protection workforce who, together with partners at the FBI, the U.S. Marshals Service, the Texas Department of Public Safety, and the San Jacinto County Sheriff's Office, apprehended the suspect of Friday's brutal murders in Texas,' Miller said.
He added: 'Tonight, agents from the Border Patrol's elite BORTAC unit apprehended the suspect without incident. Air and Marine Operations provided overwatch surveillance and aerial support to assist the multi-jurisdictional efforts. In small towns and communities like Cleveland, Texas, the men and women of U.S. Customs and Border Protection – in particular, the U.S. Border Patrol – provide integral law enforcement support to local authorities, protecting and serving the communities they live in.'
'Tonight's actions clearly demonstrate that our agents and officers bring incredible capabilities to bear every day as they work to keep our communities safe,' the acting commissioner added.
Oropesa is accused of using an AR-15 to kill four adults — Sonia Argentina Guzman, 25; Diana Velazquez Alvarado, 21; Julisa Molina Rivera, 31; and Jose Jonathan Casarez, 18 — as well as one child, 9-year-old Daniel Enrique Laso Guzman.
He will be charged with five counts of murder, San Jacinto County Sheriff Greg Capers said during a press conference Tuesday evening. His bond was set at $5 million.
More than 225 law enforcement officers, assisted in the days-long search for Oropesa, who was found after a tip was submitted to the FBI tipline. Search efforts were also carried out in Wyoming, Florida, South Texas, North Texas, Oklahoma, and Maryland.
This post appeared first on FOX NEWS