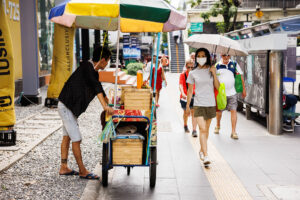 Heat waves, cyclones impacting stock markets across Asia
STOCK PICKERS in some of Asia's key markets are being battered by a series of extreme weather events from heat waves to flooding, signaling the difficulties ahead as El Niño-related risks rise, and climate change accelerates.
In resource-rich Australia, Newcrest Mining Ltd.'s Telfer gold mine was closed earlier this month and the company's shares fell from more than a two-year high after the biggest cyclone to hit the Western Australian coast in almost a decade made landfall. That followed heavy rain and flooding that hampered coal production for miners such as Whitehaven Ltd. and BHP Group late last year. 
Further west, India's hottest February in more than a century, following a spike in cattle deaths caused by a viral skin disease, fueled a rare drop in dairy production in the world's largest milk-producing nation. With more heat waves forecasts alongside peak summer demand, shares of dairy firms such as Parag Milk Foods Ltd. and Heritage Foods Ltd. are soaring.
Extreme weather has always been part of the cost of doing business, but the frequency of such events is increasing. And while volatility linked to them isn't limited to Asia, it's certainly the region where the impact on stock markets has been outsized so far this year. Researchers and analysts who track the impact of these events have a message for traders struggling with stock swings: get used to them.
"Its become complex to predict the demand and output trends and take sector or stock calls because weather is uncertain," said Jigar Shah, the Mumbai-based head of research at Kim Eng Securities Pvt. "The agri and food chain is at significant risk if this goes uncontrolled."
EL NIñO RISK
The possibility of an El Niño weather pattern forming — typically signaled by higher-than-normal water temperatures in the eastern Pacific — means hotter and drier conditions for Asia and Australia.
Shares of Thailand's agricultural firms, drinks manufacturers and related companies have also become a focus after a local report flagged exactly those conditions for the Southeast Asian nation in the coming months.
A Bloomberg Intelligence (BI)  analysis suggested that Indian stocks with more exposure to rural areas may be harder hit by expectations of an El Niño than urban-oriented shares.
"Forecasts of El Niño conditions this year could lead to a monsoon rainfall deficit, impeding crop production and stalling the rural recovery," BI analyst Nitin Chanduka wrote in a report on Monday.
Unpredictable weather, coupled with geopolitical issues including Russia's war in Ukraine, has also led to more abrupt changes in supply and demand patterns.
Chamath De Silva, a senior fund manager for BetaShares Holdings in Sydney, said he sees insurance firms among the few possible longer-term winners in an era where climate continues to spark negative supply shocks, with the rising risk for such events eventually resulting in higher premiums.
Meanwhile, other sectors and markets will benefit as they help fill the gap when extreme weather or natural disasters undercut supply in another region, said Hebe Chen, an IG Markets analyst based in Melbourne.
'MORE FREQUENT'
"Extreme weather events, regardless of their types and sizes, unstoppably ripple through the financial markets in both predictable and unpredictable ways. It is not uncommon that these ripples could turn into a tidal wave," she said.
Researchers who use complex modeling to predict climate change say the more extreme events are here to stay.
"It is virtually certain there will be more frequent hot extremes and fewer cold extremes at the global scale and over most land areas in a future warmer climate," the UN's Intergovernmental Panel on Climate Change reiterated in its latest report. "It is very likely that heat waves will occur with a higher frequency and longer duration." — Bloomberg