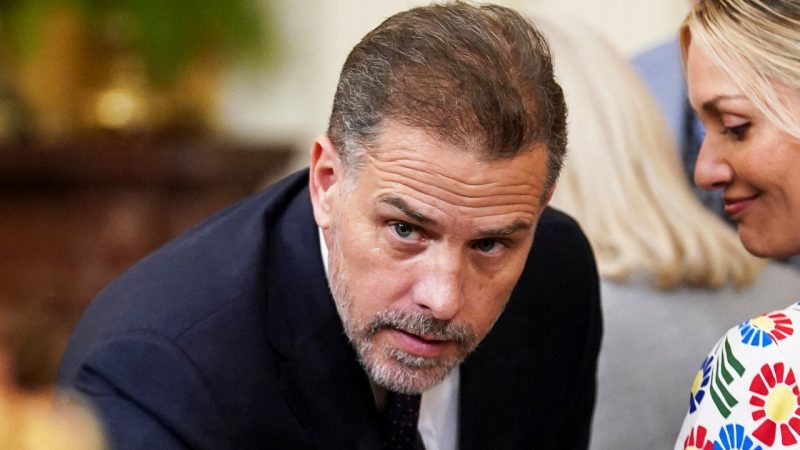 IRS whistleblower is 'not a political person,' has documents to support Hunter Biden allegations: attorney
The lawyer for the IRS whistleblower alleging the Biden administration is mishandling the federal investigation into Hunter Biden told Fox News on Thursday that his client is 'not a political person' and does not have a 'political agenda,' but does have documents to support his allegations that he hopes to bring to both congressional Democrats and Republicans.
Mark Lytle, the whistleblower's attorney, sat down for an interview with Fox News' Bret Baier on 'Special Report' on Thursday evening, explaining his client's allegations.
'My client wants to come forward. He is not a political person, he is not a social media person, he is not coming here with a political agenda,' Lytle said, adding that he has 'been at the IRS for more than 10 years' as a special agent, who is 'trusted with international investigations.' 
'My client is a career law enforcement officer who is respected within the IRS and he teaches other agents how to properly do investigations,' Lytle continued. 'He knows when to spot when investigative steps aren't done in a traditional way to get to the truth.'
Lytle added: 'He has spotted and observed things that are done differently in this particular matter…and he wants to talk about them and he believes that they were influenced by politics.'
Hunter Biden's attorney, Chris Clark, earlier Thursday said it appears Lytle's client 'has committed a crime.'
'It is a felony for an IRS agent to improperly disclose information about an ongoing tax investigation,' Clark said in a statement. 'The IRS has incredible power, and abusing that power by targeting, embarrassing, or disclosing information about a private citizen's tax matters undermines Americans' faith in the federal government.'
Clark added: 'Unfortunately, that is what has happened and is happening here in an attempt to harm my client.'
When asked for reaction, Lyle said it was 'unfortunate that that statement was made.'
'My client wrestled with whether or not to come forward,' Lytle said, adding he had 'sleepless nights. He decided he could not live with himself if he stayed quiet and said nothing.' 
Lytle said his client 'knows he is going to be attacked,' but still 'wants to come forward and tell the truth,' and instructed his legal team to 'reach out to both Republicans and Democrats on the Hill.' 
Further, Lytle said Clark's statement doesn't 'help whistleblowers as a whole,' even as Congress has whistleblower programs in place to 'shine a light' on misconduct.
Lytle said he viewed Clark's statement as threatening, and stressed it is 'unfortunate that that statement was made.' 
Meanwhile, Lytle said he and his client have received outreach from congressional committees, and that they are in a 'positive' dialogue regarding 'what next steps to take.' 
Lytle stressed, though, that his client made clear that he wanted to deliver the information to Congress in front of a bipartisan panel.
'One of the things my client insists on is that he only come in to talk to both Democrats and Republicans,' Lytle said. 'And they can all ask him questions and cross-examine him and he has documents that will support what he has to say.' 
Lytle explained that due to tax secrecy and tax privacy laws, his client cannot even share the information with his legal team.
'Congress can enable him to do that,' Lytle said.
Lytle sent a letter Wednesday to top Republicans and Democrats on the House and Senate Judiciary Committees, the Senate Finance Committee, and the House Ways and Means Committee, saying that his client has 'already made protected disclosures internally at the IRS, through counsel to the U.S. Treasury Inspector General for Tax Administration, and to the Department of Justice, Office of Inspector General.'
Lytle said the protected disclosures 'contradict sworn testimony to Congress by a senior political appointee' and involve 'failure to mitigate clear conflicts of interest in the ultimate disposition of the case.'
Lytle said his client has also detailed examples of 'preferential treatment and politics improperly infecting decisions and protocols that would normally be followed by career law enforcement professionals in similar circumstances if the subject were not politically connected.'
Reports have suggested the senior political appointee could be in reference to Attorney General Merrick Garland, and his testimony on Capitol Hill in March — and last year — that stressed that U.S. Attorney for Delaware David Weiss can conduct the Hunter Biden investigation independently.
When pressed by Baier on whether he is referring to Garland, Lytle said he 'can't talk specifics about who it was my client is talking about.'
'But what I can say is a career law enforcement officer, who knows the right way to do an investigation, when he hears a senior politically appointed official at the Department of Justice under sworn testimony say something, and in his mind it is directly contradictory to what he knows is going on with the investigation — what he can prove with documents, he wants to come forward,' Lytle said.
Lytle's comments come after the White House on Thursday insisted there is no 'political interference' in the Hunter Biden investigation.
'Since he took office and consistent with his campaign promise that he would restore the independence of the Justice Department when it comes to decision-making in criminal investigations, President Biden has made clear that this matter would be handled independently by the Justice Department, under the leadership of a U.S. Attorney appointed by former President Trump, free from any political interference by the White House,' White House spokesman Ian Sams told Fox News Digital on Thursday.
'He has upheld that commitment,' Sams added.
Hunter Biden has been under federal investigation since 2018. The federal investigation into his 'tax affairs' began amid the discovery of suspicious activity reports (SARs) regarding funds from 'China and other foreign nations.'
In 2020, it became known that the FBI had subpoenaed the laptop purportedly belonging to Hunter Biden in the course of an existing money laundering investigation.
Hunter Biden confirmed the investigation into his 'tax affairs' in December 2020, after his father was elected president. The investigation is being led by Trump-appointed Delaware U.S. Attorney David Weiss.
This post appeared first on FOX NEWS