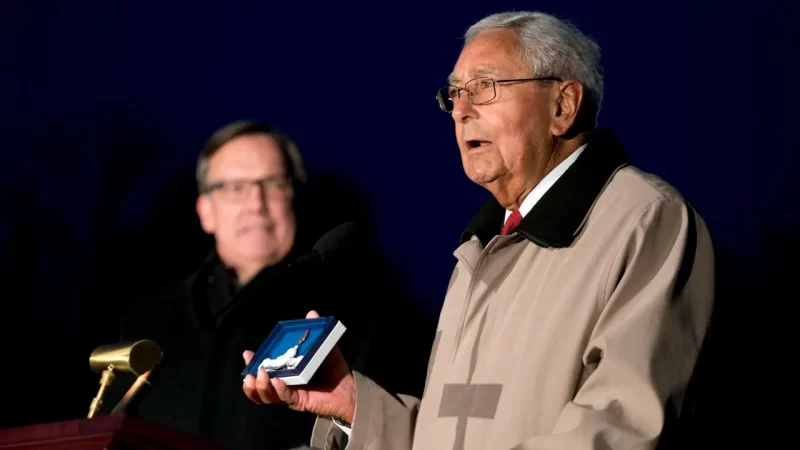 Ronald Sarasin, former GOP congressman who helmed Capitol Historical Society, dead at 88
Ronald Sarasin, a three-term Republican congressman from Connecticut in the 1970s who later went on to lead the U.S. Capitol Historical Society, has died. He was 88.
Sarasin died at his home in McLean, Virginia, on March 27, according to an obituary prepared by his family that did not disclose a cause of death.
Sarasin, who was born in Fall River, Massachusetts and grew up in Beacon Falls, Connecticut, was first elected to the U.S. House in 1972 and was re-elected in 1974 and 1976, representing the 5th District in western Connecticut.
In 1978, he won the Republican nomination for governor but lost the election to Democrat Ella Grasso.
Sarasin previously served in the Connecticut House of Representatives from 1969 to 1973. After serving in the Navy in the 1950s, he went on to graduate from the University of Connecticut and its law school.
After leaving politics, Sarasin was the chief lobbyist for the National Restaurant Association and later president and CEO of the National Beer Wholesalers Association.
From 2000 to 2018, he was president and CEO of the U.S. Capitol Historical Society, which is chartered by Congress to educate the public about the Capitol, its history and its people.
In a Facebook post mourning his death, the historical society credited Sarasin for establishing educational programs including a traveling exhibit on the role enslaved people had in building the Capitol.
'Ron met every challenge with tremendous strength to help us grow in our work and service to reach new audiences,' the post said. 'We are grateful for his life, his friendship, and the legacy Ron left us all.'
Sarasin is survived by his wife, Leslie, and two sons. A funeral service will be held May 20 at Gonzaga College High School's St. Aloysius Church in Washington.
This post appeared first on FOX NEWS