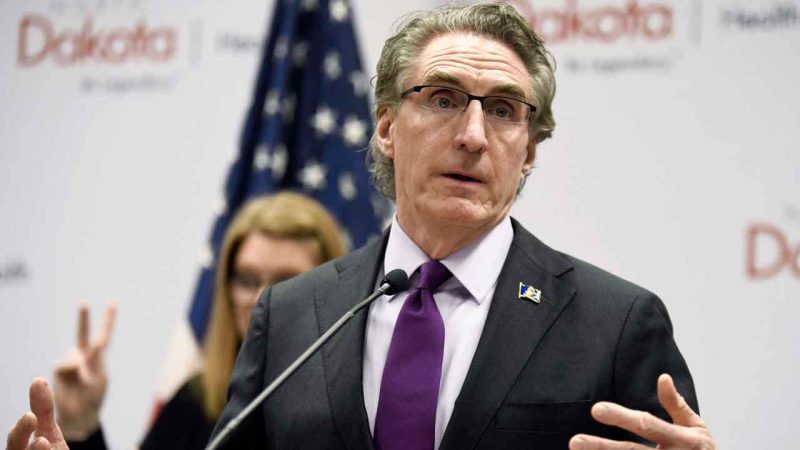 North Dakota House fails to override Gov. Burgum's veto of transgender pronoun ban
Teachers in North Dakota can still refer to transgender students by the personal pronouns they use, after lawmakers on Monday failed to override the governor's veto of a controversial bill to place restrictions on educators.
House lawmakers fell short of the two-thirds majority needed to block the veto. This happened days after Republican Gov. Doug Burgum's office announced the veto and the Senate overrode it.
The bill would have prohibited public school teachers and employees from acknowledging the personal pronouns a transgender student uses, unless they received permission from the student's parents as well as a school administrator.
It would have also prohibited government agencies from requiring employees to acknowledge the pronouns a transgender colleague uses.
Republican lawmakers across the U.S. have drafted hundreds of laws this year to push back on LGBTQ+ freedoms, particularly seeking to regulate aspects of transgender people's lives, including gender-affirming health care, bathroom use, athletics and drag performances.
'The teaching profession is challenging enough without the heavy hand of state government forcing teachers to take on the role of pronoun police,' Burgum had said in a letter to state lawmakers announcing his veto. The First Amendment already protects teachers from speaking contrary to their beliefs, and existing law protects the free speech rights of state employees, he added.
Lawmakers who supported the bill have said in debates that it would free teachers from worrying about how to address each student and create a better learning environment.
Opponents have said the bill targets transgender students who already have disproportionately high risks of suicide.
In 2021, Burgum vetoed a bill that would have barred transgender girls from playing on girls' teams in public schools. Lawmakers didn't override that veto, but they are considering new legislation this session to replicate and expand that bill — including at the college level.
This post appeared first on FOX NEWS